South32's lack of a Scope 3 emissions reduction target is likely attract growing investor pressure going forward.
IEEFA recently released a report highlighting how major miners that produce iron ore and metallurgical coal no longer have an excuse not to have measurable Scope 3 emissions targets amid the accelerating steel technology transition away from coal.
While Scope 1 and 2 emissions occur as companies carry out their operations, Scope 3 emissions result from customers using a company's products, or from suppliers making products that a company uses. Due to the highly emissions-intensive nature of blast furnace-based steelmaking, large, diversified miners that produce iron ore and metallurgical coal have high Scope 3 emissions that dwarf their Scope 1 and 2 emissions.
South32 doesn't mine iron ore, but it is a producer of metallurgical coal. Consequently, downstream steelmaking contributes a smaller proportion of South32's total Scope 3 emissions than other diversified miners that produce iron ore, though it still amounts to 28% (see Figure 1). Alumina and aluminium contribute 40%.
The company's total Scope 3 emissions totalled 65.6 million tonnes of carbon dioxide equivalent (MtCO2-e) in FY2023, 3% lower than in FY2022, and 40% lower than in FY2020, prior to the sale of the Tasmanian Electro Metallurgical Company and South32's South African thermal coal operations. Scope 1 and 2 emissions totalled 21MtCO2-e in FY2023, so Scope 3 emissions represented 76% of total emissions.
South32 has a goal to reach net zero emissions by 2050, including Scope 3 emissions, but has no intermediate Scope 3 emissions target.
Figure 1: South32 FY2023 Scope 3 Greenhouse Gas Emissions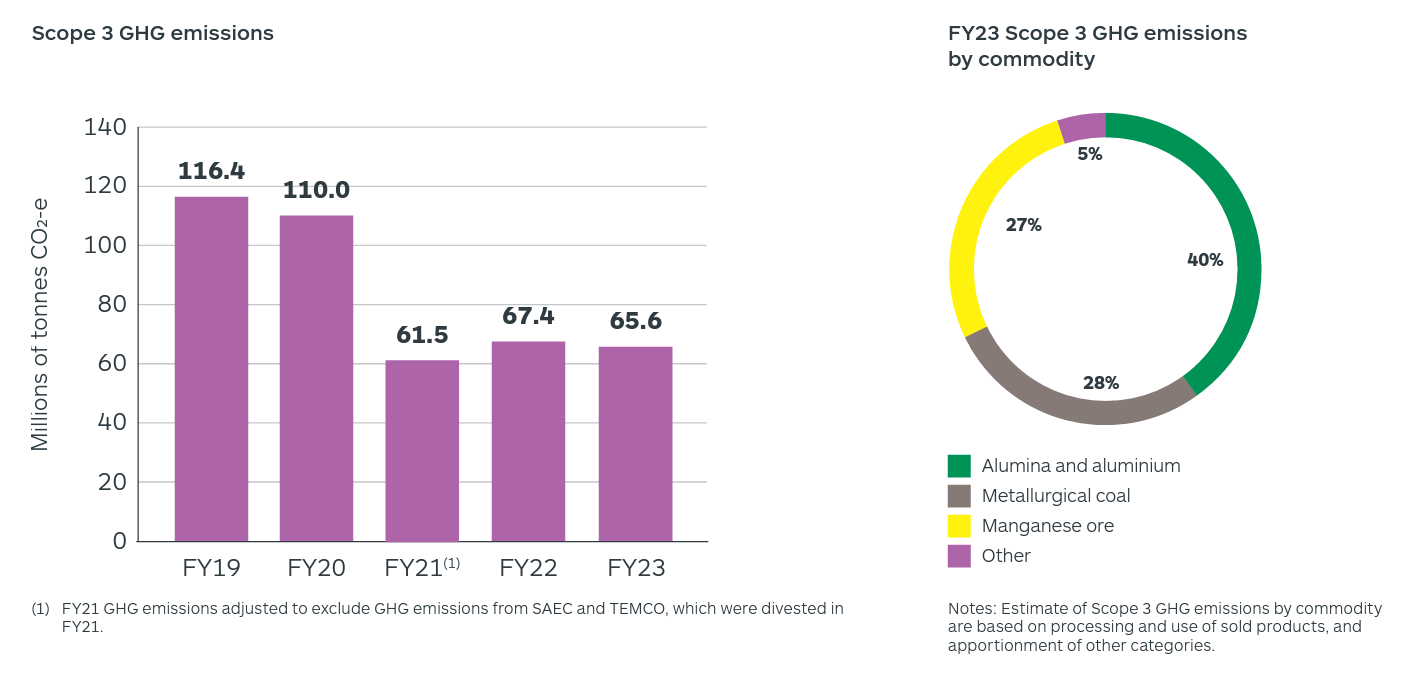 Source: South32 Sustainable Development Report 2023
Although the company's climate change action plan was approved at its 2022 annual general meeting, more than 10% of shareholders did not support the plan. South32 has disclosed that, after engaging with dissenting shareholders for feedback, the primary reasons for voting against the plan were the absence of a short-term emissions reduction target and that the company's medium-term (2035) target does not include Scope 3 emissions.
Growing investor pressure
Recently, companies including TotalEnergies, Woodside, Glencore, ExxonMobil and Chevron have been pressured by investors to do more on their Scope 3 emissions. This investor pushback in 2023 is only an indication of what is to come. Going forward, investors will increasingly expect action on companies' Scope 3 emissions and will demand measurable targets so they can judge company performance on reduction efforts.
In July 2023, Sultan Al Jaber – president of COP28 and chief executive of the Abu Dhabi National Oil Company (Adnoc) – stated that companies must act to reduce all greenhouse gas emissions, including Scopes 1, 2 and 3.
Commonwealth Bank of Australia's new lending rules for corporate finance, trade finance and bond facilitation require any existing customers who derive more than 15% of their revenue from the sale of oil, gas or metallurgical coal to have transition plans from 2025 that cover their Scope 1, 2 and 3 emissions. This is the first time the bank has specified that Scope 3 emissions must be covered.
Further bank restrictions on financing metallurgical coal can be expected as low-carbon alternatives to coal-based steelmaking become ever more apparent.
Accelerating technology transition
The accelerating shift away from fossil fuels in both the aluminium and steel sectors means there is no longer any justification for South32 not to have a measurable Scope 3 emissions target. The company's CEO Graham Kerr has stated that European carmakers are willing to pay a premium for 'green aluminium' deliveries from South32's hydro- and renewable-powered smelters in Mozambique and Brazil. Similarly, carmakers are currently leading demand for low-carbon steel.
Diversified miners often describe the steel industry's emissions as "hard to abate", proffering this as a reason for taking such little action on their iron ore and metallurgical coal Scope 3 emissions in the past. However, it is becoming increasingly clear that the steel technology transition away from coal is accelerating.
Technology transitions tend to be non-linear, and have a habit of happening faster than anticipated.
Fatih Birol, Executive Director of the International Energy Agency (IEA), stated in an April 2023 column for the Financial Times that: "The project pipeline for producing steel with hydrogen rather than coal is expanding rapidly. If currently announced projects come to fruition, we could already have more than half of what we need in 2030 for the IEA's net zero pathway."
Funding and final investment decisions are now being made for direct reduced iron (DRI) installations, which don't use coal, at commercial scale. In September 2023, H2 Green Steel announced it had completed a €1.5 billion equity raising to finance the world's first industrial-scale DRI-based green steel plant utilising green hydrogen. The plant is planned to be operational from 2025.
In August 2023, BlueScope CEO Mark Vassella admitted that steel emissions reduction momentum is moving faster than he predicted just two years ago: "The technology is moving faster than we might have expected."
Technology transitions tend to be non-linear, and have a habit of happening faster than anticipated.
South32's scenario modelling sees demand for the type of hard coking coal it produces increase 1% per annum out to 2031 in its base case. In in its 1.5°C scenario, demand starts declining from 2025 "as the majority of today's blast furnaces are replaced with other production alternatives, and only a minority are converted to use carbon capture and storage".
South32 foresees how new steelmaking technologies that can use green hydrogen will impact metallurgical coal. In 2022, Kerr noted that alternative technology will be challenging metallurgical coal in two decades as he made clear that the company would not be developing any new coal mines and would manage down its metallurgical coal operations as existing mines deplete.
Responsible as well as measurable targets
In contrast to Kerr's remarks, speculation arose in August 2023 that South32 may be looking at selling its metallurgical coal operations, not managing them down. It is rumoured that Coronado Global Resources is in talks with South32 over the mines after apparently withdrawing from the race to acquire two coal mines put up for sale by BHP. At South32's latest results presentation, Kerr stated: "Everything's for sale at the right price."
Since South32 sold its thermal coal operations in 2021, there has been growing investor concern that selling or spinning off coal operations does nothing to address global emissions. More investors will want responsible, as well as measurable, Scope 3 emissions targets going forward. That means holding onto, and managing down, coal capacity rather than selling it to other companies that may seek to extend mine lives.