Santos's 2022 Climate Change Report makes many claims about reducing emissions, yet its emissions rose by 53% in 2020-21.
A person reading the Climate Change Report would have trouble finding this number as it's buried in a table on page 54 of the report. Santos does not disclose its emissions up front in its Chair's message or its Chief Executive Officer's introduction, a somewhat glaring omission for an annual climate report.
The longer-term record is even worse. Over the past five years, Santos's total emissions have risen by 94%, again a figure that is not readily ascertainable from the report.
Santos's Emissions Over the Past Five Years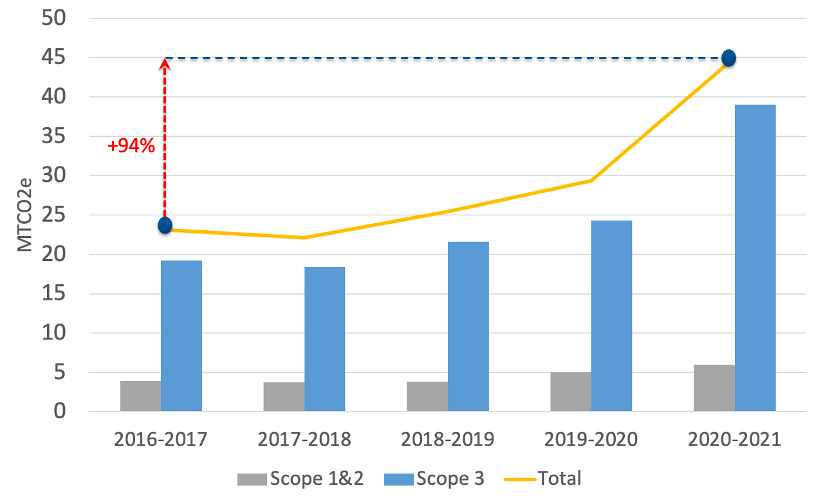 Some of Santos's emission increases came with acquisitions or mergers in recent years. Acquisitions are a conscious decision of the board and management to allocate more capital to emissions intensive gas and liquefied natural gas (LNG). Every dollar spent on acquiring a competitor is a dollar not spent on low-emissions energy.
There is systemic under-reporting of emissions globally and Santos is no exception. At least some of the numbers within Santos's 2022 Climate Change Report are simply not a reliable indication of the true position.
Santos is spending between US$1.15 billion and US$1.3 billion on major growth projects in 2022 comprising mostly oil and gas expansions.
Santos:
holds the largest number of offshore exploration permits as an operator.

operates the largest offshore area under exploration of any company.

is the operator of exploration projects worth A$1.3 billion collectively; representing 25% of the total exploration expenditure in Australian waters to be spent until 2027 by all companies.
New development projects are not consistent with net-zero emissions by 2050 targets as outlined by both the United Nations Production Gap report and the International Energy Agency.
New gas fields are generally speaking higher emitting than older gas fields. The cheap, close to shore, low carbon dioxide (CO2) fields have already been developed.  New fields that are further from shore generally have higher CO2 content and therefore are far more emissions intensive.
Santos justifies its expansion projects by stating it will reduce emissions with carbon capture technologies. Carbon capture has proven to be technically difficult to implement, saving only fractions of the emissions initially promised.
Santos promises a bright future with blue hydrogen (produced from natural gas using carbon capture and storage), neglecting to mention that at current gas prices blue hydrogen is wholly uneconomic and its production results in higher emissions than just burning the gas.
According to Santos, the other path to offsetting emissions is via purchasing carbon credits for residual carbon emissions that can't otherwise be abated. Australia's Emission Reduction Fund has allowed the creation of Australian Carbon Credit Units (ACCUs) that have highly questionable efficacy. Offshore carbon credit schemes have similar low-quality attributes. Purchasing its way out of emissions reduction is not a completely credible way forward for Santos.
The practical example of Santos's latest large-scale development project shows how the company will expand emissions. Its Barossa gas project is the highest CO2 offshore gas field to be developed in Australia. Production is slated to begin well before any carbon capture project is implemented. Barossa is emblematic of the problems Santos faces. Even with carbon capture and storage (CCS), the high emitting project will increase the company's emissions and is entirely inconsistent with its 2022 Climate Change Report's stated aim of reducing emissions.
Investors in Santos should judge the company by its actions, not its aspirations.
Investors in Santos should judge the company by its actions, not its aspirations. Barossa shows clearly that it pays little heed to emissions reduction.  Any possible abatement CCS is not contemplated until years after operations start. The proposed CCS project at Bayu-Undan is 800km from the gas field. Compression emissions will probably offset any carbon captured at Bayu-Undan.
Investors in, and bankers extending finance to, Santos need to re-examine their stance on this rapidly expanding gas company. Producing more emissions is not emissions reduction.
Santos has historically grown its emissions at a rapid rate. Its expansion plans will ensure that this continues into the future. Reliance on carbon capture, a technology with high failure rates despite its long history, is a fig leaf to disguise rising emissions.