In logging two new clean energy world records in 2015 — one for installing 32.5 gigawatts of wind in a single year, and the second for installing from 15 to 18 gigawatts of solar—China is reshaping the global energy economy.
The numbers, from the National Bureau of Statistics, capture a national energy market in transition as China moves toward renewable power and away from coal. Hydroelectricity, solar and wind continue to be the big winners, as seen in the 73.7 percent increase in grid-connected solar-generation capacity in 2015.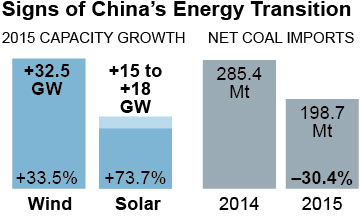 Declining consumption coupled with an overabundance of domestic supply meant coal imports into China were particularly hard hit last year, dropping 30.4 percent year-on-year.
While these figures are largely consistent with initial estimates for 2015, they—combined with data from India—suggest that global electricity markets are transforming a great deal faster than anyone expected.
China's official wind installations in 2015 reached an all-time global record of 32.5 gigawatts, 30 percent ahead of even the most optimistic forecasts by financial markets only a year ago. China itself is the only nation to have come anywhere near this pace of expansion, after having delivered 20.7 gigawatts of new installations in 2014. The National Bureau of Statistics reported 18.3 gigawatts of grid-connected solar installations in 2015, beating the previous annual world record of 12.9 gigawatts, also set by China, in 2013.
An additional 14.9 gigawatts of hydroelectricity and 6 gigawatts of nuclear capacity installed by China in 2015 rounded out a year of rapid grid generation diversification.
With thermal power generation's high marginal cost of supply, total thermal generation declined 2.7 percent year-on-year in 2015, notwithstanding the addition of 71.6 gigawatts of idle new thermal power capacity additions. Thermal power's market share declined 2.3 percent to a 73 percent share in 2015, well on track to fall within our forecast of 63 percent by 2020.
Thermal power plant utilization rates declined from 56.2 percent on average over 2014 to a record low 50.9 percent in 2015 (slightly higher than the 49.4 percent separately reported by China Shenhua Energy Co in March). Shenhua forecasts that this utilization rate will decline further in 2016 as thermal power generation has declined a record 4.3 percent year-on-year in the first two months of the year, even as total thermal capacity in operation grew 8 percent last year alone.
China's coal consumption declined by 4 percent year-on-year in 2015 and net coal imports declined by 30.4 percent year-on-year, to 198.7 million tons. This trend is continuing, with January-February net coal imports into China declining 11.6 percent year-on-year. Thermal coal imports were down a staggering 20.1 percent year-on-year (suggesting coking coal imports to China rose).
IEEFA SEES CHINA INSTALLING AN ADDITIONAL 22 GIGAWATTS OF WIND, 16 GIGAWATTS OF HYDRO, 6 GIGAWATTS OF NUCLEAR AND 18 GIGAWATTS OF SOLAR (70 percent of it utility scale, up to 30 percent distributed as rooftop solar) this year.
With electricity demand expected to grow by up to 3 percent year-on-year in 2016, this 62 gigawatts of additional zero-carbon electricity capacity will be more than sufficient to meet total electricity demand growth, which is why coal consumption is forecast to fall again this year. China Shenhua said its total 2016 coal sales volumes could decline more than 8 percent year-on-year.
At the same time China is setting new global renewable energy records, rapid improvements in energy efficiency are combining with an ongoing structural change in the nature of Chinese economic growth (2015 GDP growth was up 6.9 percent). The economy is decoupling from growth of electricity demand (of 0.5 percent year-on-year). Tertiary industry accounted for 50.7 percent of economic activity, exceeding 50 percent (up from 48.1 percent in 2014) for the first time.
There's nothing to indicate this electricity-sector transformation won't continue.
China's State Grid Corp. Chairman Liu Zhenya (head of the world's largest power provider) says his company rejects the so-called all-of-the-above energy strategy—which encompasses fossil fuels—to meet China's evolving power needs and address climate change. Liu argues that it is better to move on to the next generation of energy technologies and that China believes it might as well start now. He concluded that the only hurdle to overcome is the mindset: "There's no technical challenge at all."
MEANTIME ON THE INDIAN SOLAR FRONT, JANUARY SAW YET ANOTHER BREAKTHROUGH AS SOLAR TARIFFS DROPPED TO A NEW LOW OF 4.34 RUPEES PER KILOWATT-HOUR. This builds on the 20 percent decline achieved in 2015 (and the 80 percent decline in just five years).
The latest detail: Fortum Finnsurya Energy of Finland winning a reverse tender auction to build a 70-megawatt solar plant under National Thermal Power Corporation's Bhadla Solar Park tender. The remaining 350 megawatts put up for auction were won at bids of 4.35 rupees (140 megawatts by Rising Sun Energy and 140 megawatts by Solaire Direct) and 4.36 rupees per kWh (70 megawatts by a newer entrant, Yarrow Infrastructure), indicating that the 4.34 rupee bid was not an outlier. It marks a 7 percent decline from the previous record-low solar bid established in November.
In that bid, SunEdison won 500 megawatts at 4.63 rupees per kilowatt-hour. This was repeated in a 350-megawatt solar auction by SoftBank in December. The total installed cost of solar in India dropped by more than 20 percent in 2015 alone.
A big piece of India's transformation in occurring through grid-efficiency reforms, exemplified in January by Piyush Goyal, India's energy minister, announcing an $11 billion investment to roll out 30 million solar irrigation pumps for farmers over the next three to four years. Annual savings on existing farm subsidies is modeled at $3 billion, suggesting the program is entirely and immediately commercially viable.
Investment, of course, is key.
In February, Bloomberg New Energy Finance reported that China's new investment in renewable energy and energy efficiency rose 17 percent year-on-year to a record $110 billion in 2015. That almost doubled such investment in the U.S., which totaled $56 billion (itself up 8 percent year-on-year). India's investment rose 23 percent to $10.9 billion, the highest since 2011.
Tim Buckley is IEEFA's director of energy finance studies, Australasia.
[A version of this column first appeared in China Daily.]
Related Posts:
More Evidence India Is on Track to End Coal Imports
India's Plan to Build 12 New Nuclear Reactors Is Fraught With Risk
Notes From China and India: 'Silent Revolution' in Hydro, the Price of Capital Is Down, More Solar