Trend Undermines Adani Hopes for Carmichael Coal Project in Australia

In announcing this week a 15 percent decline in thermal coal imports since March 2015, India shows that is walking the walk and not just talking the talk. The country is now firmly on track to meet its publicly-stated goals of ceasing thermal coal imports by 2017-18.
That means Adani's Carmichael mine project in the Galilee Basin has no future.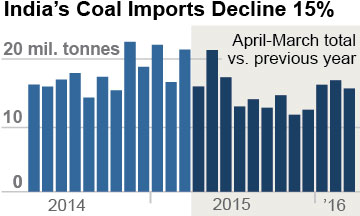 The economics are inarguable. Adani proposes—via its Carmichael plan—to bring low-energy, high-ash coal into India at double the cost of the coal supplied by Coal India Ltd.  But even at current depressed coal prices, Adani's idea would be unworkable, because it presents a more expensive alternative than domestic solar energy in India.
It's hardly surprising, then, that on the same day Queensland Mining Minister Anthony Lynham awarded the Carmichael project a lease, Adani Enterprises Pty Ltd announced it was deferring the project another year.
India—a country that has historically been handicapped by massive coal shortages and hence endemic, near-daily electricity brownouts—logged a record high 84 million tonnes (Mt) of coal stockpiles in March of this year, driven by record high domestic coal production from Coal India Ltd in 2015-16.
What that means is that the Indian economy now has the electricity supply capacity and fuel supplies in place to allow Prime Minister Narendra Modi to deliver on his target for 7-8 percent annual economic growth.
The 16 percent year-over-year increase in electricity demand announced for March is in itself a record high rate of growth, following on from 9.2 percent year-over-year growth in February 2016. This strongly supports Indian Finance Minister Arun Jaitley's assertion that India is delivering a much-needed step change in economic activity, particularly at a time in which Chinese economic growth is slowing.
THIS 15 PERCENT DECLINE IS A serious economic achievement in an additional context, as Coal Secretary Anil Swarup has highlighted,  for its US$4.2 billion annual savings to India's current account deficit.
When Prime Minister Modi was elected in May 2014, India's currency was depreciating at an out-of-control rate due to a current account deficit approaching 5 percent of GDP. With the collapse in oil and coal prices, and now the collapse in coal import volumes, the current account deficit has been reduced by two-thirds in less than two years, a trend that has stabilized the rupee's foreign value.
Further, Indian fossil fuel subsidies were radically curtailed in 2014-15, and India's tax on coal doubled to US$4/t effective April 2016, a rare move globally to level one country's energy-sector playing field.
In this context, with unsubsidized, utility-scale solar electricity now available for as little as Rs4.34/kWh (US$64/MWh) fixed flat for 25  years, the economics of imported coal are structurally challenged.
Indian solar generation costs have fallen 25 percent in just one year. IEEFA sees advancements in technology and economies of scale continuing at 5 to 10 percent annually, further eroding imported coal's competitiveness.
Evidence of this trend comes via data from the largest power firm in India, NTPC Ltd, which has 46 gigawatts of mainly thermal power generation capacity. At the start of 2015-16, NTPC forecast it would import 21Mt of thermal coal. Last week, NTPC reported its coal imports in 2015-16 down 42 percent year over year to 9.5Mt. Further, NTPC has forecast it will not import any coal in 2016-17.
Meanwhile, Goyal has directed NTPC to pursue a rapid upstream vertical integration strategy that will see in-house domestic coal-mining capacity ramp up to 300Mtpa by 2020, in addition to Coal India Ltd's doubling its coal capacity to 1,000Mtpa.
After five years of 20 to 30 percent annual growth, India's coal imports are declining at an accelerating rate, marking an historic turning point in energy market transformation.
Tim Buckley is IEEFA's director of energy finance studies, Australasia.
[A version of this column first appeared on RenewEconomy.com.au]