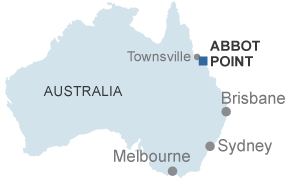 Almost two years ago we published a review in which we raised doubts about the Adani Group's proposed Carmichael coal mine in the Galilee Basin of Australia and the associated rail and port infrastructure development. The mine would ship coal through the port at Abbot Point in the Great Barrier Reef.
Today we've published an update ("Briefing Note: Adani: Remote Prospects") that finds key financial and operational risks of the project looming larger than ever—and that incorporates new developments that make Carmichael's odds of success smaller than ever.
Our update is prompted by the Australian government considering an allocation to the project from its proposed new Northern Australia Infrastructure Fund (NAIF). IEEFA's view of such a subsidy is that it would be ill-advised, putting taxpayer dollars at risk for a project whose underlying financial fundamentals are unviable. Indeed, the likelihood today is that if Carmichael were to go forward it would become a stranded asset. We expect, too, that the elevation of Malcolm Turnbull to replace Tony Abbott as prime minister will seriously diminish the likelihood of NAIF commitment to the Galilee, further reducing the chances that this project will proceed.
We note today also that the main feedback from the financial markets on Carmichael suggest it is unbankable and lacks commercial viability.
Two years on, the Carmichael project—which would tap deposits that are lower in energy and higher in ash content relative to other Australian export-grade coal—is far from financial close and first commercial coal. The project, to put it bluntly, remains a remote prospect.
Core findings from our latest research:
Seaborne thermal coal markets remain oversupplied, and demand has weakened globally for the second year in row. Structural decline of demand is evident.
The remote location and the lack of any commercial infrastructure mean the project continues to face prohibitively high capital cost.
The strategic project-development logic that attracted Indian power conglomerates in 2010-11, during the height of the coal boom, has been reversed: Indian Energy Minister Piyush Goyal within the past year has made it a clear priority to cease thermal coal imports in the near term and is pursuing a range of domestic solutions to India's energy-security needs.
The Adani Group is increasingly accepting of this strategic shift in India, moving rapidly to align its new project pipeline to include Indian grid-transmission expansions, domestic coal production in India and a massive up-scaling of increasingly competitive solar infrastructure investment. Adani has announced US$35 billion of new strategic project proposals in 2015 alone—all of them in India.
The fact that Adani is already highly leveraged combined with the fact that the Carmichael proposal would require billions of dollars of equity funding means the company's commitment to its Australian project has probably fizzled.
The bottom line, after all, is that the Carmichael coal proposal is commercially unviable at current or forecast thermal coal prices. Fifteen of the world's largest financial houses have either ceased working on the proposal or ruled out their involvement, including both Commonwealth Bank of Australia and Standard Chartered, where advisory mandates have expired.
In the meantime, global technological momentum has shifted toward the commercial rollout of renewable energy and energy efficiency. The Indian government continues to accelerate this trend, and the Adani Group is proving to be a key supporter of new solar project developments, aiming for more than US$10 billion of new investment.
The strategic "moment" for large-scale, low-quality, export-focused greenfield coal-mine projects like Carmichael has passed.
Tim Buckley is IEEFA's director of energy finance studies, Australasia.