The United States electricity sector has passed another milestone in the energy transition: The amount of gas used for power generation has likely peaked and begun a long-term decline. And because demand for electricity is not expected to grow much in the next few years, the fuel's market share will decline as well.
This shift is significant for the oil and gas industry. The vast expansion of hydraulic fracturing (fracking) to extract oil and gas was supported in large part by rapid growth in gas consumption by the power sector. In 2005, at the dawn of the fracking boom, the power sector was using about 15 billion cubic feet of gas a day on average. Fifteen years later, in 2020, the sector's use had more than doubled to nearly 32 billion cubic feet a day.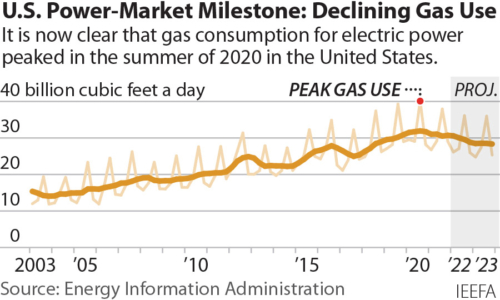 Now, it appears a critical turning point has been reached. The days of gas use constantly growing and gaining market share are over, and the beginning of a long, structural decline of gas use for generating electricity is now underway. In the near term, renewable generation is expected to grow so fast this year and next that it will cut into the market for both coal- and gas-fired power. High gas prices have also prompted utilities to lower use. In 2021, the two fossil fuels generated just over 59% of electric-sector output; in 2023, the Energy Information Administration (EIA) expects the figure to fall below 56%. Meanwhile, renewable output is expected to rise from almost 19% to about 23%.
Coal-fired power, because of its higher cost and considerably older generation facilities, has been the biggest loser over the past decade. Cheaper and more efficient gas plants, together with renewables, have eaten into its market share. In 2011, coal still produced 44% of the country's power, while gas produced 23% and wind, hydro, and utility-scale solar 11%. By 2020, coal had fallen to just under 20%, while gas soared to 39% and renewables topped 18%.
BEHIND THIS MAJOR SHIFT IS THE TORRID PACE OF CONSTRUCTION of utility-scale solar and wind across the country, as well as gas prices that have risen from historic lows in 2020. According to new estimates from the EIA, the U.S. ended 2021 with 63 gigawatts (GW) of installed utility-scale solar capacity. The country is expected to add 21 GW this year and 25 GW in 2023, a combined increase of 73%. Wind capacity will also increase, but only by 8% (11GW) over the same time, to about 146 GW.
Digging into the numbers, the additional renewable capacity will be capable of generating an estimated 144 million megawatt-hours (MWh) of clean, low-cost electricity by the end of 2023 if it comes online as planned. U.S. electricity demand has been flat since 2008, at roughly 4.1 billion MWh, meaning gas and coal generation will fall by a commensurate amount.
Another factor contributing to the turning point for gas is the sharp slowdown in capacity additions. EIA's latest generator data show that the amount of new gas-fired capacity under development across the country has dropped to just 31.8 gigawatts (GW). Of the total, more than 5GW are either combustion turbines or internal combustion engines; both are generally used sparingly and not likely to contribute to significant growth in gas generation.
Most of the rest of the pending projects, totaling some 25.3GW, would be combined cycle combustion turbine units, but there are significant uncertainties regarding how much of this capacity will be built. IEEFA has previously identified about 8GW of planned capacity in EIA's database that is unlikely to be completed.
On top of this, roughly 12,600 MW of gas-fired capacity is set to be retired by the end of 2024, according to the latest report from Federal Energy Regulatory Commission.
THE SURGE IN BATTERY STORAGE ADDITIONS WILL ALSO HELP push down demand for both coal and gas. The early signs of this transition are already evident in the California market, where the amount of installed battery storage jumped from 250 MW in 2020 to about 2,500MW at the end of 2021. In the daily data released by the state's transmission system operator (California ISO), storage capacity can be tracked charging during peak solar production hours of the day and then discharging the stored capacity back into the grid in the evening. Given the absence of coal generation in California, the solar-generated storage is almost certainly displacing gas.
During the next five years, total battery capacity installations in the U.S. may soar by more than 50,000MW, based on current forecasts from the Energy Storage Association, which covers both utility scale and behind-the-meter residential and commercial uses. The growth will have a significant impact on the grid. First, it will help to firm variable wind and solar resources. Second, it will capture energy during periods of low demand when it otherwise might have been curtailed and then use it during higher demand periods, pushing out higher-cost and dirtier gas and coal.
It won't happen overnight, but the decline of gas-fired generation in the electric sector has begun.  
Dennis Wamsted ([email protected]) is an IEEFA analyst/editor.
Seth Feaster ([email protected]) is an IEEFA energy data analyst.
Related items:
IEEFA U.S.: Surging generation from solar, wind on track to push renewable market share to 30 percent by 2026
IEEFA U.S.: The coal boom that wasn't