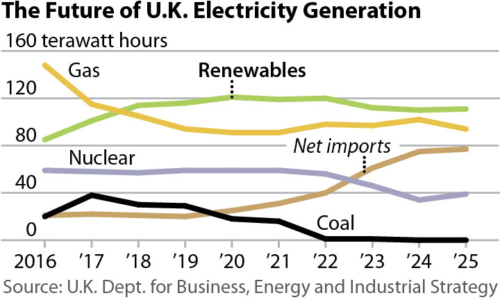 The U.K. government's latest energy projections, out last week, show a grid dominated by renewables and electricity imports by 2025, exceeding the conventional generation presently supported by the country's ratepayer-subsidized capacity market.
This news comes on the heels of a report we published earlier this month on how interconnection with neighboring countries and renewable energy can go a long way toward achieving a low-carbon transition across the U.K.—without the existing capacity market, which is a poor value for the consumers who pay for it.
The country four years ago reached for a big policy bazooka to keep the lights on during a planned phase-out of coal plants through 2025 by introducing a capacity market, which supports about 50 gigawatts of generation, most of the U.K. conventional-generation fleet.
The difference between power supply and peak demand, called the capacity reserve margin, is indeed tight in the U.K., falling below 1 percent one day last fall. Nevertheless, introducing a large-scale capacity market to secure supplies may have been an overreaction.
In our report— "Electricity-Grid Transition in the U.K.: As Coal-Fired Generation Recedes, Renewables and Reliable Generation Can Fill the Gap"—we laid out the case for how the U.K.'s present pipeline of new generation from renewables and interconnection (subsea electric cables to European neighbors) can go a long way toward replacing coal if coupled with market reforms that favor flexible generation.
We showed in that report how the country's present plans and targets for renewable energy and interconnection imply an additional 80 terawatt hours (TWh) of electricity annually in 2025, equivalent to more than half of all gas-fired generation last year.
Now, in its latest annual energy projections, the  U.K. Department for Business, Energy and Industrial Strategy (BEIS) appear to support this view (BEIS publishes the annual estimates to assist with its resource and carbon-emissions planning).
In its central reference case, the BEIS projections for interconnection are even more bullish than ours. BEIS see 20 gigawatts (GW) of interconnection by 2025, up from 4GW at present. IEEFA has forecast up to 12GW by 2025. BEIS projections seem to assume the completion of more speculative projects, such as a proposed link to Iceland, and its projections are a sign that indeed  a more regionally interconnected grid is on the way.
The BEIS projections include strong renewable energy growth to 2020, to 121 TWh annually. That compares with the actual renewable generation last year of 85 TWh, and exceeds the U.K.'s EU target of 117 TWh in 2020 (under its National Renewable Energy Action Plan, or NREAP). Achieving such levels will depend on strong growth in offshore wind, which in turn will depend on contracts for the 15GW or so of projects in the development pipeline. Little or none of this pipeline has been award such contracts yet.
After 2020, BEIS sees almost no growth in renewable generation, even while there is strong growth in capacity. This seems to be because of a quirk in its modeling.
The BEIS projections seem also to play down the energy department's capacity market bias. Its projections see a big decline through the 2020s in two of the main generation technologies presently supported by the scheme, that is, coal and gas. The BEIS sees the main growth in technologies that can be privately funded, such as new interconnection, or supported under other schemes such as renewables and nuclear power.
Figure 1 below shows IEEFA estimates for potential growth in renewables and interconnection, coupled with our projected declines in gas, coal and nuclear, through 2025. Figure 2 shows the BEIS projections.
Figure 1. IEEFA: Projected generation and net imports, through 2025 (GWh)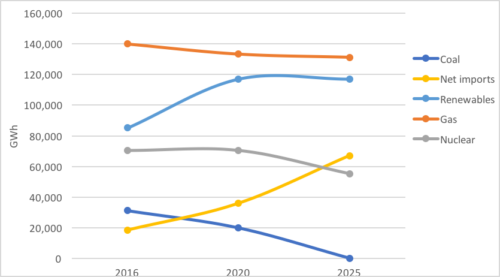 Figure 2. BEIS: Projected generation and net imports, through 2035 (TWh)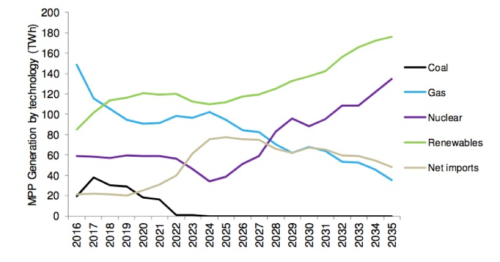 Gerard Wynn is a London-based IEEFA energy finance consultant.
RELATED POSTS:
IEEFA Report: A U.K. Electricity Transformation Under Way, But in Need of Better Direction
IEEFA Update: A Rush to Subsidies as Power Plants in Europe Face an Existential Threat

IEEFA Europe: Can Coal Power Hang On?