It has been reported that a "new generation" of Australian coking coal projects are on the table that could add more than 100 million tonnes of coal to the seaborne market.
Unlike thermal coal, which fuels coal-fired power plants, coking (or metallurgical coal) is used in blast furnaces for steelmaking. Australia is the second largest exporter of thermal coal and by far the largest exporter of coking coal.
Until recently, it has only been thermal coal that has looked challenged by new and ever cheaper technology, namely renewable energy. Financiers have increasingly ceased or restricted lending to thermal coal projects.
However, technology and climate risks for coking coal are now rising fast and challenging the long-term outlook for exports.
Despite the ongoing Chinese ban on Australian coal imports, the future of coking coal remains inextricably linked to China, given it is by far the world's largest steel producer. China produced 57% of the world's crude steel in 2020.
The future of coking coal remains inextricably linked to China – where steel output may have peaked already
The International Energy Agency (IEA) expects China's steel production to peak in the mid-2020s. However, with a policy of capping steel production below the previous year's output now in place, China's steel output may have peaked in 2020.
China's steel industry is dominated by blast furnace technology, which requires large quantities of coking coal. However, in the long term, as more scrap steel becomes available in China's maturing economy, a switch to more scrap steel recycling in electric arc furnaces (EAF) will reduce coking coal requirements.
The IEA sees scrap-EAF steelmaking accounting for the majority of Chinese steel production by 2060 under its Announced Pledges Scenario. Scrap-EAF technology is mature and widely used in developed nations such as the U.S.
In addition to making use of increased scrap volumes, China has a strategic incentive to switch towards scrap-EAF steelmaking. The diplomatic dispute with Australia and subsequent ban on Australian coal has left China struggling to import enough coking coal from the U.S., Canada, Russia and Mongolia to meet demand.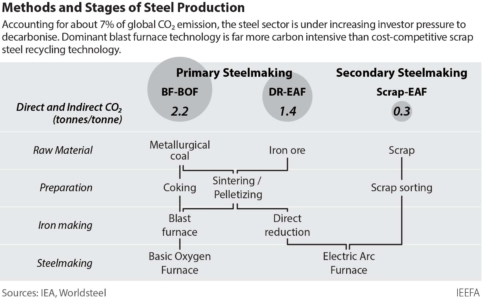 China clearly sees that a shift towards more scrap steel recycling can improve its resource security and help it do without Australian coal. Aquila Resources – 85% owned by the Chinese steelmaker Baosteel, the world's largest steel producer – has put its Queensland coking coal mines up for sale.
Further, new technology will erode demand for coking coal in the longer term. To meet their emissions targets, steelmakers will switch to making direct reduced iron (DRI) using green hydrogen once the latter is cost competitive and given iron ore of appropriate quality is available. DRI processes don't require coking coal.
Due to recent high fossil fuel prices, green hydrogen has lately been cheaper to produce than grey hydrogen in Europe. Estimates as to when green hydrogen will be cost-competitive suggest as early as 2030 but the timeframe is likely to keep getting shorter.
Finance for coking coal will become scarcer as alternatives arrive
To sidestep financiers' restrictions on lending to thermal coal projects, Australian miners often highlight that their new projects are mainly coking coal projects, not thermal.
However, the type of coking coal in question is often PCI (pulverised coal for injection) which can be sold into both the coking and thermal coal markets. As a result, such mines may end up selling more coal into the thermal coal market than into the coking coal market.
Banks, having restricted lending to thermal coal projects given the cheap and low carbon alternatives, justify continued lending to coking coal projects on the basis that such alternatives are not yet available in the steel industry.
With mature and cost-competitive scrap-EAF technology set to expand and newer low-carbon technologies approaching competitiveness at a growing pace, banks will no longer have this rationale in the longer term. Coking coal miners may start to find they face the same difficulties attracting finance as thermal coal miners.
Coking coal miners may find they face the same difficulties attracting finance as thermal coal miners
South32's CEO Graham Kerr stated early this year that investors' concerns about coking coal "have got louder quicker than I would have expected".
In addition, coking coal is coming under even more pressure on carbon emissions. Not only is this based on carbon emitted when coal is used, but also the methane emissions produced during mining. Methane traps in excess of 80 times more heat than in the first 20 years after its emission. A recent study found that several mines in Queensland's Bowen Basin – Australia's key coking coal region – are "methane super-emitters". The emissions of the worst of them – Glencore's Hail Creek mine – had the same climate impact as four million U.S. cars.
Another study has found that coal mining in the Bowen Basin has 47% higher methane intensity than the IEA's global estimate.
Australia refused to join a global methane pledge at the recent COP26 but more than 100 countries including the U.S. and EU did, signalling clearly that more pressure on methane is coming.
In addition, the U.S. and China issued a joint declaration on enhancing climate action with specific focus on reducing methane emissions.
As China seeks to reduce reliance on Australian coking coal in the long term, much will depend on the steel technology path chosen in countries such as India, where steel demand is set for continued growth. India is already a significant user of DRI technology using gasified domestic thermal coal as the reductant but it is also a major importer of Australian coking coal for its blast furnaces.
However, the Indian Government is now eyeing steps to increase the domestic supply of coking coal and reduce dependence on imports while also aiming to diversify imports away from Australia.
Given ongoing resource security concerns and advancing alternative technologies, the days of coking coal being protected from the kind of investor and financier pressure on emissions faced by thermal coal look increasingly like they are over.
Simon Nicholas is an IEEFA Energy Finance Analyst
Soroush Basirat is an IEEFA Steel Sector Energy Finance Analyst
This article was published by MichaelWest Media
Related articles:
IEEFA: New From Old: The Global Potential for More Scrap Steel Recycling
IEEFA: More than half of current global steel production may have already reached peak carbon emissions