A Short-Term Surge Is at the Mercy of Long-Term Trends
While thermal coal export prices have doubled since the first of the year, IEEFA remains of the view that the price spike is due solely to the confluence of several short-term policy and weather factors in China and India.
By far the more important trend to watch is what's seen in the 10.7 percent year-on-year, year-to-October cut to Chinese coal production. China's coal consumption is down overall in 2016, marking the third consecutive decline since coal peaked in 2013.
The world's two largest coal producers, China and India, have been hit with unplanned production shortfalls this year. Although China has implemented a multi-year reduction in annual coal mining capacity of 1 billion tonnes, the initiative coincided with a lack of rain that curtailed China's massive hydro production, which is down 7.6 percent year over year in October 2016.  And an unexpected monsoon impact in India drove a 10.5 percent year-over-year decline in coal production there in August (followed by a 5.2 percent decline in September 2016). The outcome of these events was inevitable: Coal imports rose dramatically and unexpectedly to fill the gap, driving the doubling of the spot thermal coal price.
The forward prices for Newcastle thermal coal are more reflective of medium- to longer-term thinking. Those prices have just dropped below US$67/t for 2020—down 5 percent or US$3/t overnight. The forward price has dropped 15 percent in just the last week.
Citi calls for a rapid decline in thermal export prices back to US$72/t in 2017. Also of note: The International Energy Agency this week in its "World Energy Outlook 2016" acknowledged finally that "China's coal use is likely to have peaked in 2013."
Newcastle Thermal Export Prices: Unsustainable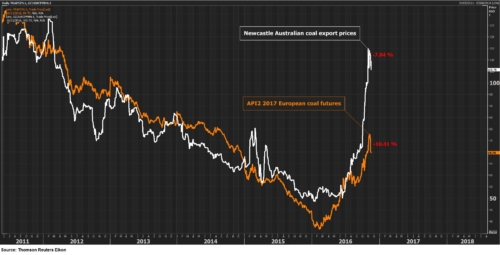 In April of this year, the Chinese central government introduced a policy to cut coal mine output by double digits, introducing a 276-days-a-year work cap. That's why China's domestic coal production is down 10.7 percent year on year. Coal consumption in China, by comparison, is down but by nowhere near this magnitude. The clear result has been a surge in third-quarter coal imports and with it the surge in coal prices.
From China's perspective, this is a case of unintended consequences. But it's not a narrative without logic. Financial distress at Chinese domestic coal mining companies this year mirrors that of U.S. miners, and the Chinese government was angling to stave off a wave of bankruptcies like the one sweeping the U.S. coal industry.
With the price rally extending now "irrationally," as some say, and without substance beyond the intent of the National Development and Reform Commission of China, the 276-day-cap has been temporarily lifted (more here, here and here) with the stated intention of killing the coal price rally. 
Tim Buckley is IEEFA's director of Energy Finance Studies, Australasia.

RELATED POSTS:
IEEFA Update: The Global Energy Transformation Remains on Track
IEEFA Report: Three Timely Takeaways on 2016 Global Energy Transformation