Argentine government removes subsidies, scrambles to find PPPs to step in
For the second time in as many months, the Macri administration's plans to aggressively develop Argentina's Vaca Muerta oil and gas reserves have lost critical support from foreign companies needed to develop the region.
In January, the major companies with natural gas projects in development were told that the federal government was retroactively cutting production subsidies and not approving any new projects. Last month, a consortium of oil and gas companies, including Total, Wintershall, Pan American Energy (a subsidiary of British Petroleum) and Tecpetrol, were telling officials that expanded pipeline capacity was needed to meet the project's production and export goals, and called on the government to fund this infrastructure.
The subsidy change has led Techint, the parent company of Tecpetrol, to threaten a lawsuit in international courts against the government of Argentina. Tecpetrol claims it was owed US$ 1.45 billion in 2018 for natural gas subsidies in Vaca Muerta. The government, however, has agreed to pay a fraction of that amount, and defends its decision to cap 2018 production subsidies.
Ambitious energy goals require pipeline development
The Macri administration's export goals are ambitious. Oil exports are forecast to increase from 30,000 to 490,000 barrels per day (bpd) by 2023, and even greater increases are expected for natural gas, as illustrated by the chart below from the government's official energy plan.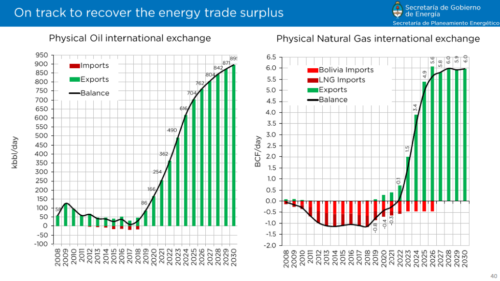 To achieve these export targets, the country's Energy Secretary, Gustavo Lopetegui, has positioned pipeline development as a national priority. However, no pipelines within Argentina have been completed since 1988. And the energy secretary was in the United States a few weeks ago seeking support for much-needed pipeline development projects, particularly to connect Vaca Muerta to Buenos Aires and its export seaport. This $1.2 to $2 billion project clearly lacks a financing plan. And, a consortium of foreign companies has indicated that existing pipeline infrastructure should be used more efficiently and would substantially reduce the overall price tag for the project. These industry partners have called for a survey to determine what unfinished pipelines were funded and built under the previous administration.
The Argentine government's capacity to fund needed infrastructure is limited
Argentina's energy infrastructure needs are primarily in four areas: rail, roads, pipelines and gas storage. In the energy sector, failure to meet infrastructure needs will lead to an oversupply of oil and gas and bottlenecks when product cannot be moved to markets.  In Vaca Muerta, current infrastructure is wholly inadequate to transport the present and expected future volume of natural gas and oil. 
And it is not just foreign investors who have raised concerns. Yacimientos Petrolíferos Fiscales Sociedad Anónima (YPF), Argentina's majority state-owned oil and gas company, has openly worried both about the reduction in production subsidies and the country's approach to pipeline development. The lack of policy alignment between Argentina's linchpin for development in the region and its political leadership sends a message of disarray. YPF is not in a position to absorb a substantial reduction in its anticipated revenues or to take on a new pipeline project absent reliable governmental guarantees.
Vaca Muerta News reported that the government, meanwhile, has floated the idea that private oil companies should fund the pipeline build-out.  According to their report, the government has offered, in effect, to subsidize the production of natural gas at a rate said to be roughly US$ 9.00/mmbtu during the winter months, if oil companies agree to build the pipeline. This guaranteed price for new gas would be characterized by the government as "a special winter price," not a subsidy, according to the news report.
However, the increase in governmental outlays apparently now needed to fund vital infrastructure, suggests that Argentina's plans for production and transport of oil and gas are ill‑conceived. The government's new US$ 9.00/mmbtu floor price is well above the production cost or even the subsidy floor price of $7.50/mmbtu. The subsidy floor price plan has been reduced as part of the country's efforts to curtail expenditures and meet commitments it made to the International Monetary Fund (IMF). The reduction in the government's subsidy commitment in January 2019 threatens to derail future investment plans in Vaca Muerta by Tecpetrol, YPF, British Petroleum, ExxonMobil, and others. Moody's analyzed the impact of the Argentine subsidy program revision, and determined it was "credit negative" for many oil and gas producers.
U.S. $30 Billion needed for public infrastructure in energy, transportation and logistics
Pipelines are just the beginning of critically needed public infrastructure projects for the economy at large, and the energy sector in particular. Such projects, in fact, will play an essential role in the energy, transportation, and logistics sector, with "investments in these sectors over the next four years expected to reach US $30 billion."
The government's capacity to fund these needed infrastructure projects is limited. As an alternative to direct funding, the government is turning to Public Private Partnerships (PPPs). Argentina's plan to use PPPs, however, may not be realistic. The PPPs may not attract the level of capital needed due to the perception of country risk and specific risk factors that have created a continuous on-again, off-again investment climate.
Public Private Partnerships (PPPs) hit stumbling blocks
The government, in fact, has already recalibrated its strategy for PPPs, due to the increased country risk and higher cost of financing these projects due to falling Argentine bond prices. The Macri administration officially suspended US$21 billion of investments in projects planned through PPPs between 2019 and 2023. The future of PPP projects will be resumed only when Argentine bond yields are "normalized," according to the Ministry of Transport.
Oil and gas subsidies: Slippery slope for government
The Argentine government is learning that oil and gas subsidies are a slippery slope. Once it offered a subsidy to stimulate production, it was only logical that investors would expect similar support for infrastructure development. The cost of production that appears on the balance sheets of the companies involved excludes associated environmental and other potential costs to the public. Taken together, the true cost of fossil fuel development comes into focus and it is clearly cost-prohibitive for the Argentine economy.
The current pipeline and infrastructure snafu is just another issue facing the overall Vaca Muerta development project. As it stands, the Argentine government's financial commitment to develop Vaca Muerta is unsustainable, YPF is financially unprepared to shoulder the risk and Argentina's foreign partners' commitment grows weaker as they are reluctant to commit additional funds to develop the oil and gas reserves — let alone to finance needed infrastructure.
Tom Sanzillo ([email protected]) is IEEFA's director of finance.
Kathy Hipple ([email protected]) is an IEEFA financial analyst.
Related items
IEEFA report: Argentina's Vaca Muerta Patagonia fracking plan is financially risky, fiscally perilous 
Informe IEEFA: Riesgos financieros opacan el desarrollo de reservas de petróleo y gas en Vaca Muerta
IEEFA Argentina: Government cannot afford subsidies for Vaca Muerta oil and gas producers
IEEFA Argentina: El Gobierno no puede sufragar los subsidios a productores de petróleo y gas de Vaca Muerta
IEEFA Argentina: Setbacks in plan to use Vaca Muerta oil and gas reserves to kickstart economy
IEEFA Argentina: Los contratiempos en el plan de utilizar las reservas de petróleo y gas de Vaca Muerta para impulsar la economía