A Major Coal CEO Sees Market Intervention as the Only Way Forward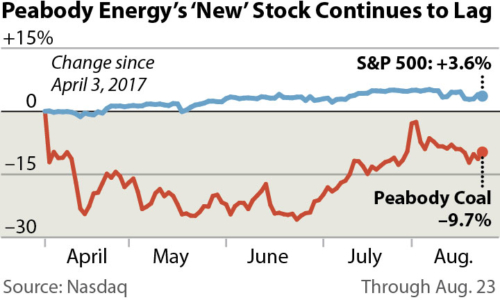 Ask Glenn Kellow his vision for how the coal industry will stage—much less sustain—a comeback and this is what you get:

"We not only need to change the playbook, we need to change the entire game."

And:

"We're calling for a two-year moratorium on coal plant retirements, a leveling of the playing field with renewables, a greater focus for all players to increase competitiveness with natural gas, and increased use of [high-efficiency, low-emissions] technologies and advancement of [carbon capture and storage] technologies."

Vague though they were in some respects, those remarks, made last week in at an industry conference in Utah, were freighted with meaning.
Kellow's proposal for federal market intervention by way of a coal-plant retirement moratorium is transparent enough, but the rest of what he said could use some decoding.

In advocating a "level playing field with renewables" what he means is taxpayer-funded giveaways to an industry that does not deserve them. In calling for "all players to increase competitiveness with natural gas" he sounds a wishful note that contradicts the coal industry's historic allergy to innovation. And in promoting "technologies" to keep coal alive he means high-dollar schemes that are not commercially viable without huge ratepayer-financed subsidies.

Kellow wants handouts. That's how he sees his recently-bankrupt company getting by.
MAKE NO MISTAKE, A GOVERNMENT-IMPOSED MORATORIUM ON COAL PLANT RETIREMENTS will mean higher prices for utilities and their customers. It will mean a hit to robust job growth across the natural gas and renewable energy sectors. It will mean fewer advances in electricity-production efficiency and a slowing of the fast-gathering momentum toward a cleaner-energy economy.
Kellow wants to reduce incentives for renewable energy, but he probably isn't too keen to talk about the long history of subsidies to the coal industry, nor is he likely to entertain a discussion of foregoing any of those going forward.  

It's just as unlikely he would opine on how the solar and wind industries—in contrast to the coal industry—are producing strong revenues, adding employees and moving capital markets.
In his prayer for acceptance of hare-brained schemes around "clean coal"—unproven emissions-technology and carbon capture-and-sequestration Rube Goldberg machines—Kellow seems unfamiliar with the failed attempts by Southern Company and Duke Energy to pilot such projects to the fruition their promotors promised (at ridiculous expense to ratepayers and investors alike).
Perhaps Kellow is expecting the federal government to finance another high-dollar round of experimentation, which makes you wonder if he's forgotten how the Energy Department under George W. Bush and Dick Cheney walked away from such forays because they did not pan out.
ONE POINT ON WHICH WE AGREE WITH KELLOW IS IN HIS REALIZATION THAT A NEW COAL-INDUSTRY PLAN is desperately required now, although his version of such a playbook and ours aren't the same.
While Kellow and others of his ilk act as if robust prices and new demand for coal is right around the corner, the truth is that the industry's decline is structural and permanent. It has no choice but to consolidate. Business-as-usual pleas predicated upon demand-as-usual models will not work.
Kellow's mindset like that of West Virginia Gov. Jim Justice, who wants taxpayers to pay utilities to burn coal. Both Kellow and Justice are aiming for Americans' pocketbooks in the short term and undermining their economic well-being in the longer term. Justice seems also to be trying to stoke a regional war between east and west coal producers.
Such subterfuge leaves coal miners, coal communities and entire regional economies waiting for meaningful leadership in a time of profound transition.
Tom Sanzillo is IEEFA's director of finance.
RELATED POSTS:

IEEFA Update: Coal Stocks Lose, However You Dice the Data

IEEFA Colorado: Arch Coal Request for State Royalty Relief on Mine Would Cost $12 Million-$14 Million

IEEFA Update: In West Virginia Governor's Scheme, a Bailout Disguised as a National-Security Program