Little transparency and no tribal-government participation
Aug. 30, 2019 (IEEFA) — A research brief published today by the Institute for Energy Economics and Financial Analysis raises questions about whether a Navajo Transitional Energy Co. (NTEC) bid to buy a bankrupt coal company's assets is prudent, whether it was put together properly and if it is in line with NTEC's responsibilities to its owner, Navajo Nation.
NTEC has proposed buying the core assets of recently bankrupt Cloud Peak Energy—three declining coal mines in the Powder River Basin of Montana and Wyoming (see previous report: "Proposed Navajo Acquisition of Bankrupt U.S. Coal Company Is an Ill-Timed Gamble," IEEFA, August 2019). The deal would cost approximately $170 million at the outset and come with some $400 million in various reclamation and bonding liabilities.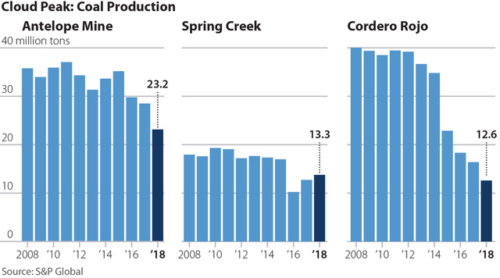 IEEFA's update, published today, "13 Questions on NTEC's Bid to Buy Powder River Basin Coal Mines From Bankrupt Cloud Peak," lists several points Navajo Nation leaders should consider before NTEC is allowed to proceed.
Among the questions raised in the research brief:
Why didn't NTEC's management team consult with leaders of the Navajo Nation before putting so much tribal wealth at risk?
How will residents of Navajo Nation benefit from this deal and what financial projections has NTEC compiled to show those benefits?
What are NTEC's total profits or losses on Navajo Mine since its acquisition in 2013? What are NTEC's total profits or losses on its stake in the Four Corner Power Plant it acquired in 2018? How much money has Navajo Nation put into NTEC, and what has been the return on investment?
Who would manage the three mines in Montana and Wyoming and what would it cost NTEC and Navajo Nation to run the requisite management and operations teams at Antelope Mine, Cordero Rojo Mine and Spring Creek Mine?
Is NTEC considering other deals to buy more coal assets?
When and why did NTEC drop the company mandate to invest more broadly and more transitionally in energy? Did it have the authority to make this change?
How much has NTEC paid back to Navajo Nation annually since its creation six years ago? How much has Navajo Nation put into NTEC?
What is NTEC's business plan exactly, and what is the financial risk to the Navajo Nation should revenues from the three mines continue to decline and NTEC have to declare bankruptcy? What is the financial exposure to Navajo Nation should any of the three mines cease production?
Is NTEC serving the best interests of the Navajo people by not publicly divulging details of what they are risking on behalf of Navajo Nation?
Does NTEC have a succession plan in place in case of the departure of the CEO, COO and CFO? Does such a plan, if it exists, include the promotion of Navajo Nation members into these leadership positions?
Full list and report here: "13 Questions on NTEC's Bid to Buy Powder River Basin Coal Mines From Bankrupt Cloud Peak"
Author contacts
Karl Cates [email protected] 917 439 8225
Seth Feaster [email protected] 917 670 4025
David Schlissel [email protected] 617 947 9508

Dennis Wamsted [email protected] 703 862 9324

Media contact
Vivienne Heston [email protected] 914 439 8921
About IEEFA
The Institute for Energy Economics and Financial Analysis (IEEFA) conducts global research and analyses on financial and economic issues related to energy and the environment. The Institute's mission is to accelerate the transition to a diverse, sustainable and profitable energy economy.