Renewables can help stabilise the grid and level costs amid the vagaries of coal stocks
29 September (IEEFA India): With electricity demand in India recently peaking, a new report by the Institute for Energy Economics and Financial Analysis (IEEFA) explores the supply and demand conditions that led to recent price spikes in the evening peak hours, starting in August through to September 2021.
Electricity demand in India has peaked and dropped markedly as the country went into and out of COVID-19 lockdowns, exceeding seasonal peaks and declines. As the economy bounced back quickly, electricity demand has shot up, especially in the past few weeks, causing skyrocketing prices at the power exchange.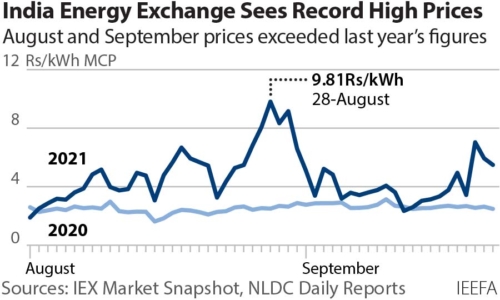 Report author and energy economist Vibhuti Garg examines whether the high prices are momentary or are likely to continue.
"Lockdowns slowed renewable energy installation that could have bolstered the output of thermal power plants," says Garg.
"The government target of 175 gigawatts by 2022 and 450GW by 2030 requires annual installation of 25-30GW but the pace of installation is lagging with ~7GW of renewable energy capacity added in FY2020/21."
More deployment of renewable energy and storage technologies can prevent such price shocks
The briefing note evaluates the drivers for such high prices on the power exchange and suggests how, with more deployment of renewable energy along with storage technologies, such price shocks can be prevented. Analysis allows for 2020 being a COVID year and compares pricing and coal stocks back to 2018, noting instances of price surges when wind generation was low or when monsoons slowed domestic coal production for thermal generation.
Analysis of monthly volumes and prices at the largest power exchange in India, Indian Energy Exchange (IEX) reveals that market clearing volume (MCV) to the end of August increased by 20% over 2020, by 37% compared to 2019 and by 30% over 2018. With increased volumes, the average market clearing prices (MCP) at IEX to the end of August increased by 38% compared to 2020, by 8% compared to 2019 and by 11% over 2018.
"Clearly as economic growth revives, electricity demand grows and average prices at the exchange increase," says Garg.
Coal stocks precarious
IEEFA's analysis shows coal stocks hit a new record high of 132 million tonnes (Mt) at the end of FY2020/21 and exceeded the monthly averages of the previous five years. Having reduced its reliance on imported coal and replaced it with domestic coal, Coal India Ltd (CIL) was standing at about two months' supply.
Analysis of the daily coal stock position reveals a deterioration as more plants reported supplies were critical. On 1 August, 23 plants with installed capacity of 33GW had critical coal supplies. By 9 September, this increased to 92 with installed capacity of 112GW and by 22 September, 102 with installed capacity of 123GW.
"Most plants had coal stockpiles for 1 to 5 days, however the requirement for thermal power plants is to maintain coal supplies for 21 days or at least 15," says Garg.
Most plants had coal stockpiles for 1 to 5 days
"Adding to the woes of thermal power plants, CIL had coal stocks but supply was regulated.
"In most cases, the issue of supply was at the thermal power producer end, rather than the issue of coal stock shortage at CIL end."
Prices revised – upward
Imported coal prices are inflationary and have been rising in the past few months. The prices stabilised in the beginning of 2020, then suppressed demand due to the pandemic pushed prices down.
In 2021, international coal prices are on a rising trajectory thanks to resurgent demand after the pandemic – especially in emerging Asian markets such as China and India, but also in Japan, South Korea, Europe and the U.S.
"Greater reliance on coal imports will increase thermal power prices in India, leading to higher prices for consumers," says Garg.
Greater reliance on coal imports will increase thermal power prices
Coal India is also planning to raise domestic coal prices by 10-11% to tide over wage revision. A 10% price hike would result in a 20-30 paisa/kWh jump in power prices. In the coming months, generation from plants using domestic coal supplies will also undergo price revision, thereby making it expensive.
"The high prices to some extent can be attributed to decline in renewable energy generation, in particular wind and hydro," says Garg.
"Increasing renewable energy generation along with other flexible sources can address the issue of peak shortages as the load profile is also changing in India, with high demand occurring during the day."
Flexible generation solutions needed
IEEFA notes that the challenge of India's growing daily peak demand does not require investment in excess baseload thermal capacity. Instead, the electricity system needs flexible and dynamic generation solutions in the form of battery storage, pumped hydro storage, peaking gas-fired capacity and flexible operation of its existing coal fleet.
"Proposed coal power plants are not needed to meet India's growing electricity demand," says Garg.
"These power plants are unnecessary and expensive and threaten renewable goals."
Proposed coal power plants are not needed
Renewable energy is deflationary. The International Energy Agency (IEA) predicts the levelised cost of energy (LCOE) of solar will reduce dramatically, while the cost of battery storage globally also has dropped drastically.
Garg says the increase in future demand can be met through renewable energy along with flexible generation sources plus battery storage, the prices of which are higher for now but are likely to go down in future.
"Government should accelerate deployment of such sources to help meet peak demand and also balance the grid at a lower cost," says Garg.
"Given the downward cost trajectory, they will be cost effective and militate against very high prices at the power exchange during peak hours."
Read the report: What Led to Increasing Power Prices at Exchange? Renewables Along With Energy Storage Can Stabilise the Prices
Media contact: Roz Hutt ([email protected]) +61 406 676 318
Author contact: Vibhuti Garg ([email protected])
About IEEFA: The Institute for Energy Economics and Financial Analysis (IEEFA) examines issues related to energy markets, trends and policies. The Institute's mission is to accelerate the transition to a diverse, sustainable and profitable energy economy. (www.ieefa.org)