Shippers Are in a Position Now to Renegotiate Contracts; Oil Prices Have Tanked Since Deals Were Signed; Long-Term Outlook for Project is Deeply Uncertain
Construction of the Dakota Access Pipeline has sparked considerable public controversy, bringing national attention to issues that include tribal sovereignty and risks to drinking water.
Less publicized are the project's financial weaknesses, and the fact the pipeline may represent a substantial overbuilding of the Bakken's oil-transport infrastructure. The report that we released today in partnership with the Sightline Institute, "The High-Risk Financing Behind the Dakota Access Pipeline: A Stranded Asset in the Making in the Bakken Region of North Dakota," delves into these risks.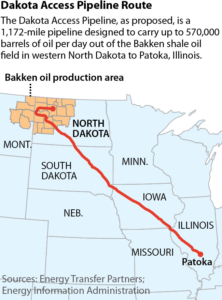 Most immediate among them is a looming financial deadline. The pipeline's principal backer, Energy Transfer Partners (ETP), has conceded in court proceedings that it is contractually obligated to complete the project by Jan. 1—44 days from today.
ETP will most likely miss this deadline, if for no other reason than lack of clearance. The company recently informed investors that it would take from 90 to 120 days to complete the pipeline after it receives an easement from the Army Corps of Engineers to cross the Missouri River. The corps has yet to give that permission and indeed this week recommended further study on the question.
As a result of ETP missing its deadline, companies that have committed long-term to ship oil through the pipeline at 2014 prices would have the right to rescind those commitments. In the interest of protecting their investors and shareholders, these companies may well renegotiate terms, seeking concessions on contracted volumes, prices, or contract duration.
THE IMPETUS FOR STRIKING NEW DEALS ON DAKOTA ACCESS PIPELINE CONTRACTS IS ROOTED IN RADICAL CHANGES IN THE BROADER ECONOMIC CONTEXT in which the project was proposed in 2014 and in which the majority of the contracts were signed. Global oil prices began to collapse just a few months after shippers committed to using DAPL, and consensus market forecasts see no recovery for at least a decade.
Rather than growing as previously projected, production in the Bakken Shale oil field has fallen for nearly two consecutive years, creating major financial hardships for drillers, who may be eager to renegotiate the terms of their contracts with DAPL.
If oil prices remain low, as currently projected, Bakken oil production will continue to decline, and existing pipeline and refinery capacity in the Bakken will be more than adequate to handle the region's oil production. And if production continues to fall, the Dakota Access Pipeline will become a stranded asset—one rushed to completion largely to protect the favorable contract terms its developers negotiated in 2014.
Cathy Kunkel is an IEEFA energy analyst.

RELATED POSTS:
IEEFA Report: The High-Risk Financing Behind the Dakota Access Pipeline: A Stranded Asset in the Making in the Bakken Region of North Dakota
IEEFA Press Release: Dakota Access Pipeline Driven by 'High-Risk Financing' in Overbuilt Region; Little-Known Economic Weaknesses in Controversial Project
IEEFA West Virginia: Two Pipeline Expansion Projects in Appalachia Indicate a Rush Toward Overbuilding