Adani's Fading Dream of a Vast New Mine in Queensland
Even after news this week that it is being downsized enormously—and delayed once again—Adani's plan to build the biggest open-cut mine in the world remains wholly unbankable.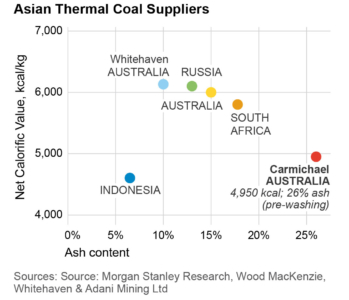 The project, envisioned in 2010 as a $16 behemoth that would produce 60 million tonnes a year, is now being pitched by Adana as a $4 billion, 25 million-tonne operation.
Even under this much-reduced plan, the Carmichael proposal is absurd. It lacks economies of scale now, and the low-quality thermal export coal it would produce has no strategic relevance to India (which was supposed to be its main customer), where the installed cost of solar is now lower than that of imported thermal coal. There's also the fact that India doesn't want to import coal anymore, as Energy Minister Piyush Goyal said again this week.
When Adani first acquired the proposal six years ago, it did so at the absolute peak of the global coal boom, saying it would ship Carmichael's first coal by 2014. Now the company is saying it will hold off on any financial to go forward until the end of 2017.
The project has been downsized several times over the years.
ITS LOCATION, IN THE GALILEE BASIN IN NORTHER QUEENSLAND, DOESN'T HELP ITS PROSPECTS. IT SITS 400 KILOMETERS (249 MILES) INLAND and has neither industrial-grade power nor the requisite road, water, aviation or rail infrastructure in place. By shrinking the project by 60 percent now, Adani loses the original advantages of scale, and Carmichael becomes a high-cost millstone doomed to stranded-asset oblivion.
Even if it were to go forward in some fashion, Adani Enterprises faces significant financial obstacles given its US$2.6 billion net debt relative to its current market capitalization of just US$1.2 billion, plus a stated total capital expenditure plan across the entire, wider group approaching US$40 billion.
Adani Enterprises argues its coal proposal is de-risked by the existence of its sister company, Adani Power, which is willing to provide long-dated off-take agreements for 80 percent of the Carmichael coal for its largely yet-to-be-built import coal-fired power plants in Western India. IEEFA would note that Adani Power appears to be in no position to be building a new fleet of coal-fired power plants. In fact it is in financial distress, with net debts of over US$7.3 billion against a market capitalization of just US$1.4 billion.
India's Central Energy Agency this week reported that the average thermal power plant ran at a new record low of just 47 percent in August 2016 (52 percent in April-August), so it's clear there's little need for more plants. Indeed, the rising call for India to cancel all new coal-fired power plants over the medium term is entirely supported by the stranded asset risks clearly evident across the exiting Indian thermal power-plant industry.
WE ALSO SEE AN OBVIOUS PROBLEM IN THE LOW-ENERGY, HIGH-ASH THERMAL COAL CARMICHAEL WOULD PRODUCE (see the chart here). Significant washing would be required, and a recently proposed new set of Queensland water laws would apply to the Carmichael proposal. This is a critical new legislative development hat stands to hamper any such high-water-use project in so arid a region.

The very high rail, port and shipping costs of moving low quality thermal coal are prohibitive, particularly given the structural headwinds building against seaborne thermal coal.
Additionally, at the same time as Adani defers the Carmichael proposal yet again, Adani Enterprise's 51 percent owned Adani Green Energy has accelerated plans to invest over A$1.5bn ($U.S. 1.1 billion) in 1,000 megawatts of solar in Australia by 2021. Just last month, Adani announced a 140-megawatts Stage 1 solar project just north of Whyalla in South Australia, due for completion by the first quarter of 2018, with two additional projects in central Queensland—150 megawatts at Rugby Run and 100 megawatts at Crinum Creek.
This follows a massive re-alignment of strategic direction of Adani Enterprises that falls in line with Indian Energy Minister Goyal's plan to build 225 gigawatts of renewable energy by 2022. Adani Green Energy plans to commission 10,000 megawatts of solar by 2021, having just commissioned the largest solar project in the world to-date (648 megawatts) in Tamil Nadu. Adani Green next month is due to commission the largest Indian tracker solar project, a 105 megawatt plant in Punjab. Adani Green has also outlined a multi-stage US$4 billion solar cell/wafer/module manufacturing plant in Gujarat in conjunction with extensions upstream into polysilicon and copper smelting.
Goyal keeps restating India's intention to cease thermal coal imports this decade, including a targeted 20 percent decline to 160Mt in 2016-17 from 200Mt in 2015-16. NTPC Ltd, the biggest power company in the country and the single largest buyer of coal in India (the second most populous country in the world) is aiming to cease coal imports altogether in 2016/17.
One piece of the logic behind these no-coal-import policies is that they will ease the inflationary impact of India's current account deficit. A second is the fact that new Indian solar projects are being built at zero inflation tariffs of Rs4.40-4.80/kWh (US$65/MWh), which is cheap compared to the cost of new import-coal-fired power plant, which would require a tariff of Rs5-6/kWh (US$82/MWh), plus inflation and currency devaluation risks.
Tim Buckley is IEEFA's director of energy finance studies, Australasia.
Related Posts:
IEEFA Asia: Higher Coal Prices, But Not Because of Demand in China and India

Cancellation of 4 Ultra Mega Power Plants Underscores India's Commitment to Transition
IEEFA Australia: Adani's Carmichael Coal Project Remains Unbankable