Australia's major customers, like Japan, are turning toward renewable energy; Prime Minister Shinzo Abe cites need to "reduce the use of fossil fuels"
IEEFA Australia  published a report this week showing that a permanent, long-term decline in New South Wales (NSW) thermal coal exports is on the horizon.
We  examined the status of NSW coal export destinations and found the pipeline of new coal plants in major Asian markets experienced a 74% decline since 2015, with more contraction expected. Any increase in exports to Southeast Asia will not be enough to make up the difference in lost sales, and an economic transition plan is required.
In response to IEEFA's report, NSW Mining – the publication of the NSW Minerals Council, the state's mining industry representative body and lobby group – published a press release stating that NSW's thermal coal export market is healthy and expanding.
NSW Mining's press release noted the current high prices thermal coal is fetching, quoting US$114/t for Australia's high grade 6,000kcal/kg coal, while stating that export volumes through the Port of Newcastle are "at near record levels".
The phrase 'near record' is used because NSW thermal coal exports peaked in 2015 and have declined since then, something that is not made clear in NSW Mining's press release.
The press release also does not mention the likely short-term nature of current high prices. The Australian Government's Office of the Chief Economist forecasts thermal coal prices will drop to a real price of US$73/t by 2020.
In addition, a focus on the price for high grade coal ignores the fact that a growing proportion of Australia's thermal coal exports consist of lower grade 5,500kcal/kg coal that has recently been priced as low as US$65/t.
NSW Mining suggests that exports to the state's main thermal coal customers remain strong, noting a 2.4% increase in thermal coal exports to Japan in the year to December 2017. They do not mention, however, that total Australian coal exports to South Korea are down more than 10% in the first nine months of 2018.
NSW Mining included a positive quote from the Japanese Ambassador to Australia about Japan's continuing need for Australia's coal.
We note, however, that the Prime Minister of Japan Shinzo Abe struck quite a different tone in his September 2018 op-ed in the Financial Times, when he categorically stated: "We must simultaneously boost economic growth and reduce the use of fossil fuels."
The Financial Times piece came in the wake of extreme weather events in Japan including catastrophic flooding and a severe heat wave. In this environment, solar power came to the rescue of the electricity system. Afterwards, an executive from the major Japanese electricity utility Tepco stated: "It is safe to say that Tepco's strategy hinges on solar power."
The Prime Minister's op-ed followed a significant announcement by one of Japan's major conglomerates, Marubeni Corporation, which has historically been one of the two largest coal-fired power plant developers globally outside of China and India. In September 2018, the company quietly released a revised policy statement saying that it will no longer develop any new coal-fired power projects "as a general principle". The company is also seeking to sell down existing coal-fired power holdings, and to double its investment in renewable energy by 2023.
Marubeni's new policy position follows in the wake of a growing number of Japanese financial institutions that have begun to turn away from thermal coal during 2018. In the latest moves, Mitsubishi UFJ stated in September 2018 that it was reviewing its lending policies to the coal-fired power sector. The following month, the President of Mitsui & Co. stated: "We've made it clear that we won't invest in new thermal coal mining projects". The company may seek to sell its last remaining holding in Australian thermal coal.
NSW Mining mistakenly attributes an International Energy Agency (IEA) scenario whereby coal consumption in Southeast Asia will double by 2040 to 390 million tonnes per annum (Mtpa), as a forecast.
This scenario estimate comes from the IEA's New Policies Scenario, one that assumes the world fails to deliver on the Paris Climate Agreement target of limiting warming to below two degrees. It is worth noting the IEA has a history of consistently revising down coal demand under the New Policies Scenario, year after year (see figure below).
IEA New Policies Scenario Global Coal Demand Forecast Evolution (Megatonne of Coal Equivalent)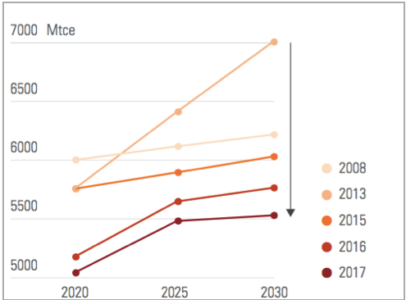 Source: Coal Transitions, IEA.
The IEA's new World Energy Outlook report will be released in November 2018 and IEEFA confidently predicts that coal demand under the New Policies Scenario will be revised down yet again, as technology and policy changes are occurring much more quickly than previously predicted.
NSW Mining's IEA figure was taken from the Agency's Southeast Asia Energy Outlook report. Not mentioned in their press release is that under the IEA's Sustainable Development Scenario, in which countries of the world work together to limit global warming to two degrees, the outlook for coal is very different.
The IEA states in the Southeast Asia Energy Outlook report that: "The use of coal in the Sustainable Development Scenario is vastly diminished, falling by around 30% in the period to 2040, as renewables eat into coal's share of the power mix." It goes on to say that: "As a result, by 2040, 70% less coal is used in the Sustainable Development Scenario than in the New Policies Scenario."
NSW Mining may be of the opinion that countries around the world will not do much to address carbon emissions to limit warming below two degrees. IEEFA however suggests that it is highly likely that countries will try to succeed on that front, which has major implications for coal consumption.
In IEEFA's view, NSW Mining's quoted forecasts seem highly optimistic when there is a real risk that NSW biggest export industry of thermal coal will go into permanent decline. As we noted in our report, the government and industry needs to take this risk seriously and begin making sensible preparations for a transition.
Simon Nicholas is a Sydney-based IEEFA energy analyst. He can be reached at [email protected].
RELATED ITEMS:
IEEFA report: Past their peak, New South Wales coal export volumes head toward terminal decline* as markets transition
IEEFA update: As Marubeni distances itself from coal, other industrial behemoths will follow
IEEFA update: India coal plant cancellations are coming faster than expected