China's overall 2014 electricity-market numbers have just been released, and they bear out our assertions that the Chinese government is serious about bringing more clean energy online and on curbing the country's appetite for coal.
Far and away the biggest increases percentage wise in power-generation capacity in 2014 were in solar, nuclear, and wind.
Also of special note in the overall 2014 report:
China's electricity consumption year over year was up 3.8 percent—which is an increase, yes, but well below GDP growth last year of 7.4 percent, which is significant because it signals a decoupling between economic growth and coal consumption.
For the first time in China's official annual electricity data report, solar capacity gets its own category, with total grid-connected solar generation up 67 percent year over year to 10.6 gigawatts.
While the data shows a surprisingly high number of thermal capacity installs (51 gigawatts of gas and coal combined) capacity utilization from overall thermal capacity fell 6.3 percent in 2014. Translation: Net coal-fired electricity generation in fact declined marginally overall in 2014. What the capacity-utilization data signifies, too, is a national overbuild of capacity, which will probably result in a significant slowdown in new construction of coal-fired capacity going forward. IEEFA stands by its forecast that coal-fired power generation in China will drop from 72 percent in 2014 to 60 percent by 2020.
Lots of new wind capacity was added in 2014 (19.5 gigawatts in total, with new installs up 30 percent year over year).
More hydroelectric generation came online (22 gigawatts), and China added 5 gigawatts of nuclear-powered generation.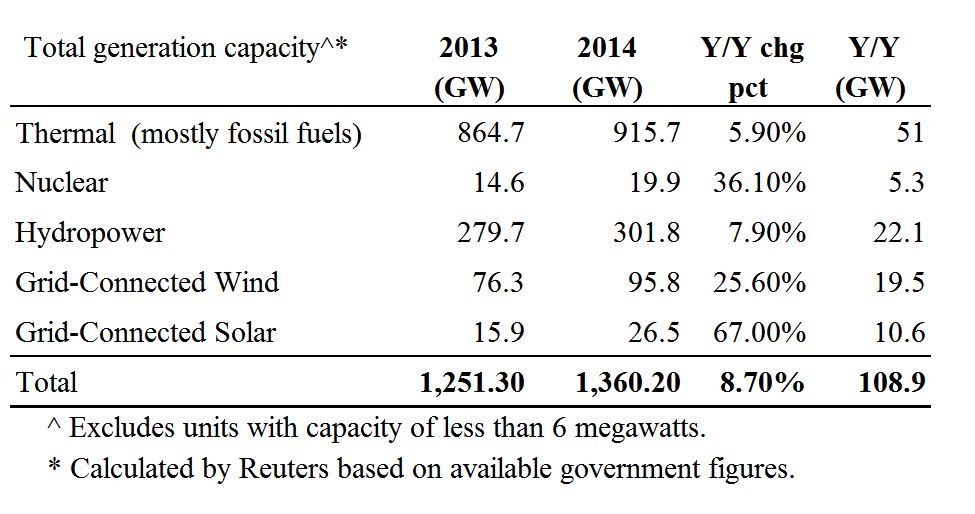 The single biggest takeaway from the latest data release for 2014 is this: While the gap is still huge—thermal sources, mostly fossil fuels, still generate 915.7 gigawatts to 444 gigawatts from renewables and other clean sources—clean sources are clearly gaining. It's a trend that's significant not just for China but for energy markets around the world.
Tim Buckley is IEEFA's director of energy finance studies, Australasia.