When we published our report about the fading financial viability of the aging Huntley Generation Station in early 2014, the facts showed the facility was all but destined to close. It had marginal usefulness for the region it was built to serve, and the financial drain it placed on NRG, the owner, would be borne for only so long.
NRG now says it will close the plant in March.
The new comes perhaps as no surprise. The Clean Air Coalition of Western New York approached IEEFA two years ago for help around how best to get ahead of the game and manage the transition to the benefit of the entire community. Key to any such strategy was in building a coalition that included labor leaders (the plant at the time employed about 70 people) and teachers-union representatives (the local school district stood to take an $8 million annual tax hit without Huntley).
Building a consensus around how to go through a difficult transition was not going to be easy.
The electrical workers union would likely lose workers, the teachers union and other public employees would be sensitive to lost tax dollars and none of them would want to see the plant closed. Both groups, of course, have deep roots in western New York, where hard economic news is too common and tough choices have been the order of the day for the past several decades.
How would any coalition build strong enough bonds to work past doubts and suspicions to come up with a transition plan for jobs and taxes and maybe even figure out what to do with the abandoned site? Could they forge bonds of trust as a new way to command attention for labor and the environment? Could they find ways to support people who might lose their jobs? Could they replace lost revenue for cash-strapped school districts and local governments?
Our report, which was co-authored by IEEFA research fellow Cathy Kunkel, presented a clear-eyed if somber view of the plant's finances, a drill we knew very well from having conducted similar such reviews all over the country. We added another element to the Huntley report: a schematic that identified within New York State what resources might be brought to bear to help workers find new employment, to offset lost revenues and to redevelop the site.  Our summary of potential resources (on Pages 22 and 23 of the report) included tens of millions of dollars available in economic-development money controlled by the New York Power Authority; a revision of the state's Basic Aid Formula for schools so that it would better reflect the likely new economic reality; subsidies from New York Independent System Operator that were sent to NRG to subsidize Huntley; and special legislative allocations that run into the hundreds of millions of dollars every year.
The Clean Air Coalition, working with labor and community leaders, organized a series of public discussions that helped build mutual trust around how residents and businesses in the area could pull together. Additional work produced a bill with some money to help Tonawanda and other communities facing power plant closures.
A promising fresh beginning is already under way.
WORK BEGINS ANEW ON THE TRANSITION FROM RHETORIC TO ACTION, AND WHAT'S called for immediately IS A SUBSTANTIVE PLAN to help employees most affected. NRG, the government, labor leaders and community leaders can spearhead an effort to make sure no one goes without jobs and income as the plant closing takes place. In addition to funding embodied in the new bill, money is available from a host of energy-related finance and similar sources.
The way forward will be best guided by a real fiscal strategy to help fill the revenue gaps for the school district and the towns affected by the closing. The bill that received legislative approval this summer is a good start, but smart fiscal planning can also help smooth the transition for the school district and local governments feeling the impacts of other cuts and the pain of the region's chronically weak economy.
The financial markets have spoken with regard to coal—chart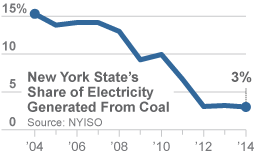 s like the one we show here show why—and energy dollars are moving somewhere else. What is left in the wake of such change are communities across the country that now face political decisions, and Tonawanda may have hit upon a model of consensus-building we all can learn from. Key to where Tonawanda and its forward-looking coalition stand now are leaders like Erin Heaney and Rebecca Newberry, young women who have a vision of how and where their communities can grow and a common-sense approach to what it takes to bring people together. Dick Lipsitz, president of the Western New York State Area Labor Federation, AFL-CIO, has set an example, too, for how union leaders can carry the torch forth.
I've argued from time to time here that one of the important aspects of the environmental movement today—for investors, industries and entire economies—is its permanence. Perhaps the cornerstone of this permanence is the fact that such work is attracting deeply committed people with formidable skills. If this is the future, there is cause for optimism.
Tom Sanzillo is IEEFA's director of finance.