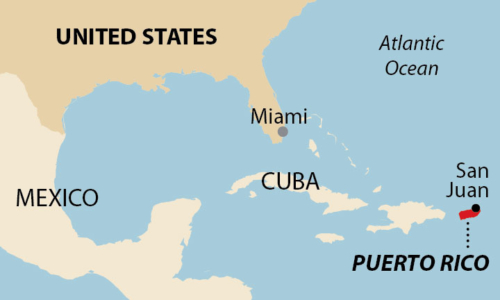 The Puerto Rico Electric Power Authority (PREPA) has signed the first major contract related to the promised transformation of the electrical system after hurricane Maria. But it is unclear whether this natural gas project will produce the promised savings, let alone move Puerto Rico to its stated goal of depending on renewables.
The deal is for the conversion of two units of the San Juan power plant to natural gas through a 5-year contract with the firm New Fortress Energy, which will supply gas and convert the units to burn gas, as well as develop liquified natural gas (LNG) import infrastructure in San Juan.
As we have said before, the idea of the project – reinforcing generation in the north via a short-term (5‑year) contract for natural gas – is not necessarily a bad one. But, in addition to questions previously raised about the contractor itself, the terms and structure of the contract suggest that PREPA has learned little from its recent history.
The entire point of the project is to generate savings for PREPA customers, but because the project was decided on before PREPA's integrated resource planning process was completed, there is no evidence that converting San Juan 5 and 6 was actually the most cost-effective project for PREPA to pursue.
The official savings estimates vary widely and are contradicted by PREPA's own data. In a filing with the Securities and Exchange Commission last November, New Fortress Energy estimated that the project would generate $285 million in annual savings. PREPA has variously estimated that the project will save $1.2 billion over 5 years ($240 million per year) and $150 million per year.
PREPA's savings assumptions require that the plants actually be used often to generate electricity. But that is contradicted by PREPA's own integrated resource plan, filed with the Puerto Rico Energy Bureau last month, which projects that the San Juan units will be under-utilized and unable to generate those savings.
After conversion to gas, the units will still not be the most economical in PREPA's system, which should reduce their use. And the integrated resource plan calls for adding new renewable energy and natural gas plants, which will be less costly to operate and thus further drive down the utilization of the San Juan units. If the units are used less often, then switching fuels will generate less savings.
We estimate that the San Juan conversion will achieve less than $100 million in annual savings in the first five years. After the initial five years of the contract, the San Juan units are projected to be utilized even less, between 5-41% between 2025 and 2029.
This poorly thought-out approach to savings is in keeping with PREPA's recent history, which has seen a parade of poorly documented savings initiatives put forward by PREPA's financial consultants, with seemingly little follow through and no reporting of actual savings from these projects.
PREPA's own plan contradicts savings claims
Moreover, the structure of the contract adds further confusion to PREPA's non-transparent budget. The contract is being treated by PREPA as a fuel contract, but it includes payments to New Fortress Energy for capital cost upgrades to the San Juan units. Effectively, PREPA is borrowing the capital cost and paying for it through fuel expenditure. This arrangement is inappropriate for two reasons. First, it is impossible to know what the effective interest rate PREPA is for this "loan." Second, treating non-fuel expenses as fuel expenditure is in violation of Puerto Rican law, and for good reason. This mixing of capital costs into PREPA's fuel budget obfuscates PREPA's true financial condition and makes it harder to verify any level of actual fuel savings from the contract by examining the budget.
PREPA's overall financial picture has been marred by poor borrowing practices (including borrowing to pay fuel costs and a lack of transparency in the use of borrowed funds); delayed financial audits; failure to provide required quarterly budget reports to the Financial Oversight and Management Board (FOMB); inability to justify budget items (as noted by the Puerto Rico Energy Commission); and significant accounting "irregularities" (including hundreds of millions of dollars in write-offs of accounts receivable). As PREPA embarks on a series of multi-million dollar contracting projects and FOMB-mandated savings initiatives while also trying to return to the capital markets, greater transparency and ability to accurately track budgetary savings are key.
PREPA needs to achieve its fuel savings targets to get out and stay out of bankruptcy. If it fails to achieve these savings then new investment in generation and transmission, workforce retention and investment, and affordable rates will be impossible.
Yet, PREPA has chosen instead to pursue a project with poorly defined savings goals under a contract that will make PREPA's financial records even more opaque.
Tom Sanzillo ([email protected]) is IEEFA's director of finance.
Cathy Kunkel ([email protected]) is an IEEFA energy analyst.
RELATED ITEMS:
IEEFA Puerto Rico: New natural gas deal fits same old pattern for choosing contractors
IEEFA Puerto Rico: Backroom natural gas deals threaten to displace public renewable energy plans
IEEFA Puerto Rico: PREPA preliminary energy plan modeling says maximize renewables