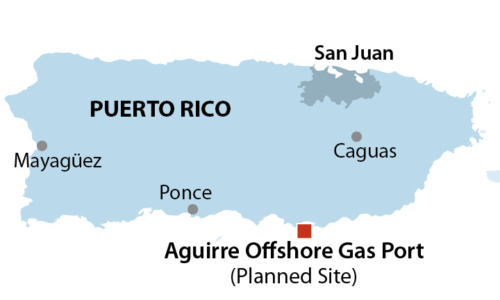 At the heart of the Puerto Rico Electric Power Authority's flawed plan to upgrade the island's crumbling electricity system lies a proposed $380 million facility to bring imported liquefied natural gas into the commonwealth.
PREPA, as the authority is known, has been promoting the project for years, even though it would mean a perpetuation of Puerto Rico's long-term reliance on imported fossil fuels.
There's also the fact that PREPA is hugely hobbled by debt and that if the Aguirre Offshore Gas Port were built, it would most likely result in higher electricity rates. We know this to be the case given PREPA's current financial weakness, its lack of access to credit markets, and questions surrounding how its debt will ultimately be restructured (this question is before the PROMESA Board now).
Project-finance prospects are weak as we note in testimony filed earlier this month that is being discussed by the Puerto Rico Energy Commission in technical hearings this week.
In theory, PREPA has four options for financing:
Securing a U.S. Department of Energy loan guarantee.
Issuing debt-restructuring bonds that would include Aguirre project capital.
Arranging for third-party ownership of the project.
Paying for it as a pass-through expense to ratepayers.
It's difficult to know which option PREPA is pursuing because the agency has put out conflicting information, but there is good reason to doubt that the first three options will be available—that's assuming the Aguirre project is approved by the Puerto Rico Electricity Commission.
The first option, a DOE loan guarantee, was initially seen as the best. In testimony from an earlier rate case, PREPA was "assumed to issue debt under the DOE loan guarantee program at the end of FY 2017, beginning of FY 2018."  This timeframe is impossible, with FY 2017 ending this week. PREPA stated recently that the Department of Energy will not commit to the project anyway until PREPA's overall debt restructuring is resolved.
The second option, which would require debt-restructuring bonds is probably of little interest to PREPA because it would be a complicated process that would likely take longer than feasible for the project current schedule, which counts on project design and construction beginning this  August 2017.
PREPA has given no indication that it is pursuing the third option, finding a third party to assume ownership of— and financial responsibility for—the project. While PREPA's fiscal plan alludes to a potential public-private partnership, as of April 2017 no private partner had been found.  A lack of transparency by PREPA makes it difficult to assess how any such negotiations are proceeding, if indeed they are occurring at all.
That leaves the fourth option, a direct pass-through to consumers of the $380 million, which would increase electric rates by about 35 percent, as we state in our testimony, creating "significant near-term rate shock."
All other questions about the project aside, the lack of a reasonable plan for financing casts doubt on whether the Aguirre Offshore Gas Port is anything other than a bad investment.
That's not to say there aren't other questions because there most definitely are. We'll get into those tomorrow in a second commentary on the topic.
Anna Sommer is an IEEFA energy consultant. Cathy Kunkel is an IEEFA energy analyst.
RELATED POSTS:

IEEFA Puerto Rico: Misguided Plan to Rebuild Electric System Is Fraught With Risk and Cost
How Puerto Rico's Electric Company Can Seize the Day
IEEFA Op-Ed: 5 reasons Puerto Rico's Electric Debt Deal Is a Rip-Off