China has moved back a deadline for its steel industry to reach peak carbon emissions from 2025 to 2030. However, peak steel emissions will still be achieved well before that and may already been reached.
Peak steel emissions may already been reached
In November last year IEEFA noted that China's steel sector – which is responsible for the majority of global production – may well have seen peak output in 2020. Given that steel demand in China is set for long term decline and the sector is beginning to decarbonise, that may also mean Chinese steelmaking has passed peak carbon emissions as well.
Some of China's huge steelmakers have set targets for peak carbon emissions well before 2030. China Baowu is aiming for 2023 and HBIS has said it will reach peak emissions this year.
The latest data from China's National Bureau of Statistics confirms that 2021 steel production was lower than in 2020. Total crude steel production for the year was 1.035 billion tonnes, down 2.8% on the prior year.
This is also backed up by data from WorldSteel which has China's 2021 crude steel production down 3% on the prior year.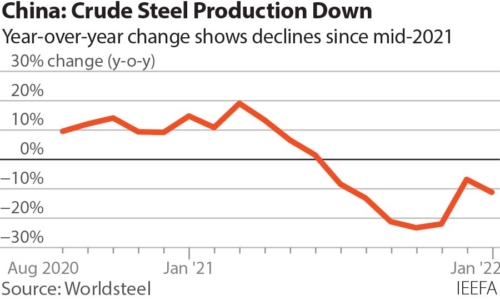 It had been expected that steel output in 2022 and beyond would be capped below 2021 levels. If this cap stays in place, it should see China's steel output continue to drop in the short to medium term.
However, a key uncertainty will be the level of government stimulus provided to shore up China's troubled property sector and drive infrastructure development in 2022 which could have an impact on steel demand.
Property sector slump continues
Since our November 2021 column the property sector's woes have continued with a number of default's among developers, most notably Evergrande. The property sector accounts for about one-third of economic activity in China and is a major driver of steel demand.
National Bureau of Statistics data shows that the total floor space of new building construction that began in 2021 was down 11.4% over the prior year.
Government stimulus for the property sector is expected during 2022 in order to meet its target of around 5.5% GDP growth for the year. The target – rubber stamped at the National People's Congress in early March – is the lowest in three decades and follows growth of just 4% in the last quarter of 2021 as the property slump took hold.
However, there are doubts as to whether such stimulus will be enough to reach the 5.5% target. Last week, Nomura's chief China economist stated "Beijing will likely face some major constraints to growth, and we believe the measures that are expected to be implemented will likely be insufficient to achieve real GDP growth of 5.5 per cent in 2022".
Longer term trends: Declining demand and lower emissions
In the longer term, China's steel demand will fall further as its economy continues to mature. Under its Announced Pledges Scenario – which reflects China's targets to reach net zero emissions in 2060 and peak carbon emissions by 2030 – the International Energy Agency (IEA) foresees Chinese steel production to be 40% lower in 2060 compared to 2020 levels.
China's steel demand will fall further as its economy continues to mature
All other things being equal, falling steel production will see declining carbon emissions from the sector. However, this will be assisted by a shift towards lower-carbon steelmaking technology.
In 2020, 91% of Chinese steel was produced in coal-consuming blast furnaces with just 9% coming from electric furnaces that can recycle scrap steel and produce much lower carbon emissions. The intention is for scrap steel recycling to increase going forward and make up a greater proportion of China's declining steel output.
The same guidelines that saw the peak steel emissions target pushed back to 2030 also seek an increase in electric arc furnace (EAF) steel production – using electricity and virtually 100% old steel to make new steel – to at least 15% by 2025. Market sources have suggested that the 15% target will easily be exceeded by that date.
A new analysis from the Centre for Research on Energy and Clean Air (CREA) and Global Energy Monitor (GEM) highlights that approvals for EAFs increased significantly in 2021, reaching 28.7 million tonnes per annum (Mtpa) of new capacity – more than the sum for 2018 to 2020.
The analysis also found that 62.9Mtpa of new blast furnaces were approved in 2021, although under China's steel capacity swap scheme, 79Mtpa of older blast furnace capacity reliant on coal will be shut down.
In addition, the first non-coal-based primary ironmaking projects in China were announced in 2021 according to the CREA-GEM analysis. Chinese steel producers Baosteel, Hebei Iron & Steel, Xingtai Iron & Steel and Fushun New Steel have all announced hydrogen-based ironmaking projects that are expected to be commissioned over 2022-24.
Full decarbonisation of the Chinese steel industry will require a complete technology shift away from coal-based processes. However, China's steel emissions look set to decline over the rest of the decade, rendering the 2030 peak steel emissions deadline meaningless at the sector level. It will now be a question of how fast those emissions decline in parallel with the technology shift.
China's 2022 steel production has started sluggishly with January output down 11% year-on-year according to WorldSteel.
Meanwhile, the future of global steel emissions will increasingly depend on the technology path taken by markets with growing steel demand, like India.
By Simon Nicholas and Soroush Basirat, IEEFA
Related articles:
IEEFA: India's technology path key to global steel decarbonisation
IEEFA: Is there scope for faster decarbonisation of Australian steel?
IEEFA: Risks are rising for 'new generation' of Australian coking coal projects
IEEFA: China, Japan and South Korea stand to gain most from increased scrap steel recycling
IEEFA: New From Old: The Global Potential for More Scrap Steel Recycling