Bangladesh needs to increase its electricity supply, but the proposed Adani Godda project is not the answer: IEEFA's analysis finds that it is too expensive and a poor strategic fit for Bangladesh.
The cost-plus Godda electricity contract, signed with the state-owned Bangladesh Power Development Board, is clearly designed to benefit Adani and is, at least in part, an attempt to prop up Adani Enterprises' troubled Carmichael coal project in Australia. Carmichael was intended to produce coal for Adani's own power plants, predominantly for its economically distressed Mundra plant. Instead, it appears that the Godda project will use Australian coal to export power to Bangladesh, locking Bangladesh into an expensive, long-term, and emissions-intensive source of electricity for decades to come.
Despite what Adani claims, the project will not only fail to alleviate poverty in Bangladesh, it will actually deepen it, in a country amongst the most vulnerable to the impacts of climate change. The proposal will produce high-cost power whilst cheaper, deflationary clean energy production is currently transforming India's electricity system.
Adani Power intends to construct a net 1,496 megawatt (2 x 800 MW less 6.5% internal plant use) coal-fired power plant at Godda in India's Jharkhand state and run the facility with imported coal from Adani's Australian Carmichael coal project. The electricity would be shipped via a dedicated 400 kilovolt DC transmission line to Bangladesh. The plant will cost an estimated US$2.1 billion (Rs135bn), but where the funding will come from is entirely opaque given that Adani Power's net debt of US$7.2 billion is more than 16 times equity. The company has so far failed to make the full cash deposit required to secure land acquisition for the project. In a move that is strategically illogical, Adani intends to import coal into Jharkhand, a major coal mining state that is home to the largest coal reserves in India.
IEEFA identifies several issues with the Adani Godda project that make it unsuitable for Bangladesh:
The Adani Godda electricity tariff will make the electricity very expensive for the Bangladeshi people. The power purchase agreement (PPA) for the Godda plant entitles the company to a capacity charge of Rs2.60/kWh, plus full pass through of the cost of the imported coal and a grid transmission charge. IEEFA estimates that the Bangladesh Power Development Board could expect a tariff of around Rs6.65/kWh or around Tk8.71/kWh at current Rupee/Taka exchange rates. This makes it amongst the most expensive sources of new generation capacity for Bangladesh. Recent PPAs signed in Bangladesh for natural gas, imported liquefied natural gas (LNG), coal and solar PV are all lower than this estimated tariff.
Image
This tariff estimate is also much higher than what is being charged by other imported coal-fired plants; Adani's import coal-fuelled Udupi power plant in Karnataka had an average PPA realisation of Rs4.80 per kWh in Q3 of FY2018. Indian state-owned power generator NTPC's current average tariff for domestic sourced thermal power is Rs3.21/kWh. In addition, in February 2018 NTPC won a competitive tender to export power to Bangladesh – power that will be far cheaper than that from Adani's Godda proposal and which makes much more sense for Bangladesh. Adani Australia chief executive Jeyakumar Janakaraj has stated that the supply of coal from its Carmichael coal mine project to the Godda power plant will help bring millions of Bangladeshis out of poverty. The very high cost of the estimated Godda tariff makes clear that this project will not alleviate poverty in Bangladesh - it will deepen it.
India is increasingly turning away from long-term thermal power purchase agreements and this project will lock in polluting power for Bangladesh for 25 years. Indian electricity distribution companies (discoms) are increasingly reluctant to sign long-term PPAs for thermal power offtake in the face of the increasingly low tariffs available for renewable energy. Approximately 60 gigawatts (GW) of thermal power projects in India currently are under financial stress, with about 26 GW of this total suffering due to their inability to sign long-term PPAs. Instead, India's discoms are looking to secure diversified generation resources, ranging from day ahead procurement to PPAs spanning 3 to 5 years, allowing them to benefit from continued reductions in renewable energy tariffs in the future.
Image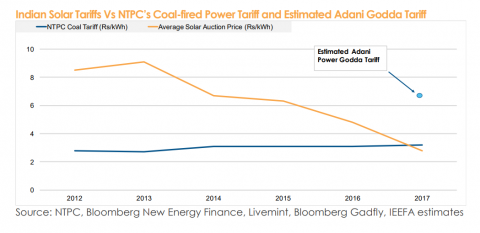 Signing a 25-year PPA for coal-fired power would lock Bangladesh into expensive electricity with high emissions at a time when cleaner, cheaper alternative sources of energy are rapidly being deployed across India.
The Godda power plant will not be operational for years. In March 2017, the Jharkhand Chief Secretary stated that Adani would begin work on the Godda project in June and that the project would take 18 months to complete. Adani disclosed that work had started in January 2018, seven months later. In its most recent financial results, for 31 December 2017, Adani Power said the plant would not be operational until May 2022 — a much longer time frame than previous estimates. By comparison, solar and wind power plants can be completed within 12-18 months. With an EPC contractor yet to be signed, no clarity over funding and Adani Power carrying very large debts, there is significant scope for further delays. India has many existing power plants that are running at unsustainably low plant load factors (PLF). India Power Minister R. K. Singh has stated that the PLF of existing plants can be improved if exports to neighbouring countries, including Bangladesh, are expanded. This alternative would immediately provide power for Bangladesh without the need for signing a 25-year PPA and having to wait for the plant to be constructed.
Adani Power Ltd is in financial distress: the power plant may never be built and financial risk will flow to Bangladesh. Bangladesh would be exposing itself to significant financial risk by signing a PPA with Adani Power. In its latest financial results, Adani Power Ltd reported a US$227 million net loss for the nine months to 31 December 2017, continuing a string of losses reported this decade. Financial leverage remains extreme, with net debt of US$7.2 billion more than 16 times shareholder equity and net interest costs approaching US$1 billion annually. In addition, the company recently admitted that its 4.6 GW import coal-fired power plant at Mundra is unviable and has stopped supplying electricity from the plant to the state of Gujarat, breaching its PPA. As a result, Adani Power's auditors have once again raised doubts over the company's ability to continue as a going concern, meaning there is a significant risk that the power plant will never be built.
Adani's use of Australian coal for Godda is an attempt to prop up its stranded Carmichael project. Adani is suggesting it will import coal via the port of Dhamra, Odisha (owned by Adani Ports) some 700 kilometres away from the power plant by rail. This makes little sense strategically. The proposal can only be viable because the PPA gives Adani a full cost pass-through. It follows that the PPA is necessarily unfavourable for Bangladesh. The risk of high prices for imported coal and rail charges will not be borne be Adani, rather they will be passed through to Bangladesh. With the help of a very favourable PPA agreement, switching to imported coal at Godda to produce power that will be exported is, at least in part, a way of attempting to prop up Adani's stranded Australian Carmichael thermal coal project. With Adani Power's Mundra import coal-fired power plant financially unviable, Adani sees the Godda project as a way to provide an alternative destination for coal from the proposed Carmichael mine. Such a strategy is not in Bangladesh's best interests.
Bangladesh's current energy plan focuses on the construction of a domestic fleet of power plants running on imported coal and LNG. These efforts have not progressed well and much of the construction is already badly behind schedule. The country also hopes to boost electricity imports from neighbouring countries. In IEEFA's view, Bangladesh would be best served by expanding its domestic solar capacity where possible and securing increased technology-agnostic electricity imports from neighbouring countries procured by competitive tenders. India can ramp up exports now using existing generation capacity – building new export capacity when the current thermal fleet is running at an average utilisation rate of just 57% is inefficient and expensive.
Press release: IEEFA Report: Proposed Coal-Fired Project for Bangladesh Is a High-Priced Scheme Meant to Prop Up Adani Power
Please view full report PDF for references and sources.