Australia's largest thermal coal export destination will reduce consumption as power plants age and close
A recent New York Times article examined how Japan's construction of coal-fired power plants contradicts its branding of a "green" 2020 Tokyo Olympics.
Yet, a longer-term view of Japan's coal power fleet and project pipeline reveals that Australia's biggest thermal coal export destination is set for a significant reduction in coal consumption over the next 20 years even without further action on climate change.
According to the latest Global Energy Monitor (GEM) data, Japan has 9.3GW of coal plants under construction.
New power cannot be added to a system with flat or declining demand
However, Japan's electricity generation has dropped at an average rate of 1.2% per annum since 2008. New power generation cannot be added to a power system with flat or declining demand without existing generation being crowded out.
Importantly, the GEM data also shows that the nation has 8.3GW of old coal power plants that will be due for end-of-life closure over the next five years. The new, more efficient coal plants will replace the old ones, consuming less coal in the process.
Furthermore, the pipeline of Japanese coal plants yet to reach construction has been hollowed out by project cancellations.
As recently as July 2018 there was another 9GW of coal plant proposals under development but yet to reach construction. As of January 2020, there are now only 2.6GW according to GEM. What's more, the remaining projects look highly uncertain to proceed.
The proposed 1.2GW Ube coal power plant saw one of its two main proponents, Osaka Gas, withdraw from the project in April 2019. The proposal's remaining proponents have halted the environmental assessment process for the proposal while they reconsider their plans.
Meanwhile, the 1.3GW Akita coal power proposal is also teetering. In March 2019 it was reported that proponent Marubeni Corporation had stated that the project would not go ahead but was yet to go public with this disclosure whilst it negotiated with its project partner Kansai Electric Power.
Kansai Electric Power have since announced that the project would not start as scheduled and grid access rights for the proposed plant have reportedly been surrendered suggesting that it has been, in effect, cancelled.
If, as it seems, neither of these plants proceed then the plants currently being constructed to replace aging units will be the last ever built in Japan.
Assuming a full 40-year lifespan for the existing fleet, Japan's coal power capacity will peak in 2024 and then decline throughout the late 2020s and 2030s as units reach their end-of-life (Figure 1).
If renewable energy continues to undermine the economics of coal power or Japan makes serious efforts to reduce carbon emissions, this decline could happen significantly faster.
Figure 1: Japan's Coal-Fired Power Capacity to 2050 (MW)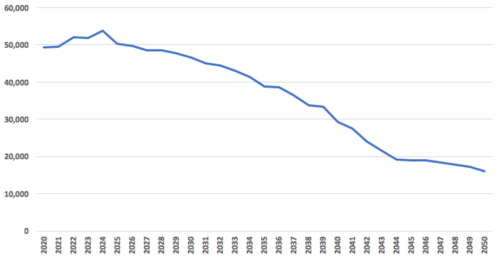 Source: Global Energy Monitor, IEEFA calculations
Renewables and LNG threaten faster coal decline
One new Marubeni power project in Akita prefecture that is going ahead is the first Japanese offshore wind farm to reach construction.
This is just one of a number of noteworthy offshore wind proposals in Japan, a sector that is set to become highly significant in improving the island nation's energy security as costs continue to decline following successful uptake in Europe.
Marubeni Corporation, historically one of the most significant constructors of coal-fired power plants around Japan and the developing world, distanced itself from further coal projects in a new policy released in September 2018. It also further committed to accelerate investment in renewable energy.
And it's not just renewable energy that threatens a faster decline in Japanese coal consumption.
The current record low LNG prices may be temporary but structurally lower prices may persist into the longer term as more supply comes on line which could see coal-to-LNG switching in Japan and beyond.
Permanently lower LNG prices will likely see a move away from linking long term LNG contract prices to the price of oil, and towards linking to U.S. gas prices or even thermal coal making LNG more competitive with the latter.
In April 2019, a LNG supply contract for Japan was partly linked to the price of coal for the first time.
Implications for Australian thermal coal exporters
Japan is by far Australia's largest thermal coal export destination so the implications for miners in the Hunter Valley will be very significant.
Some of those implications are already visible as Japanese investors in Australian thermal coal mining continue to pull out of the sector as they see less need to have a seat at the table.
In February this year, Mitsubishi Materials Corp suddenly divested its entire 11.2% stake in New Hope Corporation. New Hope's share price fell 14% the day after this was revealed, having dropped 60% in the last year.
Major trading company Mitsubishi Corporation, a fellow member of the Mitsubishi Group, exited its investments in the Clermont coal mine in Queensland and the Ulan mine in New South Wales back in December 2018.
Other major Japanese trading companies have made similar moves away from thermal coal. Itochu Corporation announced it had exited its investment in the Rolleston thermal coal mine in February 2019.
The Port of Newcastle, the world's largest coal export port, clearly sees the risk and hopes to diversify its business away from over-reliance on thermal coal. The risk may be increased if pressure for Japan to do more leads to more determined action on carbon emissions from the government.
The government says it will review support for coal-fired power plant construction overseas
In the run up to the next U.N. climate conference in November, investors are already demanding more emissions action from Japan. Under pressure, the Japanese government stated in February 2020 that it would review its support for coal-fired power plant construction overseas.
And Japan isn't the only importer of Australian thermal coal under pressure from investors. Major investors are threatening to divest from the Korean Electric Power Corporation (KEPCO) if it does not do more to curb emissions.
Air pollution concerns in South Korea and Taiwan are leading to early closures of old coal plants and significant winter coal plant shutdowns. Air pollution seems likely to push some Asian nations away from coal faster than climate change concerns.
Both South Korea and Taiwan are targeting reduced reliance on coal and nuclear power and increased reliance on renewables and LNG within their power systems.
Japan, South Korea and Taiwan are three of Australia's big four thermal coal export destinations. The fourth – China – seems determined to be fully reliant on its own coal in the near future.
With around 90% of Australian thermal coal exports going to those four nations, there is no hope that significant declines in their coal consumption can be adequately compensated by increased imports into much smaller electricity markets such as Vietnam.
About half of planned Vietnamese coal plants are yet to secure funding and with banks increasingly abandoning finance for coal, they may never be built.
Meanwhile India's latest commitment to cease thermal coal imports from 2024 is aspirational at best, but even a progressive reduction in Indian imports will have significant knock on effects throughout the Asian seaborne thermal coal market.
It would also mean that the opportunity for Australian thermal coal exporters to move into the Indian market is practically non-existent.
The world's largest coal export port has identified the need to diversify away from thermal coal. Australian governments that have any long-term interest in the economy should have perceived the same need by now.
Simon Nicholas is an IEEFA energy finance analyst.
Media contact:
Kate Finlayson ([email protected]) +61 418 254 237
Recent items:
IEEFA report: Australia's key export market – Japan, moving beyond thermal coal
Japanese Thermal Coal Consumption Approaching Long Term Decline
IEEFA Japan: Pivot from thermal coal to renewables is building