A Crush of Deals With State-Owned Enterprises, Leading Power Companies, Billionaires, Major Firms and Utilities
Investments worth more than $100 billion over the past eight months are driving an unprecedented shift to renewable energy in India.
The trend is detailed in a report we just posted—India's Electricity Sector Transformation—that charts the accelerating influx of global capital into India as the country moves toward its goal of installing 175 gigawatts of renewable energy by 2022.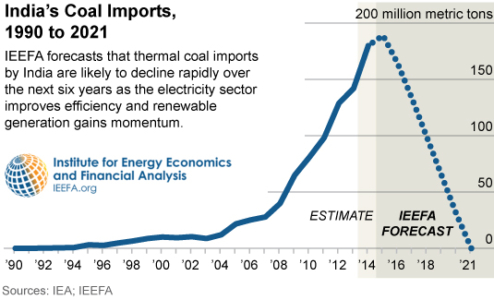 Just a few months ago, global financial markets reflected investor skepticism around whether good intentions and big promises could be turned into concrete actions. The figures we see today speak for themselves, and the $100 billion in firm commitments signed and sealed include deals with state-owned enterprises, leading Indian power companies, a number of Indian billionaires new to the power sector and major global renewable-energy firms and utilities.
Here's a rundown of what's happening:

Four of the world's largest solar manufacturers are advancing plans to build Indian solar manufacturing capacity (Trina Solar, JA Solar, Hanwha Q CELLS, LONGi).
Three of the world's top renewable energy utilities are acquiring top Indian renewable project-development firms (EDF Energies Nouvelles, ENEL Green Power, ENGIE);
Four of North America's top solar-development companies are accelerating project development in India (Sky Power of Canada, First Solar, SunEdison and SunPower);
Numerous leading Asian innovators and utilities are targeting Indian renewables (Foxconn of Taiwan, SoftBank of Japan, Sembcorp of Singapore, CLP Group of HK);
Major Indian energy sector conglomerates are initiating multiple new investment programs in renewables (Adani Power, Tata Power and Reliance Power);
Several of India's wealthiest companies are entering the power markets to invest in renewables (Aditya Birla Group, the Dilip family, Bharti Enterprises, Jindal Steel and Power);
Global development banks and leading equity investors are providing innovative green finance (International Finance Corp, the World Bank, KfW of Germany, Asia Development Bank, Abu Dhabi Investment Authority, GE, Goldman Sachs, Actis Capital).
October 2015 alone saw more than a dozen major deals in India's renewable-energy sector. Among them:
Sany Group, China, announcing plans to invest $3 billion by 2020;
Chint Group, China, announcing plans to invest $2 billion by 2020;
The new SoftBank/Foxconn/Bharti joint venture signing its first $2 billion memorandum of understanding in Andhra Pradesh for 3 gigawatts of renewables;
The German government pledging €1.5 billion over five years to support India's solar energy expansion through a German-Indian solar partnership.
The November 2015 SunEdison solar auction win of 500MW at Rs4.63/kWh (US7.1c) set a record low solar price, 10% lower than the previous record low a few weeks earlier, Buckley said.
It's all in line with Energy Minister Piyush Goyal's repeated assertion that India's reliance on thermal coal imports is not sustainable.
The consequences for imported thermal coal are stark, and what's occurring in India today reinforces the fact that the seaborne thermal coal market is in structural decline. There is quite simply no rational economic case for imported coal in India, and the speed of renewable energy developments is now undercutting even domestic fossil fuels.
The smart money on India today is in renewables.
Tim Buckley is IEEFA's director of energy finance studies, Australasia
(Our full report is available here.)