Market Gains and Policy Action Drive Expansion
It's been a few weeks since IEEFA's publication of our case study of Tamil Nadu, India's leading state in terms of renewable energy capacity, and developments demand an update already.
Wind and solar tenders of 3 additional gigawatts have since been proposed; a 500-megawatt industrial solar park is under development; construction of a 660-megawatt coal plant has been cancelled; India's first offshore wind pilot project has been launched; and the reforms of discoms—national electricity distribution companies—are continuing to see progress.
As detailed in that recent IEEFA report, "Power Industry Transition: Here and Now," variable wind and solar accounts for 15% of Tamil Nadu's total generation (including dispatchable biomass gets us to the 16% number in Figure 1). Lower renewable energy operating rates account for the much more substantial 35% of total renewable capacity as of March 2017 (42% when you include large hydro-electricity capacity).
Figure 1: Tamil Nadu Electricity Capacity and Production (2016/17)

Source: CEA, IEEFA Electricity Model for Tamil Nadu
Just this past month, Tamil Nadu Generation and Distribution Corporation (TANGEDCO) revealed plans to tender 3 gigawatts of renewable energy capacity soon, half in solar projects and half in wind. This expansion will build substantially on 2.4 gigawatts (GW) of solar development projects already in the pipeline (thanks largely to the 1.5-GW solar tender in July 2017 awarded at Rs3.47/kWh).
Tamil Nadu Electricity Regulatory Commission (TNERC) has indicated that reverse auctions will have an upper limit of Rs3.00/kWh (US$46/MWh) for solar and Rs2.65/kWh (US$40/MWh) for wind. This would be consistent with recent solar tender results across India but may prove optimistic in light of TANGEDCO's improving but still perilous financial condition and given the recent increase in imported solar module costs to US$0.40/w from the record lows of US$0.30/w seen in the second quarter of calendar 2017.
On the positive side, the threat of a 70 percent solar module import duty has been removed for now with the Parliamentary Standing Committee on Energy expressing opposition.
INDIA'S SOLAR EXPANSION CONTINUES APACE with the Ministry of New and Renewable Energy (MNRE) reporting in-principle approval for TANGEDCO to develop a new 500-megawatt (MW) solar park in Ramanathapuram, Tamil Nadu. The park is to be wholly owned by TANGEDCO; Tamil Nadu Transmission Corporation (TANTRANSCO) will develop the government-owned 2,000-acre site.
In March of this year, National Hydroelectric Power Corporation completed its first solar project, a 50-MW installation in Theni, Tamil Nadu, as part of a 430-MW diversification plan.
Once the data is in, India is expected to have installed 10 GW of new solar capacity over the past year. The MNRE reports 7.3 GW installed in the 11 months through February with an additional 2.7 GW expected in March. At this rate, India will have reached 22 GW of total solar installs by the end of 2017/18, a near doubling in cumulative installed capacity in just one year, putting India in the top three nations globally in 2017.
Just this month, the TNERC, in a move to provide investors better policy clarity and one that highlights renewable energy deflation trend issued a levelized generic tariff for the procurement of solar power for FY2018/19 at Rs 3.05/KWh (US $46/MWh) net of the accelerated depreciation allowance, 31 percent lower than the previous levelized solar tariff.

ON THE WIND-ENERGY FRONT, India's plans for offshore wind developments in Tamil Nadu and Gujarat present very promising options for longer-term zero-emissions capacity diversification.
With Vattenfall of Sweden winning yet another 750-megawatt subsidy-free tender for offshore wind in the Netherlands, the technology-learning remains extensive, suggesting that patience in terms of cost deflation will be rewarded (see Figure 2).
IEEFA modeled 1 gigawatts of offshore wind by 2027 as part of its 10-Year Plan for Tamil Nadu, and just this March, Tamil Nadu announced plans for a Rs300 crore (US$47 million), 30-megawatt offshore wind demonstration at Arichamunai.
This offshore push helps provide diversity of  supply across Tamil Nadu's renewables industry.
Figure 2: European offshore Wind Tender Results 2010-2018 (US$/MWh)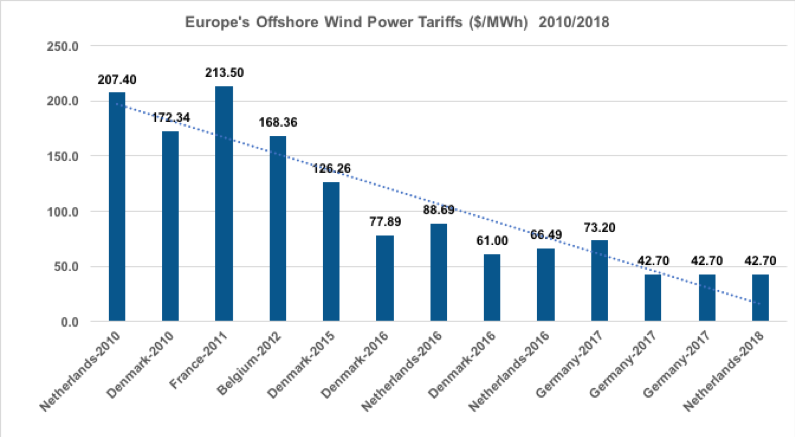 Source: Press articles, IEEFA Estimates
Notes:
Tariffs are converted to USD based on conversion rates on 21st March 2018.
Tariffs for the UK include grid connection costs, whereas European tariffs exclude grid connection charges.
The auctions in Germany-2017 & Netherlands-2018 were awarded at 'Zero Market Premium' hence we assume that they are priced at €35/$42.70 wholesale power price.
IN OTHER NEWS OF NOTE, has cancelled plans for completion of a 660-MW import-coal-fired power plant in Ennore, a project that had reached only 20 percent completion.
Ennore may be re-tendered to a financially viable construction firm (the original contract went to Lanco Infratech), but its cancellation provides an excellent opportunity for Tamil Nadu to review its power generation needs, particularly given the huge cost differential between expensive imported coal (which has doubled since 2016 to over US$100/t) versus renewable generation, which has seen costs halve in the same time period.
Further, under India's UDAY reforms, TANGEDCO is committed to better disclosure and accountability practices and to a set of targets for financial and operational improvements. For the nine months to December 2017, TANGEDCO missed its aggressive loss reduction targets, but is still reporting a significant year-on-year improvement in its ACS-ARR gap (average cost of supply less average revenue received), from Rs0.36/kWh in 2016/17 to Rs0.24/kWh to-date (the year-to-date 2017/18 AT&C loss rate is reported at 14.04%, a small improvement over the 14.53% reported for 2016/17).
To conclude, Tamil Nadu continues to advance its electricity-system transformation even as TANGEDCO supports the expanding energy needs required to continue solid economic growth. With aggressive plans for further renewable energy developments across solar, and with onshore wind being expanded now to include a pilot offshore wind project, the benefits are evident in both expanded capacity and wholesale cost deflation. This is supporting TANGEDCO's ongoing reform from one of India's worst-performing discom profiles in 2013/14 to a potential break-even result in 2018/19, a US$2.1 billion unsubsidized annual improvement.
Tim Buckley is IEEFA's director of energy finance studies, Australasia. Kashish Shah is an IEEFA research associate

RELATED ITEMS:
IEEFA Update: A Tipping Point Is Coming, and Fast
IEEFA Report: 'Here and Now' — Nine Electricity Markets Leading the Transition to Wind and Solar
IEEFA India: Tamil Nadu, Population 72 Million, Emerges as a National Transition Model