FBI lays bare audacious $61 million web of racketeering - Gov. DeWine should call special legislative session
A top state politician and four cronies are indicted for RICO violations
FirstEnergy's successful campaign last year to secure a $1 billion bailout of its Ohio nuclear plants is at the center of a pay-to-play scandal that is rocking Ohio. Yesterday, the Justice Department filed criminal charges against Larry Householder, speaker of the Ohio House of Representatives, and four close associates in a case U.S. Attorney David DeVillers called "likely the largest bribery, money-laundering scheme ever perpetrated against the people in the state of Ohio."  
Governor Mike DeWine and other top Ohio officeholders called on Householder to resign immediately but that is not enough.  The governor should convene the Ohio General Assembly now to repeal the law that bailed out the nuclear plants and begin a new legislative process.  
The scheme, as laid out in a federal affidavit, revolved around Householder's control of a non-profit corporation called "Generation Now," which was used to pool campaign contributions and to fund tactics used to prevent a citizens organization from placing a measure on the ballot last fall to repeal the referendum.
Charged along with Householder under the federal RICO (Racketeer Influenced and Corrupt Organizations) Act were former Ohio Republican Party chair Matthew Borges, long-time Columbus political consultant Neil Clark, Householder's right-hand man, Jeffrey Longstreth, and Juan Cespedes, a Columbus-based lobbyist. The indictment also names Generation Now as a defendant.
The nuclear bailout law,  known as House Bill 6, passed the Ohio House of Representatives in July 2019  with only one more vote than the minimum required, and DeWine quickly signed it into law.   
The documents make clear that the bill's passage was the tainted result of corruption. Householder's own "yes" vote was critical for passage. And the U.S. attorney showed that the scheme deprived the citizens of Ohio of their right to place a repeal referendum on the ballot. 
The complaint describes a web of complicity around "Company A," which funneled some $60 million to Generation Now and an additional $890,000 to other entities. As Villers said, "Everyone in this room knows who Company A is. I will not be mentioning the name today because of our regulations and rules." 
The case has prompted a Twitter storm, including this popular comment: "Will the Browns now be playing in Company A Stadium?"
The stock market knows who Company A is. FirstEnergy's stock was down 17% at the close of trading yesterday ad as of 2 p.m. today is down an additional 18%. And less than an hour after the arrests were announced, the stock of FirstEnergy's former subsidiary, Energy Harbor (formerly FirstEnergy Solutions), dropped by 20% so quickly that trading was automatically halted. Energy Harbor stock is down by an additional 16% today.
The 81-page complaint spells out details of a web of influence-peddling, as shown here (click on the image to enlarge the chart):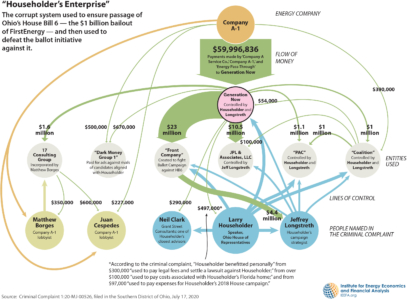 FBI AGENT BLANE WETZEL PRAISED THE COURAGE OF SEVERAL WHISTLEBLOWERS who came forth, including a state representative named only as "Representative 7,"  who brought in the FBI when he was being strong-armed to support the legislation. 
A referendum petitioner gave the bureau access to his conversations and text exchanges with Borges in which Generation Now offered to bribe the petitioner with $15,000 to provide inside information and buy out his contract.  
The complaint shines a light on the contempt that Householder, his associates, and FirstEnergy held for Ohio citizens across the board. The vicious and xenophobic advertising campaign aimed at scaring voters away from signing referendum petitions claimed, among other things, that the Chinese government was trying to take over Ohio's energy grid, and the campaign sent out sinister postcards saying "foreign entities" would be "knocking on your door."
The charging document quotes, for instance, a recording of a dinner party conversation in which "Clark and Householder thought [the postcard] was hilarious. Through laughter, Clark described what he termed 'the direct mail piece' as 'so f-ing cold blooded.'"
Householder sent this text about another ad: "I'm just sick of seeing that poor sum bitch drive that pickup truck down the road and cry about losing his job. Which means it's burnt in."
The authorities, making clear yesterday that the investigation is still in progress, posted a telephone tip line for additional information: 614-849-1777. In the meantime, executives at FirstEnergy and Energy Harbor are saying they will cooperate with the investigation.  
THE FBI WOULD DO WELL TO TAKE A CLOSER LOOK AT ALL OTHER STATE GOVERNMENT-OFFICIAL INVOLVEMENT WITH FIRSTENERGY  at least as far back as 2016 when FirstEnergy was seeking  a "legislative solution" to save its nuclear plants. The complaint shows also that the company began making quarterly payments of $250,000 to Generation Now in March 2017 and that Householder took a trip on the company's private jet that January.
One item well worth investigating: A $14 million loan by JobsOhio, the state's privatized economic development arm, to FirstEnergy Generation in November 2016, to pay for the clean-up of FirstEnergy's shuttered R.E. Burger coal plant. The plant site was being prepared as a potential site for a petrochemical plant to be built by Thai company PTTGC, which itself later received $50 million in JobsOhio grants. The project is currently "indefinitely delayed." Because JobsOhio is not subject to open-records law, no documents on this transaction have been made public.
Sandy Buchanan is IEEFA's executive director. Seth Feaster is an IEEFA data analyst. 
RELATED ITEMS:
IEEFA update: FirstEnergy stops at nothing in its quest for an Ohio ratepayer-financed bailout
IEEFA update: Bailing out Ohio's nuclear and coal plants unnecessary for supply or rate stability
IEEFA update: FirstEnergy stops at nothing in its quest for an Ohio ratepayer-financed bailout