Utility commission launches investigation of Comanche Unit 3 costs; seamless replacement of power adds to case for early closure
Xcel Energy's troubled Unit 3 at the Comanche Generating Station in Colorado was offline for almost an entire year after being closed for repairs—even as customers started paying the $11.7 million cost of fixing previous problems.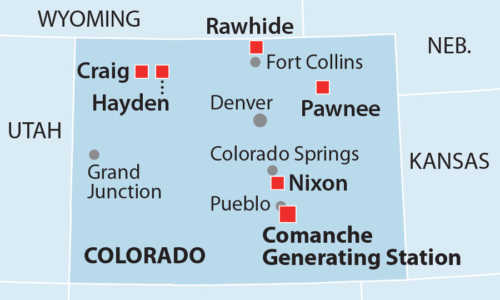 The latest in a long saga of failures at Comanche 3 started on Jan. 13, 2020, when it was shut down after a turbine blade failure, which took five months to repair. Then, when restarting the unit on June 1 and 2, a catastrophic loss of lubricating oil occurred that extensively damaged the turbine and generator, and took another seven months to fix. It finally returned to service this week, on Jan. 11. The unit has broken down so often since it started operating in 2010 that it has been offline for a quarter of its life—extremely poor performance for a relatively new plant. And with each outage and subsequent repair, the cost of its power for Colorado ratepayers continues to spiral upward, making it a glaring example of how even the newest coal-fired power plants are losing the economic battle with ever-cheaper and cleaner utility-scale solar and wind.
Comanche 3 should be shut decades before its planned 2070 closure
The absence of the 750-megawatt (MW) unit and its failure to affect the steady delivery of electricity to customers adds to the argument that Comanche 3 should be shut decades before its planned 2070 closure.
Another push for closure is coming from the state, which has a legislative mandate to cut greenhouse gas emissions by 90% by 2050. A key interim goal is cutting utility carbon dioxide (CO2) emissions by 80% by 2030. Xcel has already planned to help meet that goal by closing the two other coal-fired units at the 1,426MW plant, located in Pueblo—the 325MW Unit 1, by December 2022, and the 335MW Unit 2, by December 2025. However, when operational, Unit 3 routinely generates more CO2 annually than the other two units. For example, in 2019, the last year when Unit 3 was operational, it produced 4.6 million tons of CO2, compared to 4.4 million tons for Units 1 and 2 combined. Similarly, in 2018 the totals were 5.3 million tons to 4.9 million tons. In other words: Xcel is still going to have a CO2 emissions problem after 2025.
A FRAYING RELATIONSHIP WITH COLORADO REGULATORS
Comanche 3's 2020 problems played out as the utility sought regulatory approval to recover $11.7 million from its electricity customers in 2015 for a failing piece of equipment called a finishing superheater. The Colorado Public Utilities Commission (PUC) denied Xcel's request in February, but reversed itself in May. The commission said its latest decision was "made with reluctance," and that "the commission's records show a continuing history of construction and operational problems with the Comanche 3 unit that have forced the commission to exercise careful scrutiny of the company's investments in the plant and its ongoing operations." 
The growing frustration of the PUC throughout 2020 has been evident in its public filings. That frustration culminated in an October decision to investigate the Comanche unit's operations as the problems, and expenses borne by ratepayers, continued to rise.
The final bill for repairs from the January breakdown and the further complications reported in June will run into the millions of dollars. Xcel has said the damage exceeded its $2 million insurance deductible. The bills will be paid by customers of the Public Service Company of Colorado, a subsidiary of Xcel, which owns 67% of Comanche 3, as well as two small co-ops (Intermountain Rural Electric Association, or IREA, and Holy Cross Energy) that hold minority stakes in the unit. IREA, which has a 25 percent interest, said it's had to buy replacement power at more than twice the cost of Comanche Unit 3 production during the last year.
Regulators are concerned that repeated breakdowns at Comanche 3 are driving costs higher
Regulators are concerned that the repeated breakdowns at Comanche 3 are driving costs ever higher and will cost ratepayers even more. The PUC may conclude that continuing to throw good money after bad is no longer in the best interest of Colorado ratepayers, especially against a backdrop of falling costs for wind and solar, and growing public pressure to reduce greenhouse gas emissions.

BETTER NEWS FROM XCEL ON THE HORIZON?
The irony in this saga of the troubled coal-fired generator is that the unit's majority owner, Xcel Energy, has been a leader among the nation's big utilities by investing in renewable generation. The company's stock has been lifted by investors as its big bet on low-cost wind and solar has helped its bottom line. Given that track record, Xcel executives are certainly well aware of the divergence between rising costs at Comanche 3 and the falling costs of building new renewable generation.
A shift may be coming when Xcel unveils its new Colorado resource plan in March. In a recent presentation for an industry financial conference, Xcel hinted the plan may contain proposals to cut the use of its coal plants, convert some units to burn gas, or accelerate retirement dates. Around the country, other utilities have saved ratepayers hundreds of millions of dollars through the early closure of expensive plants. The company may also propose offering financial help to ease the impacts on community budgets and workers from these shifts, like Arizona Public Service did recently, when it proposed spending $144 million to boost the economy in areas affected by its plant closures.
THE DECLINE OF COMANCHE GENERATING STATION'S FORTUNES will likely only continue, due in no small part to the proximity of vast renewable resources. Xcel has signaled as much by winning regulatory approval of a Colorado power-development strategy in 2018 that turns on the buildout of 1,800MW of new wind and solar capacity to replace the power generated by Comanche 1 and 2.
Comanche 3 was built to run until 2070, which now seems an absurd expectation
Comanche 3 was built to run until 2070, but that now seems an absurd expectation, given how rapidly the power generation transition is happening in the U.S. as utilities across the country abandon coal. If planning begins now for shuttering the facility by 2030, there is ample time to develop and build the necessary combination of additional wind, solar, and storage to ensure a robust power supply for Colorado.
In a November presentation to the Edison Electric Institute, Xcel mentions revisions it expects to release in March around long-term resource-management planning that "will address remaining coal units in Colorado." Since then, the company has announced it will close the two units at the Hayden plant in the northwestern part of the state in 2027 and 2028. With the retirement of the Ray Nixon plant in 2029, and Craig and Rawhide in 2030, that would leave Comanche 3 and the Pawnee Generating Station (505MW), in northeast Colorado and also owned by Xcel, as the only remaining coal plants in the state.
Given the rising costs and continuing problems at Comanche 3, there is a strong case to be made for its closure by 2030 as well.
Seth Feaster ([email protected]) is an IEEFA data analyst.
RELATED ITEMS:

IEEFA U.S.: As utility company exits Four Corners Power Plant, NTEC seeks to keep it open
IEEFA U.S.: Colorado electric wholesaler is alienating cost-conscious co-ops with its fossil commitments
IEEFA: New Mexico's biggest utility moves forcefully toward solar