Investors are pouring money into a gas-fired recession
22 July 2021 (IEEFA Australia): Of the major exporters, eastern Australia has wholesale contract gas prices that are the 7th most expensive globally, being over 5½ times those of Qatar, the second largest exporter of LNG; over 3 times the price of gas in the U.S.; and nearly 5 times the price of gas in the Russian Federation highlights a new report from the Institute for Energy Economics and Financial Analysis (IEEFA).
Working off a global survey of 54 countries by the International Gas Union, IEEFA's report makes the case that far from being a transition fuel, gas is a fuel transitioning out of the energy system.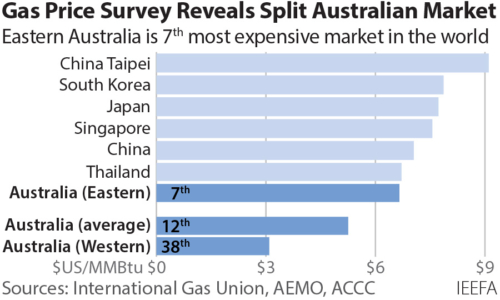 Author of the report LNG/gas analyst Bruce Robertson says contract gas prices in eastern Australia are at such high levels that gas has become an uncompetitive fuel source domestically across in all gas usage sectors.
"Consumer decline in gas usage mean overall gas consumption in Australia is down 23% since 2014," says Robertson.
Gas has become an uncompetitive fuel source domestically
"And in the eastern Australia market, the decline in gas usage for electricity is a staggering 67% since 2014.
"With globally uncompetitive domestic gas prices, it is little wonder that gas consumption is plummeting in eastern Australia.
"Further falls into the future are assured as globally uncompetitive gas prices see gas continue to decline as a fuel source.
"Far from stimulating investment in gas consumption, government policy is stimulating a gas-fired recession."
Read the report: Gas Demand Is Dying Under the Weight of Nose Bleed Prices – An Analysis of the International Gas Union's Wholesale Price Survey
Media contact: Kate Finlayson ([email protected]) +61 418 254 237
Author contact: Bruce Robertson ([email protected])
About IEEFA: The Institute for Energy Economics and Financial Analysis (IEEFA) examines issues related to energy markets, trends, and policies. The Institute's mission is to accelerate the transition to a diverse, sustainable and profitable energy economy. (www.ieefa.org)