Denial of water quality permit halts 3-billion-dollar project in keeping with state energy policy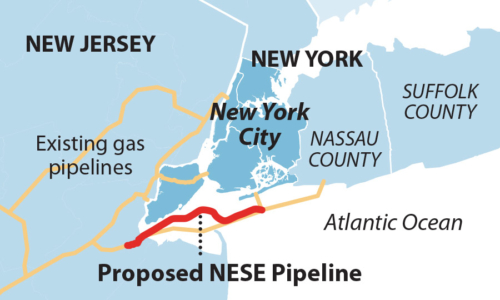 New York Governor Andrew Cuomo's Department of Environmental Conservation (DEC) made the right decision on May 15 when it denied water quality permission for the Williams Northeast Supply Enhancement (NESE) pipeline. This move was justified both on environmental and economic grounds. The state Public Service Commission (PSC), National Grid and New Yorkers now need to keep the dialogue going as the next phase of developing the downstate energy system will have impact on jobs, health, and the climate.
THIS PROCESS WILL DETERMINE THE FUTURE of how New Yorkers heat office buildings and homes.
The DEC decision recognizes that improved energy efficiency, peak demand management and more competitive renewable resources can be used to substitute for large, expensive pipeline projects.
New York is already achieving its economic growth targets
The decision also is based on sound economic policy. New York is already achieving its economic growth targets relying on cost effective alternatives. This decision builds on that success. New York's industrial sector ranks first nationwide in energy efficiency, and its commercial sector provides more jobs per unit of energy than many other states. Businesses already know that investing in sustainable solutions improves profitability.
It is a victory for ratepayers and taxpayers. The decision finds that the pipeline was an unnecessary addition at an unreasonable cost (potentially upwards of $3 billion). Ratepayers win because their rate dollars can now be more efficiently invested in long-term projects that produce long-term benefits. And taxpayers win because the governor has made a solid financial choice during a time of change and turbulence. To his credit, Gov. Cuomo has also kept the public process open so that many voices can be heard.
THE DEC DECISION SHOWS THAT THE STATE'S REGULATORY PROCESS WORKS. National Grid made a proposal. It has been examined thoroughly. The decision does not eliminate the use of natural gas, but it does move the state toward a responsible, managed reduction of fossil fuel consumption. National Grid's proposal came up short because technology, science and markets have changed since the company originally planned the project. New York's energy efficiency investments are proving their profit potential every day, experts are pointing to a warmer climate, and lower demand for natural gas and new investment in the energy and real estate sectors are leading to more sustainable practices.
New York must reorder its energy investment priorities
What comes next is New York's choice. This must be one that moves toward a different ordering of energy investment priorities ‒ educate the public, reduce reliance on fossil fuels, invest to scale and grow sustainably.
The unproductive choice would be to engage in protracted litigation over this decision, press for more unnecessary and unreasonable projects that would harm New York's economic growth strategy, and unwisely attempt to apply yesterday's solutions to today's challenges.
New York has always been the place to watch for investor and policy innovation. This decision rests solidly in that tradition.
Suzanne Mattei is a policy analyst at IEEFA and Lookout Hill Public Policy Associates.
Tom Sanzillo is IEEFA's Director of Finance.
Related Items
NYS Dept. of Environmental Conservation Notice of Denial of Water Quality Certification
IEEFA report: Proposed NESE gas pipeline may stick New York ratepayers with one billion-dollar+ cost
IEEFA update: Andrew Cuomo got it right on New York's fracking ban