19 November 2020 (IEEFA Australia): Careful scrutiny of Snowy Hydro's latest financial results show the company is heading towards an uneasy reliance on government and taxpayer subsidies post 2021, throwing into serious doubt the government's heady push for further gas expansion in a declining market, finds a new briefing note by the Institute for Energy Economics and Financial Analysis (IEEFA).
Snowy Hydro has produced its worst ever financial performance
Snowy Hydro, the Australian federal government owned hydro-electric power scheme, has announced bold ambitions to expand its gas-fired power generation facilities, backed by the Federal Government.
However, IEEFA analyst Trista Rose says these grandiose plans do not reflect the company's 2019-2020 fiscal year results which reveal a stark picture of haemorrhaging finances.
"The company has produced its worst ever financial performance," says Rose.
"Construction, financing and transmission costs for its flagship Snowy 2.0 project could reach A$10 billion from initial estimates of just $2 billion.
"It is now unlikely Snowy 2.0 will ever pay a commercial return. Instead, taxpayers are likely to bear the costs of this financially unfeasible project, as well as the environmental burden."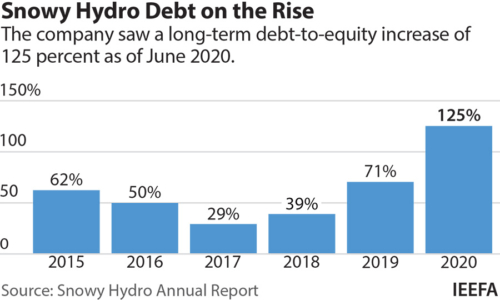 Co-author of the note IEEFA's Tim Buckley says building new gas on top of deteriorating finances will place an enormous economic burden on the government and the taxpayer at a time when the global gas market is oversupplied, gas is cheap, and the gas industry is contracting.
"The fossil gas industry is far from being an engine for recovery post COVID," says Buckley.
It is now unlikely Snowy 2.0 will ever pay a commercial return
"We are seeing very large contractions in employment in the gas industry announcing of late staffing cuts of between 10% and 25%. Producers across Australia have put projects on hold, major companies like Santos and Shell have posted major write-downs, and the industry globally, and particularly in the U.S., is suffering bankruptcy after bankruptcy.
"There's a major contraction going on, and using taxpayers' money to stimulate a contracting industry is no way to get our economy going again."
Gas use for gas-fired power generation in Australia has fallen 58% since 2014 as it has simply not been economic to produce baseload power with gas because gas in Australia is so expensive, ignoring all its emissions 'externalities' that the taxpayer already bares.
The technology-driven energy transition is changing rapidly at the moment with renewable and storage now cheaper than new gas. Battery storage is now becoming grid-scale and with significant storage behind it, new gas is simply no longer economical. Batteries will take part of the gas market's share.
"The gas industry in the first six months of this year alone announced $25 billion dollars in write-offs, which means that gas companies in Australia have lost between 58% and 69% of their value since January 2011," says Buckley.
Subsidising a fossil gas expansion at Snowy Hydro is a very poor bet
"Despite the billions already invested into the gas industry over the last few years since Gladstone was developed, the returns that were promised and the tax revenue promised simply have not eventuated.
"Energy Minister Angus Taylor's technology-neutral approach seems to ignore the ever-larger battery projects being announced both here and globally with increasing frequency, as illustrated by AGL Energy's newly announced, massive 250MW/1,000MWh battery proposal for South Australia.
"Subsidising a fossil gas expansion at Snowy Hydro is a very poor bet – creating double the trouble."
Cost blow-outs at Snowy Hydro mean the total estimated government exposure is now up to $10 billion, or approaching $16 billion when including the $6.2 billion already spent in buying out NSW and Victorian state government equity interests.
"The Federal government's proposed but yet to be funded "upfront" equity injection of A$1.38bn is estimated to support Snowy for approximately 12 months only," says Rose.
"We presume Snowy will then look to secure public debt but its recently revised credit rating to 'junk' will make that difficult."
The equity injection of A$1.38bn is estimated to support Snowy for approximately 12 months only
S&P has raised concerns over the long-term economic viability of the project, acknowledging the likely blowout costs and the need for ongoing extraordinary government financial support.
"Construction on Snowy 2.0 has only recently commenced and without any form of budget, costs may continue to spiral, and it will be increasingly difficult to raise corporate debt," says Buckley.
"Going forward, Snowy 2.0 will have to be supported at great cost by the Australian Federal government and its debt ultimately borne by Australian taxpayers with very few prospects of a return on investment anything like what has been claimed.
"This is no company to entrust with any new expansion, let alone gas."
Read the briefing note: Snowy Hydro's Cash Drain
Media contact: Kate Finlayson ([email protected]) +61 418 254 237
Author contact: Tim Buckley ([email protected]) and Trista Rose ([email protected])
About IEEFA: The Institute for Energy Economics and Financial Analysis (IEEFA) examines issues related to energy markets, trends and policies. The Institute's mission is to accelerate the transition to a diverse, sustainable and profitable energy economy. (www.ieefa.org)