29 October (IEEFA India): To reach India's renewable energy goals, companies in the sector will need to fund capacity expansion with massive amounts of capital at competitive rates. A new report from the Institute for Energy Economics and Financial Analysis (IEEFA) looks at how this can be done by augmenting traditional financing structures and sources with other channels such as green bond issuances, asset monetisation and capital recycling initiatives.
The report examines in detail the positions and potential of three major players in India's renewable energy sector, each with ambitious clean energy plans – NTPC, Adani Green Energy Ltd (AGEL) and Tata Power, respectively a government-owned utility transitioning to green energy, a privately owned pure play renewable energy company planning to rapidly ramp up its capacity and a private utility pivoting to renewables.
"The capacity expansion plans of NTPC, Tata Power and AGEL will require major financing drives to keep on track to meet renewable energy goals," says report author and IEEFA energy finance analyst Shantanu Srivastava.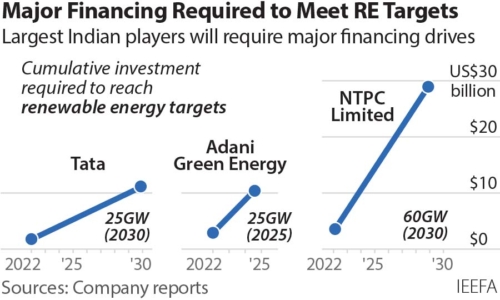 The report compares the capital structure changes of the three companies, explains how they have funded capacity expansion in the past and identifies trends that will shape the major industry players' futures.
Overall, NTPC's Government of India parentage makes it easier to tap a diverse set of investors, but its predominantly thermal power asset base is increasingly a hindrance in global capital markets, according to the report.
AGEL, the largest solar power company in the world, has capitalised exceptionally well on its green profile, evident from its high market capitalisation, asset monetisation and bond lending program.
Tata Power, to its credit, has been able to pare down debt, which improves debt raising capability in the future, but the company lacks patient global pension/corporate capital on its books, says Srivastava.
India's renewable energy expansion plan, one of the largest in the world, will require vast sums of capital
"A large proportion of India's renewable energy capacity will be added by the largest players already operating in the industry, given the capital-intensive nature of the business," he says.
With a target of 450 gigawatts (GW) of installed renewable capacity by 2030, India has one of the largest renewable energy expansion plans globally and it will require enormous sums of capital.
Meanwhile there is a flood of global capital vying for opportunities to invest in zero-emissions infrastructure assets, driven in part by the rise of sustainable finance and environmental, social and governance (ESG) investing.
"India presents attractive prospects for these investors to deploy capital and gain exposure to the country's growing renewable energy sector," says Srivastava, "while also helping developers to secure low-cost capital from optimum sources."
To accelerate the financing of capacity expansion and attract global capital on the most advantageous terms, says Srivastava, Indian companies should continue to leverage the breadth of funding avenues available to them:
Green/sustainability bonds (long-term capital at competitive rates, raised from a diverse set of investors, and witnessing falling yields with increasing investor interest)
Infrastructure investment trusts, or InvITs (monetisation of operational cash-generating assets and access to domestic institutional capital)
Joint ventures with oil and gas majors diversifying into zero emissions, such as BP, Shell and Total (recycling of capital from operational projects and gaining global investor reach)
Loans from offshore lenders committed to supporting renewable energy projects globally (capitalising on multi-decade low interest rates in the developed world)
Loans from multilateral development banks such as the World Bank, the International Finance Corporation (IFC), the Asian Development Bank (ADB), Germany's KfW and Japan International Cooperation Agency (JICA) (an increasing amount of climate change mitigation finance at low return thresholds and high-risk appetites)
Globally there is a shortage of high-quality clean energy projects which is preventing the global ESG-led capital pool from investing in zero-emissions infrastructure assets.
Indian renewables companies should leverage the breadth of funding channels available to them
This dearth of projects is compounded by what Srivastava describes as "inadequate channels to guide available funds and a lack of intermediaries capable of matching surplus capital with the sustainability needs of companies and consumers".
The report concludes that to secure the global capital needed to fund India's renewable energy goals, companies will need to take – at the very least – the following steps: adopting green/sustainability bond frameworks, enhancing credit ratings of projects, adopting globally recognised ESG frameworks and principles, ringfencing renewable assets and creating a robust investor outreach program.
For conventional utilities such as NTPC and Tata Power this will mean delivering on commitments not to build new coal plants beyond current pipelines. And, the report says, AGEL will need to convince its parent Adani Group that aligning with the Paris Agreement is a prerequisite to accessing the widening pool of global investors eager to deploy capital into India's energy transition.
Read the report: Funding Requirements and Avenues for Three Leading Energy Companies
Media contact: Rosamond Hutt ([email protected]) Ph: +61 406 676 318
Author contact: Shantanu Srivastava ([email protected])
About IEEFA: The Institute for Energy Economics and Financial Analysis (IEEFA) examines issues related to energy markets, trends and policies. The Institute's mission is to accelerate the transition to a diverse, sustainable and profitable energy economy. (www.ieefa.org)