September 15, 2021 (IEEFA) – Empresa Nacional de Gas (Enagás) has benefited from a "security and diversity of supply" strategy as an excuse to build or expand liquefied natural gas regasification terminals, natural gas pipelines and gas storage facilities. The resulting overcapacity has meant low utilization rates for gas infrastructure assets in Spain, as well as some of the highest gas bills of any European nation, according to a report by the Institute for Energy Economics and Financial Analysis (IEEFA).
Natural Gas Prices for Household Consumers in Europe Bi-annual Data (euros/kWh)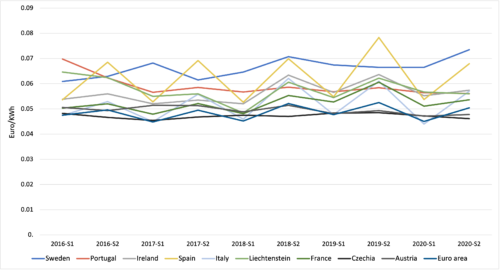 Enagás, the Spanish monopoly gas transmission system operator, profits from a regulatory system that guarantees a fixed rate of return on infrastructure investment, regardless of whether or not the country actually needs it.
"The regulatory framework in Spain leaves Enagás few incentives to be more efficient or to cater to consumer demands," said Ana Maria Jaller-Makarewicz, the report's lead author and IEEFA Europe energy analyst. "The company can simply invest money into often unnecessary projects but still come out ahead financially, while passing the cost burden to the consumers."
Spanish gas demand has declined since 2008, and consumers have been left to pick up the tab for unused infrastructure.
"Demand in Spain has been declining, but that is not the heart of the issue," said Arjun Flora, the report's co-author and IEEFA Europe's director of finance studies. "The problem here is overinvestment into unnecessary gas projects in the pursuit of regulated remuneration, which seems to serve Enagás's shareholders rather than any technical system or consumer requirements."
Over the last 20 years, the utilization rate of Spain's installed capacity has never reached 50%. Yet Enagás plans to invest in more projects driven under the new slogan of "decarbonization" on the basis that "renewable gases" are needed to decarbonize Spain's economy.
"There is a significant risk that the past mistakes of overbuilding infrastructure will be repeated leading to more stranded assets," said Jaller-Makarewicz. "But there is an even greater risk that Spanish gas consumers will once again be forced to cover the costs."
Full report: Gas in Spain Oversupplied and Overcompensated
Translation in Spanish: Capacidad y remuneración excesivas en el sector del gas español
Comunicado de prensa en español: El exceso de capacidad y una fiebre por invertir suben las facturas de los consumidores españoles, pero Enagás se lucra
Authors:
Ana Maria Jaller-Makarewicz ([email protected]) is an IEEFA Europe energy analyst. (Jaller-Makarewicz is available for interviews in English and Spanish.)
Arjun Flora ([email protected]) is IEEFA Europe's director of energy finance studies.
Media Contact
Muhamed Sulejmanagic ([email protected])
About IEEFA: The Institute for Energy Economics and Financial Analysis (IEEFA) examines issues related to energy markets, trends and policies. IEEFA's mission is to accelerate the transition to a diverse, sustainable and profitable energy economy.