October 19, 2020 (IEEFA)— The Conference Board of Canada, an Ottawa-based research organization, has doubled down on a bad hand, according to an analysis by the Institute for Energy Economics and Financial Analysis.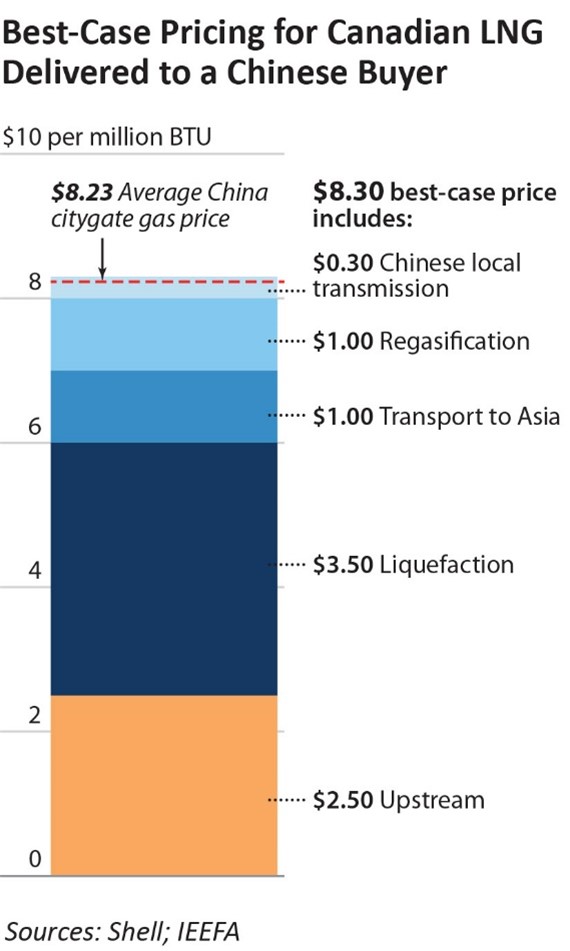 The Conference Board's report, A Rising Tide: The Economic Impact of B.C.'s Liquified Natural Gas Industry, claims an expansion of the British Columbian LNG industry could add almost 100,000 jobs annually and more than $158 billion in revenue for provincial and federal governments. The report was released in July after a period of mounting bad news for the beleaguered sector.
The report's "exaggerated demand assumptions and disregard for China's manifest price sensitivity are the fatal misunderstandings of its argument," said Melissa Brown, IEEFA's director of Asian energy finance studies. "The authors call on provincial and federal governments to risk sustained subsidies that may only yield stranded assets, depleted finances and delayed retraining obligations."
A 2016 Conference Board report, A Changing Tide: British Columbia's Emerging Liquefied Natural Gas Industry, cited 18 promising LNG projects in British Columbia. IEEFA, however, found only one has been confirmed, with another three struggling and uncertain. Even the original sponsor of the board's 2016 report cancelled an LNG project after the report's release.
The industry's situation hasn't improved over the last four years. Asian consumption growth slowed, new sources came online, and supply contracts became less expensive—even before the global COVID-19 pandemic weakened demand.
Hopes for salvaging a long-term decline through increasing sales to China are unlikely to bail out the LNG industry. The world's most populous nation is building a pipeline network designed to increase domestic production; China is in a strong position to bargain with authoritarian Central and Southwest Asian nations such as Russia, Turkmenistan, and Iran; and Xi Jinping has pledged to achieve carbon neutrality by 2060.
"The most important fact is that the fundamentals of British Columbia's LNG export cost structure are not competitive enough to keep private capital interested," Brown said. "Although many pundits cite political and regulatory issues, Canadian LNG's biggest problem is profitability."
Full report: Conference Board of Canada Doubles Down on Its Losing LNG Bet
Author Contacts
Melissa Brown ([email protected]) is IEEFA director of energy finance studies, Asia.
Norman Waite ([email protected]) is an equity research analyst and IEEFA contributor.
Media Contact
Vivienne Heston ([email protected]), +1 (914) 439-8921
About IEEFA
The Institute for Energy Economics and Financial Analysis (IEEFA) examines issues related to energy markets, trends and policies. The Institute's mission is to accelerate the transition to a diverse, sustainable and profitable energy economy.