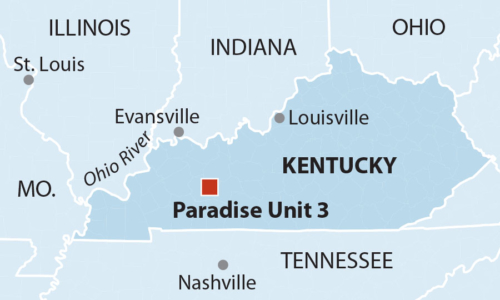 June 11, 2019 (IEEFA U.S.) – The decision by the Tennessee Valley Authority's (TVA's) board of directors to close the Paradise Unit 3 coal-burning power plant in 2020 "makes perfect sense," according to a report released today by the Institute for Energy Economics and Financial Analysis (IEEFA).
The briefing note, Problems in Paradise: Closing TVA's Aging Coal Unit is the Right Decision, recommends against extending the plant's life beyond 2020 and cautions about the risks inherent in being saddled with the unit's significant drawbacks.
"There are fundamental flaws in the Paradise 3 business model," said IEEFA editor and co-author of the report Dennis Wamsted. "This declining plant has clearly surpassed its usefulness as a viable power and profit generator."
Specifically, the IEEFA brief identifies seven major risks that would be involved if efforts at resuscitating the 50-year-old plant were to move ahead:
1) The plant is uncompetitive – with operations and maintenance expenses much higher than competing sources and at costs well above the utility's system-wide wholesale rate.
2) Capital expenditure is expected to rise as parts of the plant's generating equipment continue to age and fail. Lost revenues from plant shutdowns will be a recurring headache and the TVA has flagged major parts for replacement including "the rotor, boiler, turbine, generator, condenser, induction and fan."
3) Environmental compliance expenditures are also expected to increase, in particular, with environmental spending at Paradise 3 expected to total $212 million from FY2019 through FY2023, according to TVA projections.
4) Operational reliability is at risk – the frequency of the plant being entirely or partially out of service due to unplanned outages or deratings (its "equivalent forced outage rate" or EFOR) has been above average for the past three years and as high as 32% in 2017 compared to an average 8.25% for plants of comparable size.
5) Heat rates and operational efficiency are expected to decline further – U.S. Department of Energy's Argonne National Laboratory and the National Energy Technology Laboratory have found that coal plant heat rates are less efficient as they age.
6) Natural gas prices are low and renewables are becoming more affordable and expected to remain so for the forseeable future – making it impossible for Paradise 3 to offer lower-cost generation.
7) Energy demand is expected to languish further as efficiency improves in other technologies and more renewables are added to the grid. As TVA's former CEO Bill Johnson noted, "TVA has more than enough capacity to meet the load without Paradise and Bull Run."
"Any one of these risks by themselves would undermine the economics of buying and maintaining Paradise Unit 3, but in combination, they clearly indicate that keeping the unit open would be sheer folly," said David Schlissel, co-author of the briefing note and IEEFA's director of resource planning analysis.
Full report: Problems in Paradise: Closing TVA's Aging Coal Unit is the Right Decision
Authors
Dennis Wamsted ([email protected]) is an IEEFA associate editor.
David Schlissel ([email protected]) is IEEFA's director of resource planning analysis.
Media Contact
Vivienne Heston ([email protected]) +1 (914) 439-8921
About IEEFA
The Institute for Energy Economics and Financial Analysis conducts research and analyses on financial and economic issues related to energy and the environment. The Institute's mission is to accelerate the transition to a diverse, sustainable and profitable energy economy. www.ieefa.org