Lawsuit Settlement Sets Retirement of Colstrip 1 and 2 by 2022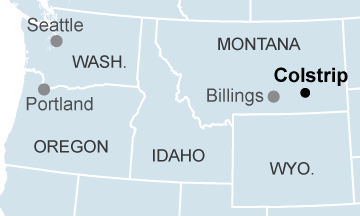 News yesterday that a pair of coal-fired power-generation units in Montana will finally close had an air of inevitability about it.

Here's the lead from the Associated Press story:
"The Colstrip coal plant in Montana that serves utility customers across the Pacific Northwest—including Puget Sound Energy customers—agreed to shut down two of its four units and limit how much it pollutes in the meantime."
And the kicker:
"The move follows a wave of coal plant closures that have transformed the utility industry in the United States."
Perhaps nowhere had the outcome been more plainly imminent than in the behavior of Talen Energy, which is a partner in Colstrip with Puget Sound Energy.
Talen had no reaction to a report we published in June 2015 ("A Bleak Future for Colstrip Units 1 and 2") that found that continuing to operate Colstrip Units 1 and 2 was not financially viable for the company, which owns 30 percent of Colstrip as a whole and has half ownership of the two older and less efficient units that are being closed.

While Puget Sound Energy, the co-owner of Colstrip 1 and 2, was telling anyone who would listen last year, including regulators, legislators in Washington State and Montana, the media and even environmental advocates, that Talen was in it for the long haul, Talen itself was conspicuously silent.
Not until this past winter did officials at Puget Sound Energy, which are partners in Colstrip with Talen, concede that Talen was "hemorrhaging" money at Colstrip and might be looking to get out.
The cat was fully out of the bag this past May, when Talen CEO Paul Farr acknowledged that the company would "lose millions in terms of operating Colstrip" just this year. Farr noted that the market price of power had fallen below the profit margins of the coal-fired plant, largely because of low natural gas prices.
More recently, the company acknowledged that continued operations of Units 1 and 2 simply was not economically viable for independent power producers like Talan and that there wasn't anything to suggest conditions would change.  The company wanted out. Now the exit door has been thrown open.
THE DEAL—LAID OUT IN A SETTLEMENT MADE PUBLIC YESTERDAY IN A LONG-STANDING LAWSUIT OVER AIR POLLUTION VIOLATIONS—CONTAINS SEVERAL TAKEAWAYS:
First, it means the plant will close by a date certain, erasing all questions of just how long these dinosaurs will be kept on life support.

Second, it is instructive in its reminder on the how owners of such plants tend not to conduct business in an appropriately transparent way. Colstrip, according to its owners, was profitable all along. Until suddenly it wasn't.

Third, the settlement gives affected communities time to prepare for the economic impact of closure.

Fourth, it suggests that even the most diehard resistance to the new energy economy—a resistance deeply embodied by those who would have kept Colstrip 1 and 2 on life support—is crumbling.
The risk in yesterday's announcement is that it is not necessarily a done deal. Montana state officials, including Gov. Steve Bollock, may try to throw up roadblocks to the closure, wasting state time and resources trying to undermine the inevitable.
Such tactics could slow access to more constructive paths forward that include investing in economic initiatives that are far more promising than coal.
David Schlissel is director of resource planning analysis at IEEFA.
RELATED POSTS:

Lessons for When the Power Plant in Your Town Closes
Wyoming's Coal Miners Are Worthy of Better
Study Concludes That Colstrip 1 and 2 Are Financially Unviable; Cautions Against Further Expenditures