If Australia is to meet its international commitments to a 43% emissions reduction by 2030, it needs to reach 82% renewable generation in the National Electricity Market (NEM), up from 37.7% in the year to 19 September 2023. Both of these targets are at risk for two main reasons: the slow pace of electricity transmission infrastructure build; and the lack of new large-scale renewables investment meeting financial close. According to the Clean Energy Council, just 0.4GW of new renewables investment was financed in the first six months of 2023, in contrast to the 5GW that is required on average every six months to meet the government's 2030 target of 82% renewables. 
Meanwhile, in South Australia on 16 September 2023, rooftop solar generation rose above 100% of demand for a five-minute period. On the same day the share of rooftop solar in the NEM reached another record of 46.7%. For the past three years, almost 3GW of rooftop solar has been added annually, such that there is now more than 22GW of rooftop solar in the NEM.  This means consumers have purchased the equivalent of about one third of the capacity in the NEM. Australian households have already spent at least $25 billion on rooftop solar and other Distributed Energy Resources (DER). Not only has rooftop solar been reducing bills for the customers who own them, but it has reduced wholesale market electricity prices for all consumers.
Rooftop solar and other DER – such as storage and demand responsive appliances – have a multitude of benefits for the system.
Rooftop solar and other DER – such as storage and demand responsive appliances – have a multitude of benefits for the system. DER have the potential to provide electricity and services to the grid in times of need. They can decrease the necessity for centralised generation and can therefore reduce wholesale power prices. They can reduce reliance on high-cost electricity networks if managed well. They can also introduce resilience into the system and provide sustainable jobs and economic opportunities across Australia.
However, the full potential of DER is yet to be unlocked. For technical, regulatory and/or market design reasons, DER are not able to provide the full range of possible services to the grid. The desirable end state is a sharing energy economy in which DER are in communication with one another behind the meter (BTM) and with the grid, and can trade energy services with one another, the local distribution network and the grid, in a voluntary but profitable manner. This will benefit the grid and deliver lower costs for all users of the electricity system.
In order to optimise the benefits of DER for all electricity system users – and to get the most out of the significant consumer investments that have been made, there needs to be more DER with the capacity to "flex" its demand, more storage in the system (not just batteries and electric vehicles, but smart hot water systems and other appliances), and it needs to be made easy and profitable for DER owners to participate in Virtual Power Plants (VPPs) if they wish to. In VPPs, DER are coordinated with one another and with the wider grid to enable them to operate in ways that drive opportunity and efficiency across the system.
To achieve this requires the following steps:
 1. Ensure appropriate technical standards are in place
Create a body for the smart, timely development of technical standards. Decision-making about planning for and deciding on DER technical standards and their compliance regimes needs to be centralised in one place. Smart technical standards will ensure that DER perform consistently have the necessary features to support consumer needs, and the ability participate in markets (such as by communicating with each other), as well as compliance with the needs of distribution networks.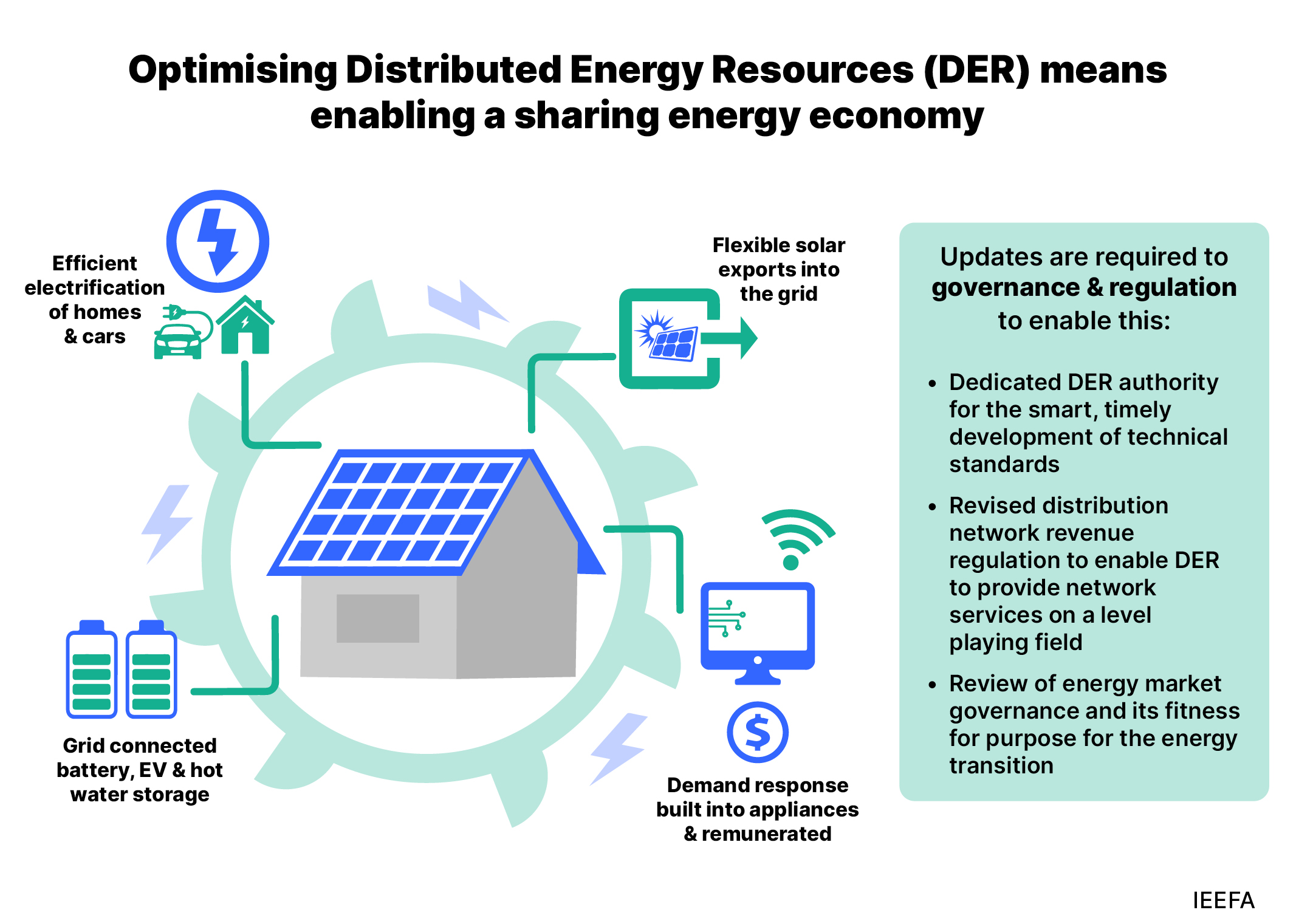 2. Remove static constraints on existing solar
Maximise solar exports within the limits of the distribution network. At present, many households and businesses are not able to export their full solar potential to the grid, with static export limits set at 5kW for most households in the NEM. Flexible export limits (also called Dynamic Operating Envelopes) enable greater solar exports at times that the grid can cope, and should be accelerated so consumers can get the greatest value from their solar power.
Reduce consumer costs, improve appliance lifetime and solar exports through better voltage management. Currently most distribution networks are operating at voltages above the 230V standard most of the time. This is costing consumers more than it should – an estimated $30m annually in Victoria for the additional supply alone. There are also additional costs in reducing the lifetime of appliances and increasing solar exports from higher than necessary voltages. All of these can be addressed by jurisdictions working collectively and following the Victorian Government's lead to address high voltages.
 3. Unlock flexible demand
A vital role of the sharing energy economy is to have electrical appliances flex their power consumption up and down, in line the available renewable power supply. This is referred to as "flexible demand", of which "demand response" to a signal is one form. To facilitate flexible demand, standards need to be updated to enable appliances to respond to grid signals and enable consumers to opt out if desired, and consumers need to be adequately compensated for providing these services.
Develop demand response requirements for major household appliances. There are no requirements for large household appliances to be able to flex their demand or even to be able to communicate with other devices in the home. Research shows that the biggest aggregated opportunity for demand response is in households, especially hot water systems. While not efficient, a 300-litre tank on an existing electric storage hot water system has about the equivalent energy storage potential (15kWh) as a Tesla Powerwall.
Accelerate the efficient electrification of hot water systems. Under the University of Technology Sydney's (UTS) rapid electrification of hot water scenario, developed for the Australian Renewable Energy Agency (ARENA), if all hot water systems are efficiently electrified and controllable by 2035, consumers could save up to an estimated $6.7 billion a year by 2040, while 22GW/45GWh/day of flexible demand would be created, equivalent to roughly two-thirds of peak demand in the NEM.
A national strategy for flexible domestic hot water should look to make the most of this opportunity.
Enable demand response revenue streams. The wholesale demand response mechanism (WDR mechanism) is currently limited to large commercial and industrial (C&I) customers with a base of flat demand. Aggregated household DER are not able to participate, and therefore consumers are missing out on an opportunity to earn revenue by voluntarily flexing their demand. This can be addressed by reforming and expanding existing baseline methods and changing the rules to include aggregated household demand and more dynamic forms of C&I demand in the WDR mechanism.
 4. Fast-track distributed storage
Prioritise and provide financial support for behind-the-meter (BTM) storage. Rooftop solar generation is already reducing wholesale prices in the daytime, but it will further reduce overall costs for consumers if it can be stored and used at peak times (including the daily 4pm-8pm evening peak). To enable this, the government should prioritise and provide financial support for distributed battery systems where it can deliver significant system benefits. It should also support electric vehicle-to-grid services, and allow aggregated storage (and where possible, flexible demand response) to participate in the Capacity Investment Scheme.
 5. Create a level-playing field in network services
Ensure distribution network revenue regulation enables DER integration. Network revenue regulation was designed to reward distribution businesses for delivering one-way flows of electricity, including the construction of assets to meet peak network flows. Networks now need to enable two-way flows and DER integration to support decarbonisation. A review of distribution network revenue regulation is needed to enable DER to provide network services on a level playing field with expenditure on network assets, and to make sure that in a DER-rich future, networks are used efficiently and that distribution network costs can be reduced for consumers.
 6. Ensure fit-for-purpose governance
Ensure energy market institutions are enabled to support a DER-rich future. Major changes will be required to achieve all of the above goals. To enable an efficient sharing energy economy, energy market governance will need to be flexible, innovative and fit for purpose. A review of energy market governance would give confidence that there are the responsibilities, structures and resources to support rapid DER integration and the decarbonisation of the NEM.
If all of the above is addressed, DER – rooftop solar, distributed storage and demand response – can help Australia to meet the 82% renewables target, faster and cheaper.
This report makes a series of recommendations to support the deployment and integration of DER into Australian energy markets to unlock benefits for all electricity consumers. These recommendations have been written to inform the meeting of Energy and Climate Change Ministers in November 2023, where DER are on the agenda.
Recommendations for Energy Ministers' November 2023 meeting:
Ensure appropriate technical standards are in place:
Create DER Technical Authority

to set a vision for DER technical standards; develop a technical standards work program; monitor, review and set DER technical standards; consider issues related to compliance and enforcement of standards in their development; and provide advice on standards to other government and energy market bodies, and undertake related reviews.
Remove static constraints on existing solar:
Agree to prioritise the implementation of flexible exports (dynamic operating envelopes) across the NEM and the WEM by 2025.

Agree to work collectively to

ensure distribution networks are being operated at voltages that reduce consumer costs and improve consumer outcomes, especially rooftop solar exports and appliance longevity

.
Unlock flexible demand:
Make a rule to include aggregated household demand in the wholesale demand response mechanism

.

Direct the Australian Energy Market Operator (AEMO) to develop more flexible baseline methods,

for both commercial and industrial(C&I), and aggregated residential demand response in line with international best practice.

Agree to legislate a requirement for priority household appliances to be sold with "demand response capability" under the Commonwealth

Greenhouse and Energy Minimum Standards (GEMS) Act 2012.

Agree to

develop a national strategy for flexible domestic hot water with a priority on considering how best to support both the electrification of gas hot water systems and making existing electric hot water systems demand responsive.
Fast-track distributed storage:
Advocate to the Federal Treasurer that the Commonwealth's Small Business Energy Incentive run for three years, until 20 June 2026.

Advocate to the Federal Government to allow aggregated storage (and, where possible, flexible demand) to participate in the Capacity Investment Scheme.

Consider other ways to support behind-the-meter (BTM storage), including for reasons of resilience, and including through the Small-scale Renewable Energy Scheme (SRES).

Agree that the new DER Technical Authority develop an EV-grid integration workplan.
Create a level-playing field in network services:
Commission a thorough, independent review of distribution network revenue regulation with the objective to ensure the revenue regulation supports decarbonisation, the integration of DER and improved consumer outcomes, as well as economic efficiency.
Ensure fit-for-purpose governance:
Issue a Statement of Expectations to all energy market institutions (the Australian Energy Markets Commission (AEMC), AEMO, the Australian Energy Regulator (AER)) stating that the National Electricity Objective's emissions reduction objective requires rapid integration of both large- and small-scale renewables, storage and flexible demand, and ensuring Australia regulation and its implementation are world-leading.

Commission an independent review of energy market governance and its fitness for purpose for integrating DER and the energy transition. This could be completed within six months.