The president of the American Petroleum Institute recently hinted that the transition from fossil fuels to renewable energy could lead either to economic upheaval or to economic revival—but the revival scenario would require the oil and gas companies as full participants in a new energy boom.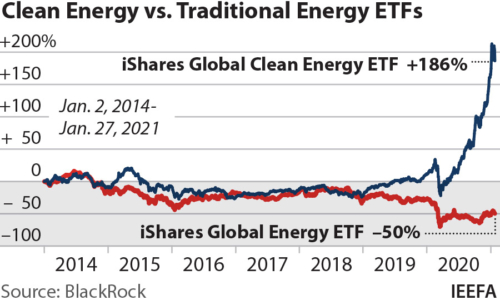 Yet the capital market's rotation into clean energy stocks points to a third scenario that links the transition to renewables with economic gains that exceed the declining importance of oil and gas producers. Most signs suggest a long-term capital flight away from fossil fuel firms and toward companies that have fully embraced the energy transition. 
Consider, for example, the trajectory of two contrasting stock portfolios, one focused on renewable energy and the other on traditional fossil fuel companies. The iShares Global Clean Energy ETF (NASDAQ: ICLN), made up of 30 publicly-traded renewable energy companies, has almost quadrupled in value over the last five years. Meanwhile, the iShares Global Energy ETF (NYSEARCA: IXC), with 59 companies focused on oil and gas, fell by 17 percent during the same period.
The companies in ICLN are mostly small, averaging just $206 million in market capitalization, while the IXC constituents average $17.3 billion in market cap. Smaller companies also tend to be riskier and more volatile. But even though its constituents are small, ICLN enjoyed $3.5 billion in capital inflows over the past year, dwarfing the relatively paltry $435 million that trickled into IXC. 
The divergent trajectories of the two funds may illustrate just how dramatically clean energy captures the imaginations of investors looking at long-term trends. The energy sector's weighting relative to other sectors in the Standard & Poor's 500-stock index (e.g., Information Technology, Healthcare, Consumer Discretionary, Consumer Staples, Financials, Materials, Industrials, Utilities, Communication Services, and Real Estate) illustrates how the capital markets have shed fossil fuel investments.  
A decade ago, the energy sector (which excludes renewables) made up 12.27% of the S&P 500, making it the third-largest of 11 sectors.  At the end of 2020, the sector was 2.28% of the S&P 500, marking a 999 basis-point decline since 2011 and plunging to last place among all sectors.
Clean energy spending has almost doubled over the past six years
As the capital exodus from fossil fuels has accelerated, socially responsible investment strategies have blossomed. Funds with environmental, social, and governance criteria now comprise one-third of the $51.4 trillion of assets under management in the U.S., according to the Forum for Sustainable and Responsible Investment. Capital budgets have followed suit: Clean energy spending has almost doubled over the past six years, according to Bloomberg New Energy Finance.
With the broader capital markets tilting away from fossil fuels, many oil and gas companies themselves are making tentative steps towards cleaner investments. A recent Federal Reserve Bank of Dallas survey found only 46% of small oil and gas producers (those with output under 10,000 barrels per day) planned to reduce emissions, trim flaring, or recycle water. Meanwhile, 83% of larger producers were taking such steps. Similarly, half of the large producers plan to reduce greenhouse gas pollution by at least 2.5% over the next five years. Only 12% of small producers claim similar plans.
The contrast between large and small producers presents a conundrum when coupled with the consolidation trend.  Seventy-five percent of Dallas Fed respondents believe mergers and acquisitions will cause the number of publicly listed independent E&P firms to shrink during the next two years. Given the likelihood of further industry consolidation, we ask if this trend will lead to dilution of larger operators' plans to curb emissions (as they absorb smaller peers), or if the market's premium placed on green companies will instead push producers to ramp up their transition plans?
Trey Cowan ([email protected]) is an IEEFA oil and gas industry analyst.
Related items:
IEEFA U.S.: Virginia coal plant's future isn't bright: Preparation for transition should commence now
Tech Giants' Investments in Renewable Power Purchase Agreements Lead the Way
Briefing Note: Cheap Renewables Are Transforming Global Electricity Business