Trade Protections for Companies like Suniva and SolarWorld Will Only Drive Up Prices and Hurt Job Growth
President Trump is about to confront a policy dilemma that will test his commitment to U.S. job growth.
The dilemma in question is manifested in a trade tariff case brought by two troubled U.S. photovoltaic manufacturers, Suniva and SolarWorld, that have sought protections against Chinese-made solar-panel imports.
The U.S. International Trade Commission has heard the case and last month made a tangled recommendation based on its finding that imports of solar photovoltaic cells and modules indeed have caused "serious harm" to Suniva and SolarWorld.
But the commission ultimately was unable to agree on what to do about it, offering an assortment of purported remedies, none of which go as far as Suniva or SolarWorld want but all of which involve imposing tariffs in one way or another. The commission, in essence, is punting to the president, who has until the middle of this month to make a decision.
Demand for solar installers across the U.S. will double over the next decade.
Now, there is no doubt that Chinese solar-component producers have aggressively priced their products for years to gain market share, and to a large extent they have succeeded. As of the end of 2016, six of the 10 largest solar cell manufacturers in the world were Chinese and seven of the 10 largest photo-voltaic module producers were Chinese. This dominance has clearly had a negative impact on U.S.-based manufacturers, Suniva and SolarWorld among them — both of which incidentally are going through bankruptcy.
ONE IRONY LOST IN THE DISCUSSION AROUND THE CASE is that both companies are owned by overseas interests. Suniva is majority-owned by a Chinese company, Shunfeng International, and SolarWorld is a unit of German SolarWorld AG.
The bigger often overlooked truth in the U.S. solar tariff debate is that the Chinese drive for market share has pushed solar prices down significantly since 2010 — to the benefit of millions of American electricity customers.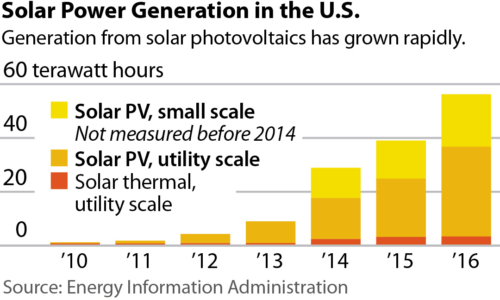 In fact, when it comes to China's dominance — as my organization, the Institute for Energy Economics and Financial Analysis, has noted in detail in a report we published earlier this year — the Trump administration is missing the boat, broadly speaking.
In 2010, the average "blended solar PV price" in the U.S. (in dollars per watt, including across all three industry sectors, residential, commercial and utility-scale) was just under $6, according to the Solar Energy Industries Association. By 2016 that price had plummeted to less than $2.
Meanwhile, the annual amount of installed PV capacity in the U.S. climbed from less than 1,000 megawatts (MW) to just under 8,000 MW in 2015 before soaring to more than 14,000 MW in 2016, due largely to investment tax credits, not cheap foreign photovoltaic imports.
NOT SURPRISINGLY, THIS SURGE IN SOLAR CONSTRUCTION IS GOOD FOR JOBS—the number of employees in the solar sector rose from less than 100,000 in 2010 to 250,000 in 2016, and, according to Bureau of Labor statistics, the demand for solar installers will double over the next 10 years. Current median pay for such jobs is roughly $40,000, and opportunities in the sector are growing in every state.
Back to the Suniva and SolarWorld case: The trade commission's proposed remedies amount to not much more than fig leafs, covering up the fact that tariffs will put neither of these companies back in the black.
What else is certain is that any tariffs at all would raise solar costs in the U.S., taking money out of customers' wallets and almost certainly harming job growth in the solar-installation sector.
The guiding principle for the president, in this case, is embodied in the very statute that dictates that U.S. trade-policy tilt toward providing "greater economic and social benefits than costs."
The greater economic and social benefits here are clearly on the side of the status quo.
Increasingly, low-cost solar energy is helping green the U.S. electricity grid, and tariff-driven subsidies for companies like Suniva and SolarWorld would only slow an electricity-generation transition that is essential to the economic well-being and energy security of America.
Tom Sanzillo is IEEFA's director of finance. A version of this column appeared earlier today in The Hill.
 RELATED POSTS:
IEEFA Report: China Set to Dominate U.S. in Global Renewables Boom; $32 Billion in Overseas Investments in 2016 Alone

IEEFA Report: Endesa's Plan to Upgrade Aging Spanish Coal Plants Puts €400 Million in Shareholder Wealth at Risk