Plants are retiring at a faster rate per month than last year as utilities switch to gas and build renewables
New data from the Energy Information Administration (EIA) indicates that the shift away from coal-fired power generation has accelerated this year in the United States. In August, utilities generated 18 percent less power from coal than in August of last year, marking the sixth month in 2019 with a decline of more than 10 percent. Last year, not a single month had a decline of 10 percent or more. Overall for the year, coal-generated power has fallen by 13.9 percent.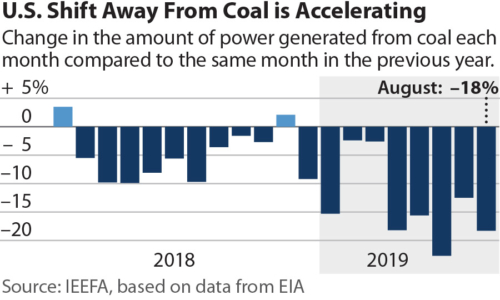 The decline is also happening broadly across the U.S.: in 30 of the 45 states that still burn coal for power, coal-fired generation is down 10 percent this year.
Full-scale retirements alone do not entirely account for this decline. Many utilities are also curtailing the operations of plants that are still active, running the plants at lower capacity factors, in favor of operating lower-cost gas and renewable generation. That's a bad sign for coal producers large and small.
The Southeast reports some of the steepest coal generation drops this year, led by a 62 percent decline in Virginia, where coal's market share has fallen to 4 percent from nearly 11 percent in 2018. Coal-fired generation is also down enormously in Florida, by 31 percent; in Alabama, by 23 percent and in South Carolina and Tennessee, by 21 percent, all states where the regional trend was first detailed in an IEEFA report published in October, Coal-Fired Power Generation in Freefall Across Southeast U.S.
Midwestern and Ohio River Valley states, many of which have been historically dependent on coal-fired generation, also report significant declines this year. Illinois and Indiana were down 17 percent through August, Ohio and Pennsylvania by about 15 percent each. Even Kentucky and West Virginia, two states among the most reliant on coal mining and coal-fired generation, had declines of 8 percent each. The move away from coal in this region, especially, was one of the reasons cited in last week's bankruptcy filing by Murray Energy, among the largest U.S. coal-mining companies.
In two Midwestern states, Illinois and Indiana, a sharp increase in wind generation has been a factor. Wind-powered generation is up 22 percent this year in Illinois (to a market share of nearly 8 percent), and 16 percent in Indiana (a 6 percent market share).
To be sure, coal plant retirements are a major part of the power-generation change that is at work. Data compiled by IEEFA shows that 57 coal-fired units with a total capacity of 14 gigawatts will close this year, about 5.8 percent of all remaining coal-fired capacity.
Market forces that favor cheaper forms of generation are at the root of the shift that is undermining American coal as a whole. These market forces are why Peabody Energy's stock price tanked so sharply last week on a poor earnings report, why Navajo Transitional Energy Company's acquisition of Cloud Peak Energy is so ill-advised, why Peabody and Arch Coal are consolidating operations in the Western U.S., why 11 coal-mining companies have filed for bankruptcy in the past three years, and why coal's share of the national power-generation is expected to fall to just 22 percent in 2020 from 48 percent in 2008.
Additionally, export prices for overseas coal have deteriorated significantly in recent months, leading the EIA to forecast a 40-million-ton decline in shipments in 2020 from 2018 levels (to 75.5 million tons in 2020 from 115.6 million tons in 2018). The one-two punch from falling domestic demand and low export prices were major factors pushing Murray Energy into bankruptcy.
In short, these are all more signs that the once-dominant coal industry is in the midst of a steep structural decline.
Seth Feaster ([email protected]) is an IEEFA data analyst.
RELATED POSTS:
IEEFA report: Navajo company's foray into Powder River Basin coal is off to a troubled start
IEEFA update: FirstEnergy stops at nothing in its quest for an Ohio ratepayer-financed bailout
IEEFA U.S.: PacifiCorp's transition to renewables and battery storage sets a new industry pace