Regulatory roadblock in Montana - business case for NTEC acquisition of Cloud Peak mines continues to unravel
Oct. 25, 2019 (IEEFA U.S.) — Regulatory opposition to the acquisition this week by Navajo Transitional Energy Company (NTEC) of three coal mines in the Powder River Basin deals the small company's expansion strategy an immediate setback, concludes a report published today by the Institute for Energy Economics and Financial Analysis (IEEFA).
Just as NTEC was announcing this week it had taken over three coal mines from bankrupt Cloud Peak Energy, the Montana Department of Environmental Quality closed one of the mines because of unresolved questions about tribal-sovereignty issues. Operations at Spring Creek Mine were suspended until responsibilities under NTEC ownership are clarified.
Who will be held ultimately accountable for hundreds of millions of dollars in mine-cleanup costs?
Also at issue broadly in NTEC's PRB acquisition is who will be held ultimately accountable for hundreds of millions of dollars in mine-cleanup costs.
"If it is to resolve the latter problem, NTEC will very likely need Navajo Nation government backing, an unlikely possibility considering how the company has all but ignored tribal leadership in the run-up to the acquisition," the IEEFA report states.
The report details underlying financial problems with NTEC's acquisition strategy and describes how executives of the tribally-owned company have acted recklessly in their push to buy the three mines, two of which are in Wyoming.
"NTEC has behaved in recent months essentially as a rogue company operating without government consultation and in direct conflict with Navajo energy-investment policy," states the report, In Powder River Basin Debut, NTEC Stumbles.
The report notes also that Navajo Nation officials are wisely distancing themselves from NTEC.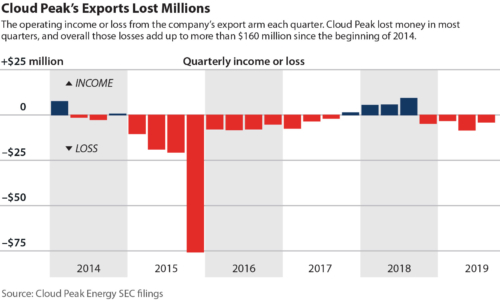 Part of what is at issue is the "sovereign immunity" NTEC has invoked in the Powder River Basin, even as tribal leaders have questioned the prudence of Navajo Nation exposure to the deal, with comes with more than $400 million in cleanup liabilities.
Navajo Council members are circulating a bill that would revoke the Nation's bonding support for NTEC, a move authors of the IEEFA report see as "clearly in the Nation's best interest."
The report describes also how the NTEC strategy to use Navajo Nation as a reclamation-liability backstop smacks of a similar, unsuccessful effort in 2018 by the company.
Like with the NGS and Kayenta Mine, the Navajo Nation faces serious reclamation liabilities
"The strategy, notably, is reminiscent of a campaign NTEC ran last year with Peabody Energy in which the two companies tried to get Navajo Nation to buy the Navajo Generating Station and its fuel source Kayenta Mine. That deal would have left the Nation with an aging plant and companion mine—and with hundreds of millions in reclamation liabilities that came with the complex."
The owners of NGS are closing the plant this December, citing its failing economic viability; Peabody Energy ceased production at Kayenta in August. A similar, if less orderly, outcome in Montana and Wyoming is "not inconceivable," according to the report.
Report excerpts:
"NTEC is on thin ice. Successful operation of its new Powder River Basin mines hinges on resolution of cleanup-liability issues, a problem that may prove intractable."
"The business case for the acquisition continues to deteriorate with the ongoing decline of the U.S. coal industry as utility companies transition to other energy sources for power generation."
"Navajo Nation is moving wisely to protect itself by limiting tribal indemnities that could require paying hundreds of millions of dollars to clean up NTEC's mines. Such legislation would help manage the Nation's exposure to NTEC's high-risk behavior and shield it from financial contagion that could result from further declines in the U.S. coal market."
Full report: In Powder River Basin Debut, NTEC Stumbles
Author contacts
Karl Cates is an IEEFA research editor – [email protected] 917 439 8225
Clark Williams-Derry is an IEEFA energy finance analyst – [email protected] 206 683 3653
Seth Feaster is an IEEFA data analyst [email protected] 917 670 4025

Media contact
Vivienne Heston [email protected]  914 439 8921
About IEEFA
The Institute for Energy Economics and Financial Analysis (IEEFA) conducts global research and analyses on financial and economic issues related to energy and the environment. The Institute's mission is to accelerate the transition to a diverse, sustainable and profitable energy economy.