$12 billion invested in Australia and Europe alone; Reach goes well beyond formal Belt and Road Initiative; 'This is a superpower taking its energy policy global'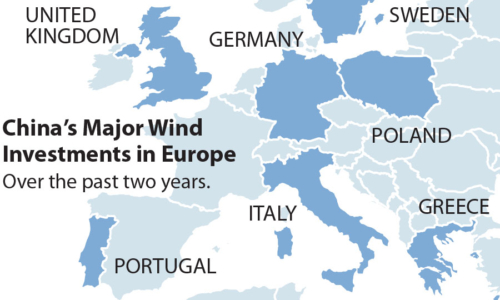 Aug. 16, 2018 (IEEFA) — China's investment in foreign wind-powered electricity markets has surpassed US$12 billion in Europe and Australia alone as private and stated-owned Chinese companies move aggressively to capitalize on fast-growing renewable energy markets, concludes a research brief published today by the Institute for Energy Economics and Financial Analysis (IEEFA).
Most of the wind-investment activity has been in Europe.
"China is now a driver of the European energy transformation, and its international leadership in low emissions sectors of the future are entirely aligned with efforts to increase China's global economic influence," said Simon Nicholas, a Sydney-based IEEFA energy analyst. "While Chinese foreign renewable energy investments were boosted by the launch five years ago of its Belt and Road Initiative (BRI), its foreign renewable energy investment now extends well beyond that framework."
"This is a superpower taking its energy policy global," Nicholas said.
Highlights from the full brief:
China's foreign renewable energy investments have increased as a result of the country's pan-Asian Belt and Road Initiative (BRI), but the majority of these investments are not in BRI countries.
Chinese state-owned independent power producers have acquired big wind projects in nine European countries, aiming especially to diversify their foreign portfolios and gain expertise in offshore wind technology.
China's largest power companies have historically favoured coal and hydro over wind and solar, a bias that continues to be evident in recent foreign investments, particularly in Southeast Asia and Africa.
In recent years, as China's global technology leadership in low-emission energy sectors has developed, some Chinese power companies have shifted their outbound investments toward wind. This is the case particularly in OECD member countries, most of which are not part of the official BRI footprint.
In BRI countries and in non-BRI developing countries, China continues to build coal-fired power projects as opportunities for domestic coal projects dry up.
The brief builds on an IEEFA paper published in January that described how China has become a leading global renewable energy investor, "defying an overall slowdown in Chinese overseas investment as the country further positioned itself to dominate in new energy technologies such as batteries and electric vehicles."
That report put China's 2017 investment in new energy technology and resources at US$44 billion, up from US$32 billion in 2016.
In 2017, the Chinese government began restructuring its power-generation sector in an effort to reduce reliance on coal and export China's renewable energy technology while continuing to promote its coal technology in foreign developing markets.
Chinese foreign energy investment from 2003 to 2017 was dominated by hydro and coal-fired power, with wind and solar coming to the fore more recently by way of technology gains, efficiency improvements, and dramatic declines in cost.
The memo notes, however, that while Chinese wind and solar investment goes well beyond the BRI to developed nations, coal-fired power activity remains high within the BRI and in other developing countries.
"From 2003 to 2017, the majority of China's foreign power investments in Southeast Asia went to hydro (US$45 billion) and coal (US$12 billion) projects, amounts significantly higher than Chinese wind investment in the EU (US$6.8 billion) and Australia (US$5 billion).[1] Although this trend is influenced by the fact that wind and solar investment has ramped up only within the last few years, it is clear that Chinese coal power investment is restricted more to the BRI and to developing countries."
The brief summarizes the actions of various Chinese companies, including China General Nuclear, China Resources Power, China Shenhua Group, China Three Gorges, State Development and Investment Corp., China Huadian Corp., and China Huaneng Group.
Full brief here: China Is Investing Heavily in European Wind: Asian Superpower's Renewable Energy Ambitions Go Beyond Its Belt and Road Footprint
Media contacts:
(Australia/Asia) Simon Nicholas [email protected] +61 405 831 614
(U.S.) Karl Cates [email protected] 917 439 8225
About IEEFA:
The Institute for Energy Economics and Financial Analysis (IEEFA) conducts global research and analyses on financial and economic issues related to energy and the environment. The Institute's mission is to accelerate the transition to a diverse, sustainable and profitable energy economy.