Tellurian's history, finances and new LNG deals raise questions about profitability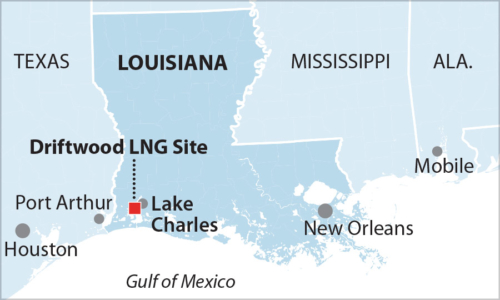 August 31, 2021 (IEEFA) — At first glance, Tellurian Inc.'s proposed Driftwood liquefied natural gas (LNG) project looks like a cause for optimism for the U.S. LNG market after a dismal 2020 saw demand and prices plummet while the COVID-19 pandemic raged. However, a closer look at Tellurian's history, finances and structure of its newly announced LNG deals should give investors ample reason for skepticism, according to a new analysis by the Institute for Energy Economics and Financial Analysis.
Driftwood, Tellurian's only project, boasts a potential Phase One LNG output capacity of 11 million tons per year (MTPA) at a price tag of $12 billion. According to the company, construction should start near Lake Charles, La., in early 2022.
Earlier this year, Tellurian announced LNG purchase agreements with Shell and international commodities traders Vitol and Gunvor for Driftwood's LNG. The 10-year purchase agreements, which tie prices to Asian and European spot natural gas benchmarks, promise 3 MPTA for each buyer.
"Each major U.S. LNG plant in operation or under construction has 20-year sales contracts with credit-worthy counterparties," said Brad Williams, the report's primary author and leader of Spitfire Energy Advisors. "The 10-year contracts announced by Tellurian lack security and base cash flows."
Optimism for the project comes from rapid rebounds in LNG demand and prices. But Driftwood's revenues come with potential volatility, and they may not cover capital costs. 
"Tellurian's contracts do not offer guaranteed fixed fees for liquefaction, which have anchored the U.S. LNG projects financed over the past decade," said Clark Williams-Derry, an IEEFA energy finance analyst and co-author of the report. "Driftwood's customers would pay for LNG based on a formula tied to international spot gas prices as they fluctuate. If markets take a wrong turn, Driftwood's fees may not cover the project's costs."
These concerns, among others, raise questions about the confidence expressed by Tellurian's management. Lenders will have to carefully scrutinize the company's new LNG contracts to understand the multitude of risks that the company may not be able to manage or afford. 
Full report: Despite Hype, Tellurian's LNG Plans Face an Uphill Battle
Authors:
Brad Williams ([email protected]) is the head of Spitfire Energy Advisors.
Clark Williams-Derry ([email protected]) is an IEEFA energy finance analyst. 
Media contact:
Muhamed Sulejmanagic ([email protected]), (313) 246-4547) 
About IEEFA: The Institute for Energy Economics and Financial Analysis (IEEFA) examines issues related to energy markets, trends and policies. IEEFA's mission is to accelerate the transition to a diverse, sustainable and profitable energy economy.