Enchant Energy's carbon capture project is significantly behind schedule as it struggles to secure investors
May 27, 2021 (IEEFA) – Enchant Energy and the City of Farmington have failed to convince potential investors that retrofitting New Mexico's San Juan Generating Station for carbon capture is financially viable, according to a report from the Institute for Energy Economics and Financial Analysis (IEEFA). 
The project, which has yet to secure the funds necessary to meet its estimated $1.5 billion price tag, has made little progress over the last two years.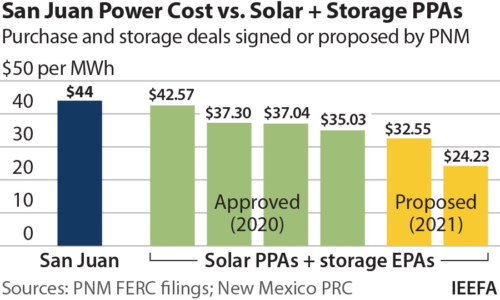 Enchant admitted that plant outages, COVID-19 and financial troubles have prevented the company from conducting the necessary tests to design the carbon capture technology, ultimately causing the project to fall six to 10 months behind schedule. The coronavirus, however, did not prevent investors from putting $55 billion into renewable projects in 2020.
Investors know this project is too expensive and too far behind schedule
Enchant pivoted from luring investors to the project solely with federal 45Q tax credits to deploying a mixed plan where roughly two-thirds of the funding comes from low-interest U.S. Department of Energy and U.S. Department of Agriculture loans. 
"Enchant's projection that it will close on this new funding by the end of 2021 is unrealistic," said David Schlissel, IEEFA director of resource planning analysis and the author of the report. "The DOE took almost three years to fund $190 million of the now-defunct Petra Nova carbon capture project, and Enchant is asking for nearly five times that amount to be used in about a third of the time."
TO ENSURE SAN JUAN'S SUCCESS, ENCHANT NEEDS TO SELL ELECTRICITY FROM THE PLANT AT A HIGHER PRICE than it costs to produce. But this perfect scenario is doubtful given that:
The average cost of producing power at San Juan already is higher than the price of buying power through solar and storage power purchase agreements, and the cost of producing power at San Juan is likely to continue to grow.

The western U.S. has become increasingly dependent on low-cost renewable resources. 

Large amounts of additional renewable and battery storage resources are on the way.
"Mounting delays in meeting benchmarks, changing plans and unanswered questions raise serious doubts about Enchant's repeated and unsupported claims about the project and its purported benefits," said Schlissel. "This carbon capture project is simply too expensive and too far behind schedule—and investors know it."
Full report: Where's the Beef?
Author contact
David Schlissel ([email protected]) is IEEFA's director of resource planning analysis.
Media contact
Muhamed Sulejmanagic ([email protected]) +1 (313) 246-4547.
About IEEFA
The Institute for Energy Economics and Financial Analysis (IEEFA) examines issues related to energy markets, trends and policies. The Institute's mission is to accelerate the transition to a diverse, sustainable and profitable energy economy.