Federal action required, potential for bipartisan national coalfield reinvestment legislation: past models include Hurricanes Katrina and Sandy response, bailout of auto industry, mitigation for military base closures
May 30, 2019 (IEEFA) – Closure this year of the Navajo Generating Station (NGS) and Kayenta Mine will gut tribal government budgets in northern Arizona, according to a report published today by the Institute for Energy Economics and Financial Analysis.
In response to the planned closures, Navajo Nation will reduce public-service expenditures by 23 percent while the Hopi government will take an 85 percent budget hit.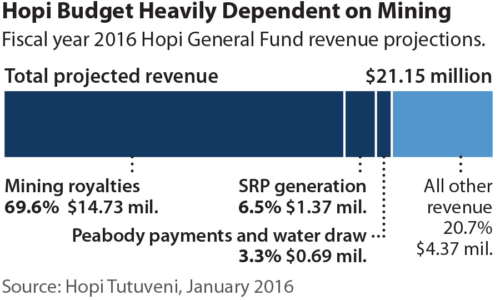 Both tribes for decades have relied heavily on lease and royalty revenues from the coal-fired electricity-generation complex. So have the governments of the two major counties affected by the shutdowns, Coconino County and Navajo County.
The report—"As Coal Economy Collapses, Imminent Public Budget Crisis Confronts Hopi-Navajo Tribes"—calls for federal investment in a regional transition away from coal, noting that Congress has acted aggressively time and again to avert comparable economic disasters.
"Importantly, the federal government helped create NGS through spending programs and policy moves that underwrote construction of the plant and creation of the mine at a time when coal-fired electricity generation was growing," said Karl Cates, an IEEFA research editor and lead author of the report. "Now, with the pending shutdown of the plant and the mine, the federal government can and should play a major role in the transition and could even use the Hopi-Navajo situation as a springboard to develop a national coalfield reinvestment initiative."
The power plant will close in December; production at the mine will cease in October.
While neither tribal government has published much in the way of precise department‑by‑department expectations for the fallout from the losses of NGS-Kayenta revenue streams, the looming impact is evident. Navajo Nation plans to reduce spending from $172 million annually to $132 million after NGS and Kayenta close. The Hopi government, according to the most recent publicly available data, received some $16 million of its roughly $21 million annual budget from the mine and the plant.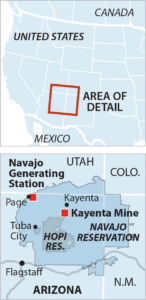 "Federal initiatives to quickly mitigate abrupt economic disruption have been used before—and they can be used again, in this case deployed with bipartisan congressional support toward managing an economic transition across a region that is losing its core tax-base industry—an industry that was in effect created by the federal government," the report says, citing three U.S. government intervention examples in particular.
The 2009 federal bailout of the auto industry, in which the U.S. government invested on the order of $80 billion to rescue U.S. carmakers in the depth of recession.
Federal investment packages to restore the hurricane-shattered economies of Louisiana and the Northeast to the tune of $120 billion and $60 billion, respectively, in 2005 and 2012.
Department of Defense spending of some $13 billion from 1995-2004 to mitigate regional economic damage created by military base closures through programs to underwrite local development, much of the money distributed through the department's Office of Economic Adjustment.
"As Navajo Generating Station and Kayenta Mine approach closure—and as they shutter over the next several months—the federal government still has time to take action to contain some of the regional economic damage," concludes the report.
"Bipartisan support for effective legislation is possible—a national program would affect Democratic and Republican districts alike—modelled after federal programs that helped right the auto industry; initiatives that saved the economies of Louisiana and the Northeastern U.S. after Hurricanes Katrina and Sandy; and well-funded Department of Defense programs to buffer the effects on communities of military base-closings and downsizings in dozens of states."
"Tribal economies are no less worthy of comparable federal intervention, and the same is true of struggling coalfield communities elsewhere," said Cates.
U.S. coal-fired electricity generation, which has been in decline for a decade, continues to dwindle under pressure from cheaper natural gas and renewables.
Full report here: "As Coal Economy Collapses, Imminent Public Budget Crisis Confronts Hopi-Navajo Tribes"
Author contact: Karl Cates (New Mexico) [email protected] (917) 439-8225
Media Contact: Vivienne Heston (New York) [email protected] (914) 439-8921
About IEEFA: The Institute for Energy Economics and Financial Analysis (IEEFA) conducts global research and analyses on financial and economic issues related to energy and the environment. The institute's mission is to accelerate the transition to a diverse, sustainable and profitable energy economy.