Data Center power demand is driving a renewables push by PNM to top 40% in two years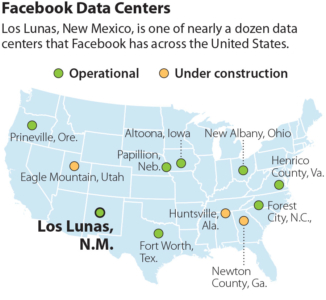 May 14, 2020 (IEEFA) — Construction of a major data center in Los Lunas, N.M., has lifted the local economy and accelerated the state's transition toward renewable-powered electricity, concludes a report published today by the Institute for Energy Economics and Financial Analysis (IEEFA).
The report—Corporate Renewables Case Study: Facebook's Green Energy Goals Are Speeding the Transition Of New Mexico's Electricity Sector—details how a Facebook data complex that broke ground in 2016, and that is now being expanded from 973,000 to 3 million square feet, has increased municipal revenues, created local jobs and driven Public Service Company of New Mexico (PNM) to speed the buildout of utility-scale solar and wind statewide.
"While the state of New Mexico gave Facebook ample taxpayer-supported incentives to build at Los Lunas, such incentives are not uncommon, and they don't always work," notes the report. "What sets the Los Lunas example apart are its clearly beneficial local economic impacts and its market-moving renewable energy requirements."
The report suggests the data-center business is more pandemic-resistant than much of the economy, as businesses and households rely increasingly on the Internet.
Report highlights:
Los Lunas gross receipts tax (GRT) revenues, the main source of municipal funding in the state, have increased by 85% since Facebook came to town.

The data center is driving a rapid shift toward renewable energy by PNM, which is projected now to get 43% of its power generation from wind and solar by 2023, up from 9.6% in 2013.

Coal, once the mainstay of PNM's generation, will account for 6.1% of the utility's power needs within two years.

The Los Lunas model could be replicated in any number of communities seeking fiscal and payroll stability built on economic diversification and sustainable energy models.
Karl Cates, an IEEFA analyst and lead author of the report, said the New Mexico example is one that can be replicated widely as corporate buyers of electricity push their preference for clean energy.
"These early results make the model one worth considering elsewhere, particularly given expectations of continued strong growth in the tech sector as the COVID-19 pandemic creates lasting effects that will keep commerce and cultural activities more digitally reliant than they have been historically," Cates said. "Data centers can be seen also as catalysts for bringing broadband Internet to rural areas that don't have it yet."

"One consideration in data-center development is that it requires large tracts of land. Data centers are rural, small-town or semi-suburban projects for a reason: The Los Lunases of the world have acreage in abundance, and most have underdeveloped renewable resources in abundance too," the report said.
Candidate locales include Wyoming and Montana, where solar and wind, especially, remain rich and underdeveloped resources. The same can be said of the Midwest, the Southeast and parts of coalfield Appalachia.
"Tech giants that will require more and more data center capacity tied to renewables can find skilled workforces, inexpensive land, and extensive transmission infrastructure in all of these locales," the report concluded.
Full report: Corporate Renewables Case Study: Facebook's Green Energy Goals Are Speeding the Transition Of New Mexico's Electricity Sector*
*Note that the report was slightly revised from the original on May 15, 2020 in response to information provided by Public Service Company of New Mexico.
Author Contacts:
Karl Cates [email protected],  +1 (917) 439-8225
Seth Feaster [email protected], +1 (917) 670-4025

Media Contacts:

Vivienne Heston [email protected], +1 (914) 439-8921
About IEEFA:
The Institute for Energy Economics and Financial Analysis (IEEFA) examines issues related to energy markets, trends and policies. The Institute's mission is to accelerate the transition to a diverse, sustainable and profitable energy economy.