'First-of-Kind' Design Would Likely Bring Delays, Technical Problems; Projects Would Be Built at the Expensive of Solar; Likely Complications Include Land Acquisition, Liability Questions, Capital Costs; Electricity Generated Would Prove Expensive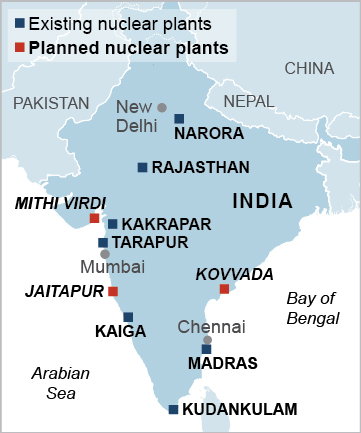 CLEVELAND, March 30 (IEEFA) – The Institute for Energy Economics and Financial Analysis today published a report questioning the economic viability of a plan by India to build 12 new nuclear-powered plants using untested technology.
Publication of the report, "Bad Choice: The Risks, Costs and Viability of Proposed U.S. Nuclear Reactors in India coincides with the international Nuclear Security Summit in Washington on March 31-April 1.
Summit participants are scheduled to include Indian Prime Minister Narendra Modi.
The report, by David Schlissel, IEEFA's director of resource planning analysis, concludes that the proposed nuclear plants, which are "first-of-kind" designs by Toshiba-Westinghouse and General Electric-Hitachi planned for the Mithi Virdi and Kovvada complexes, are neither economically nor financially viable.
"They would take much longer than expected to build, they would result in higher bills for ratepayers, and, if they are built, they might not work as advertised," Schlissel said.
The report describes how India would do well to put money instead into its abundant solar energy, which would be less expensive and less risky. "Investing in new solar photovoltaic (PV) capacity would be a much lower-cost, significantly less environmentally harmful and far more sustainable alternative to the Mithi Virdi and Kovvada projects," Schlissel said.
Among the report's findings:
Capital costs of the 12 plants would far exceed those of comparable solar-energy projects and, barring long-term and probably unsustainable government subsidies, consumers will pay more for electricity from the plants than they would for solar energy.
The first new reactors in the expansions at Mithi Virdi and Kovvada will take 11 to 15 years to build, if approved, even assuming the projects manage to avoid likely delays. None of the new reactors at Mithi Virdi and Kovvada would generate any power for the electric grid until sometime between 2029 and 2032. The remaining units at each project are unlikely to be completed, if approved, until late in the 2030s.
Even without likely time-and-cost overruns, both projects would require massive investment over the next two decades, ranging from Rs. 6.3 lakh crores (US $95 billion) to 11.3 lakh crore rupees (US $170 billion). It is unlikely that the Indian government would be able to simultaneously support other electricity-sector expansions, including in renewable resources and energy-efficiency programs.
Both projects, if approved, would probably be slowed by lengthy land-acquisition delays, complicated liability issues, lags associated with new-technology difficulties and compliance with the country's "Make in India" policy.
"All of these can be expected to lead to substantial, and perhaps indefinite, delays and significant increases in capital costs, possibly even far beyond those we have assumed in our analyses," Schlissel said.
Media contact: Karl Cates, [email protected], 917.439.8225
---
About IEEFA
The Institute for Energy Economics and Financial Analysis (IEEFA) conducts research and analyses on financial and economic issues related to energy and the environment. The Institute's mission is to accelerate the transition to a diverse, sustainable and profitable energy economy and to reduce.