Utilities accelerate shutdown dates; 22 plants in 14 states this year; hard-hit regions include the Ohio River Valley
Oct. 25, 2018 — U.S. coal-fired power plant closures are on pace this year to set a record, concludes a research report published today by the Institute for Energy Economics and Financial Analysis.
The report — "Record Drop in U.S. Coal-Fired Capacity Likely in 2018: Utilities Are Accelerating Shutdown Dates as Plants Grow Increasingly Uneconomic"— details how announced capacity retirements for 2018 will likely total 15.4 gigawatts by the end of the year. It details retirement of 44 units at 22 plants in more than a dozen states.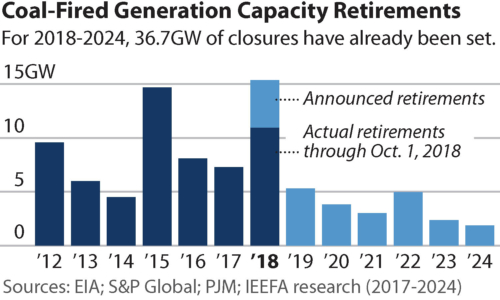 "The competitive environment for coal-fired power in the generation marketplace is becoming ever more challenging as the price of renewables continues to fall and as natural gas prices are expected to remain low for the foreseeable future," said Seth Feaster, and IEEFA data analyst and author of the report, which sees an additional 21.4GW of coal-fired capacity closing over the next six years.
States with imminent sizeable coal-plant closures include Florida, Indiana, Kansas, Kentucky, Maryland, Minnesota, Missouri, Ohio, Pennsylvania, Tennessee, Texas, Virginia, West Virginia and Wisconsin.
The report includes tables that list announced closings by size, location, and planned date of retirement.
Excerpts from the report:
At least 36.7GW of coal-fired capacity stand to be retired from 2018 through 2024 — 117 units in total. These are closures that have already been announced; more are known to be under review.
Coal-plant economies in the Ohio River Valley will be among those especially hard-hit by the transition occurring now across the U.S. electricity-generation sector. Companies in the region whose employees stand to be affected include FirstEnergy Solutions, Murray Energy and Westmoreland Coal, although those companies and that region are by no means the only ones confronting fundamental change.
While the U.S. coal-fired power fleet still had about 246GW of capacity operating in July of this year, retirements already announced will cut that capacity by 15 percent through 2024.
Cost is the biggest force in the decline of coal, as renewables and gas-fired generation are proving cheaper and more flexible.
The electric-generating industry is well into a fundamental transition that is gaining momentum and will probably accelerate as technology disruptions occur, most notably around advances in energy storage.
While the country's coal infrastructure is aging and inflexible, renewable-generated electricity, by comparison, continues to become increasingly cheaper to produce and gas-fired generation is proving more suitable to grid modernization as utilities embrace integrated distributed resources and system modernization.
The future of coal-fired generation assets in the U.S. is limited, with no new plants being built and a majority of existing plants 40 years old or older.
The report draws on data is from retirements and cold closures reported by the Energy Information Administration; corporate announcements and company integrated resource plans; grid operator documents; and news reports.
It does not include "zombie plants," which remain technically in operational status even if they have been run infrequently or not at all in recent years or units that are known to be currently under corporate review for retirement but for which no announcement has been made.
Full report here: "Record Drop in U.S. Coal Capacity Likely in 2018" 
Media Contacts:
Karl Cates [email protected] 917 439 8225
About IEEFA:
The Institute for Energy Economics and Financial Analysis (IEEFA) conducts global research and analyses on financial and economic issues related to energy and the environment. The Institute's mission is to accelerate the transition to a diverse, sustainable and profitable energy economy.