Country's Largest Generation Company—Ranked Third Globally in Coal-Fired Capacity and Seventh in Generation—Emerges as Key Supporter of Government's Renewable-Energy Initiative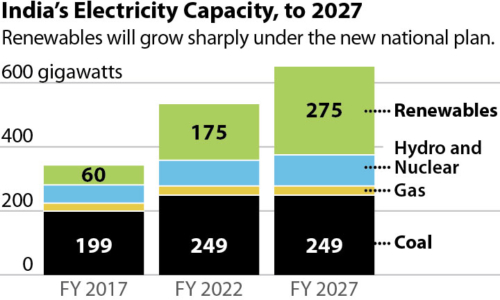 May 25, 2017 (IEEFA.org) — The state-owned Indian utility NTPC is playing a key role in India's push toward retooling its electricity-generation system, according to a new report by the Institute for Energy Economics and Financial Analysis (IEEFA).
The report—"NTPC as a Force in India's Electricity Transition: Leading the Way Toward a New Energy Economy"—details how NTPC, formerly known as the National Thermal Power Corporation, is positioning itself to support the national government's drive toward ambitious national renewable energy targets.
"Despite its deep historical connection to coal-fired electricity generation technology, NTPC has recently moved to the forefront of India's energy transition and stands to be the country's key new energy enabler," said Tim Buckley, the lead author of the report and IEEFA's director of energy finance studies, Australasia.  
"It is clear that renewable energy offers a cheaper way to provide power," Buckley said. "Importantly, solar is now cheaper than coal-fired power even before taking into account the externalities of coal (pollution, emissions and water use) that hold back the nation's development."
Buckley noted that as a publicly-owned utility, NTPC is responsible simultaneously for supporting Indian economic growth and providing reliable, affordable electricity.
"While this responsibility has arguably required expansion of coal-fired power generation in the past, times have changed—and indeed 2017 has already seen several watershed moments that have signaled a new era in India's electricity sector."
"With the average new solar tariff in 2017 below NTPC's coal-fired power tariff for its existing fleet, renewable energy now offers a cheaper way to provide power," Buckley said.
The report chronicles an ongoing Indian electricity-sector transformation that is increasingly being spearheaded by NTPC and that stands to have global ramifications for the global thermal coal sector, which Buckley said "faces a technology-driven structural decline."
NTPC, which provides about a quarter of India's electricity, is among the top 10 coal-fired power generators in the world, ranking third in coal-fired capacity and seventh in generation.
The report notes that major utilities in many countries are at various stages of business-model transformation in response to a rapidly-changing technology. While early movers such as Enel SpA of Italy and NextEra Energy in the U.S. have become transition leaders, others have lagged.
"NTPC must ensure it does not follow the well-worn path towards shareholder value destruction taken by E.On and RWE of Germany and Engie in France," the report state. "By beginning their transition too late these companies have significantly underperformed financially."
Buckley said the transformation of the Indian electricity sector is happening now under Energy Minister Piyush Goyal's leadership, and that the rate of change is accelerating as renewable costs come down and technology innovation continues.
"Global capital inflows to India are clear endorsements of this program. NTPC stands to gain from an acceleration of its renewable energy roll-out and further facilitation of the Indian government's ambitious renewable energy targets."
"It appears that a growing proportion of NTPC's investment plan is being redirected into building modern generation capacity that has a much lower emissions profile and significantly reduced externalities," the report states. "Such transformation is key to sustaining India's economic growth prospects."
Core findings of the report:
NTPC has become a key participant in India's ongoing energy transition, having emerged as the evolved into India's prime off-taker of the rapidly expanding private renewable energy generation sector.




Solar generation is now cheaper than NTPC's tariff for existing coal-fired power plants as a wave of record-low solar tariff bids drive costs down.

NTPC leads India in its drive to cease imports of thermal coal, an endorsement of the government's efforts to improve domestic coal logistics and increase production from Coal India, a move that has significant implications for the global thermal coal market.

NTPC's strong balance sheet underpins renewable power off-take and is crucial for India's ongoing development, improving the bankability of renewable energy and leaving technology coal-fired power further behind on cost.

NTPC's current development-pipeline list represents its past more than its future, as renewable energy projects outpace coal-fired proposals.

Overseas investors are seeking more opportunities in Indian renewables projects and abandoning the thermal power sector; major investors in India's renewable-energy boom include Goldman Sachs, JP Morgan, Morgan Stanley, Macquarie Group, Sembcorp, Enel, EDF, Engie, SoftBank and Brookfield.

NTPC would do well to focus its foreign investments on renewables rather on coal-fired projects, which face considerable challenges around environmental concerns and the rise of responsible investment trends in developed and developing countries alike.

Electricity utilities (Enel SpA, NextEra Energy Inc.) that are leading the energy transition are outperforming those left behind (Engie, E.On, RWE).
"With coal-fired power plant utilization rates in structural decline in India, NTPC would benefit—and be better able to meet its corporate goals—by accelerating its renewable energy roll-out and further facilitating the Indian government's ambitious renewable energy targets," the report concludes.

Full report: "NTPC as a Force in India's Electricity Transition: Leading the Way Toward a New Energy Economy"
Media contacts:
Tim Buckley (Australia) +61 408 102 127  [email protected]
Brami Jegan  +61 448 276 945 [email protected]
Karl Cates (U.S.) 917 439 8225 [email protected]
---
ABOUT IEEFA
IEEFA conducts research and analyses on financial and economic issues related to energy and the environment. The Institute's mission is to accelerate the transition to a diverse, sustainable and profitable energy economy.
RELATED POSTS:
IEEFA Asia: India's Electricity-Sector Transformation Is Happening Now

IEEFA Asia: South Korea's Policy Shift Stands to Have an Out-Size Impact on Indonesian Coal Companies
IEEFA Report: European Coal Sector Woes Deepen With New Air Quality Mandate; One-Third of Existing Capacity Must Retrofit or Close