A model to 2030 for cost-effective, cleaner, more accessible energy in Pakistan
Dec 5, 2018, LAHORE (IEEFA): A new report asserts that, as renewable energy is now the cheapest form of electricity generation in Pakistan, the government could reduce its reliance on expensive power plants and fossil fuel imports in favour of cleaner, more accessible electricity for people and businesses.
The report, "Pakistan's Power Future: Renewable Energy Provides a More Diverse, Secure and Cost-Effective Alternative," produced by the Institute for Energy Economics and Financial Analysis (IEEFA), examines the current energy system in Pakistan while suggesting an alternative energy model out to 2030.
The report finds that Pakistan's current power mix has an over-reliance on outdated fossil fuels technology and seasonal hydro power generation, roughly split in a ratio of 70:20:10, being 70% thermal and 20% hydro, with nuclear power making up most of the rest.
IEEFA's proposed energy model to 2030, which would provide a cheaper, more diversified electricity generation system for Pakistan and therefore greater energy security, is roughly split in a ratio of 30:30:30:10 between 30% renewables, 30% thermal, 30% hydro, and 10% nuclear power.
IEEFA financial analyst Simon Nicholas, co-author of the report, said IEEFA's 2030 energy model would result in a more cost-effective electricity system that is better placed to serve Pakistan's power needs into the future.
"The current energy model puts a huge cost burden on consumers, businesses and the cash-poor government of Pakistan through an over-reliance on expensive fossil fuel imports and costly hydro, nuclear and coal-fired power plants often being built well over budget," Nicholas said.
"IEEFA's modelling suggests the Pakistan government can achieve almost 30% renewable energy generation by 2030, through proven clean energy technology already in place in Pakistan.
"By relying more on cheaper renewable energy, the 2030 model reduces the cost pressures of imports and delayed projects, creating the setting for government to attract investment in the abundant domestic wind and solar resources yet to be harnessed."
The year 2017 was a landmark for emerging economies globally. For the first time renewable energy accounted for the majority of all new power capacity additions added, including 94 gigawatts (GW) of wind and solar out of a total of 186 GW of capacity added in emerging economies.
"Given the massive deflationary trend of renewables globally, and with the right policy settings, Pakistan can increase reliance on renewable energy," Nicholas said.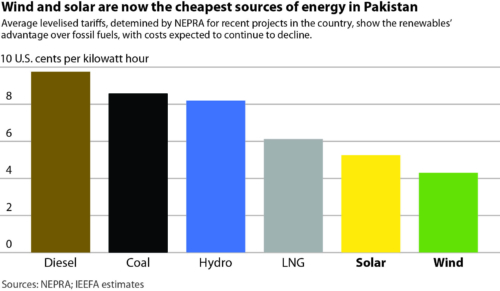 In IEEFA's 2030 model, ambitious policy settings to increase investment in Pakistan's rich solar and wind resources would further drive down the cost of renewables and reduce pollution while increasing energy security.
"Building a more diverse, lower cost electricity system with a greater reliance on renewable energy will provide a stronger foundation for sustainable economic growth at a time when government and industry regularly references instability of electricity supply as a key constraint," said Nicholas.
"IEEFA's 2030 model results in a diversified power mix making better use of ever-cheaper, cleaner renewable energy technology to lock in a deflationary energy platform for the benefit of the country as a whole."
Nicholas presented findings of the report to the Unified Media Club of Pakistan, Lahore on December 5, 2018, and at the 'Twenty-first Sustainable Development Conference (SDC)' in Islamabad, Pakistan on December 4, 2018.
Full report: Pakistan's Power Future: Renewable Energy Provides a More Diverse, Secure and Cost-Effective Alternative
Media Contact:
Pakistan – Kitty Bu [email protected] +65 9380 4165
Australia – Kate Finlayson [email protected] +61 418 254 237
About IEEFA www.ieefa.com
The Institute for Energy Economics and Financial Analysis (IEEFA) conducts global research and analyses on financial and economic issues related to energy and the environment. The Institute's mission is to accelerate the transition to a diverse, sustainable and profitable energy economy.