'No Longer Competitive' With Rise of Natural Gas and Renewables; Staying Open Through 2022 Would Require a $740-Million-to-$1-Billion Subsidy; Through 2030 Would Require a $1.4 to $2.4 Billion Subsidy
May 10, 2017  (IEEFA.org) – The Institute for Energy Economics and Financial Analysis today published a report detailing how the failing coal-fired Navajo Generating Station in northern Arizona will require hundreds of millions of dollars in subsidies to remain online for any length of time.
The report—"End of an Era: Navajo Generating Station Is No Longer Economic"—concludes that the power plant, which dates from the 1970s and is being considered for shutdown by 2019—can no longer compete with power produced by other means.
"Declining energy market prices and rising production costs have made the power produced by the plant more expensive than power sold in the larger energy market," wrote David Schlissel, the author of the report and IEEFA's director of resource planning analysis. "These factors are not likely to change, leaving the plant's financial viability in doubt— regardless of who owns it."­­­
The study puts the subsidized cost of propping the plant up from mid-2017 through the end of 2019 at $414 million. Keeping it running until 2030 would require a total bailout of $1.4 billion to $2.4 billion. A five-year bailout plan, from mid-2017 through mid-2022, as has been suggested by a member of the Arizona Corporation Commission, would cost $740 million to $1 billion.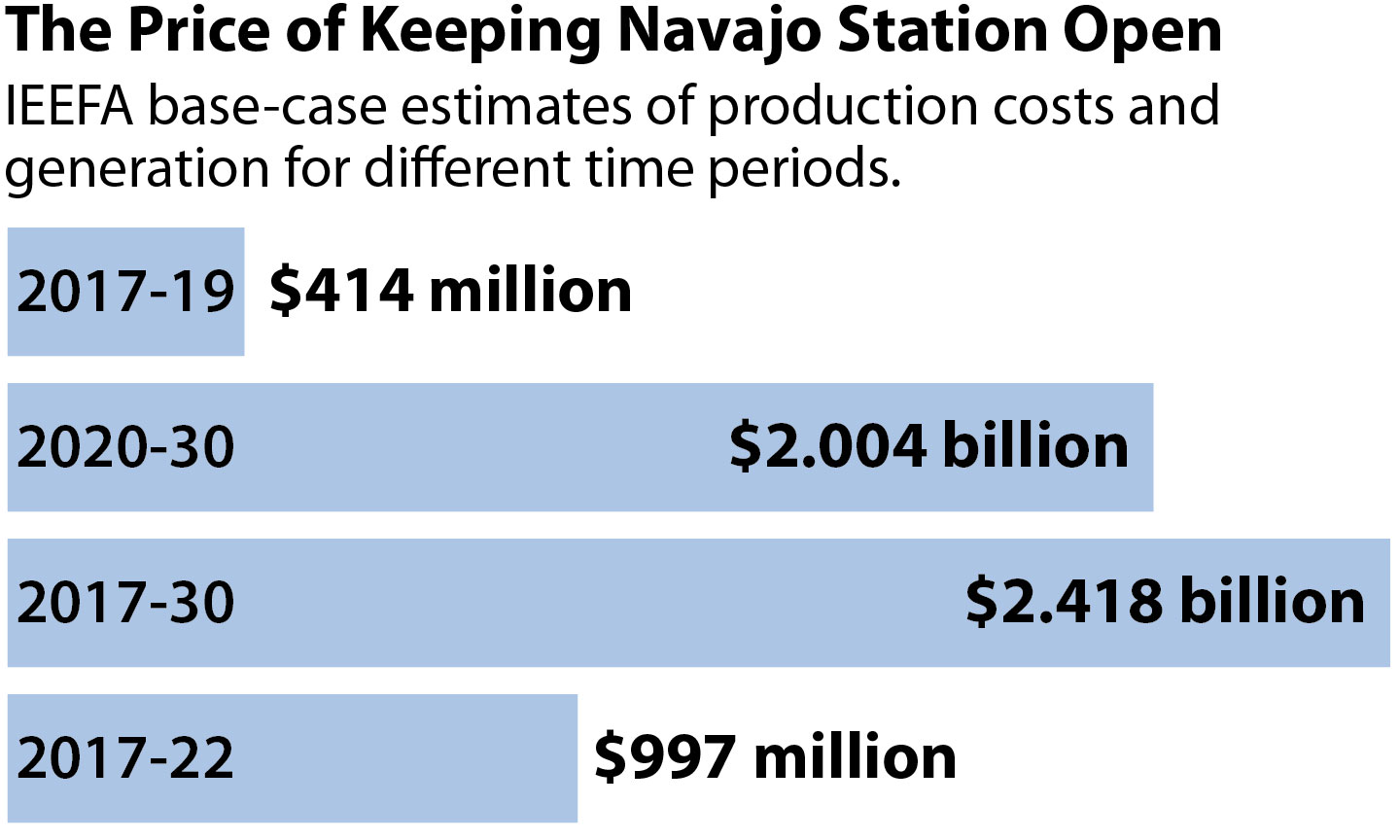 "In short, keeping the Navajo Generating Station online would require at least hundreds of millions of dollars in subsidies over the short term and billions over the longer term."
The study notes also that the viability of the plant in recent years has been dealt a circular one-two punch:
"First, the price of the power being sold at the plant has not covered the full cost of producing that power—in other words, it is operating, on average, at a net loss for each of the megawatt hours of power it sells."
"Second, as the cost of producing power at the plant has risen, and NGS has become less competitive with the cost of producing power at other generators in the market, the plant has begun to produce significantly less power in recent years than it had previously generated."
Schlissel said it is increasingly likely that higher generation from increasingly affordable renewable resources will put even further pressures on the plant, both by displacing generation that would otherwise have been generated at the plant and by keeping energy market prices low.
The report highlighted fundamental economy-sector changes in recent years that have affected many coal plants across the U.S.:
Very low natural gas prices, leading to low energy market prices;
Rising plant production costs;
Declining generation due to increasing competition from renewable resources and higher generation at natural gas-fired units.
''These changing circumstances have made NGS less competitive with market power a trend that will very likely continue in the coming years," Schlissel said.
"Enormous subsidies would be required for Navajo Generating Station to continue operating under any owner," the report concludes. "Rather than spend such sums of money on a failing and aging coal-fired power plant, we recommend the plant's owners begin planning immediately for retirement of the plant and toward an orderly transition to a profitable and sustainable energy economy."
The plant, which is situated on land owned by the Navajo Nation, is owned jointly by the Salt River Project, the U.S. Bureau of Reclamation, the Arizona Public Service Company, Nevada Power, and Tucson Electric Power. The utility members of the group—Arizona Public Service Company, SRP, Nevada Power and Tucson Electric—have voted to close the plant this year barring a viable agreement to keep it online through 2019.
Three of the utilities—SRP, Arizona Public Service Company, and Tucson Electric—told the Arizona Corporation Commission in late April that they no longer require electricity from the generating station because they have access to cheaper gas-fired generation. The Central Arizona Project (CAP), the largest customer for NGS power, wants out as well; CAP managers say the agency could have acquired power in 2016 for $38.5 million less than it paid for power from the plant had it bought that power somewhere else.
Full report here: "End of an Era: Navajo Generating Station Is No Longer Economic"
Media contact: Karl Cates, [email protected], 917.439.8225
About IEEFA: The Cleveland-based Institute for Energy Economics and Financial Analysis (IEEFA) conducts research and analyses on financial and economic issues related to energy and the environment. The Institute's mission is to accelerate the transition to a diverse, sustainable and profitable energy economy.